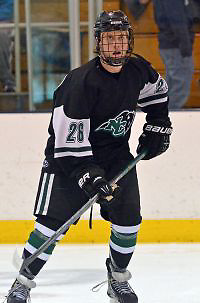 As the weeklong grind begins, it's never a bad thing to reflect back on the weekend that was in NCAA Division III hockey.
East columnist Dan Hickling and West columnist Brian Lester have the low-down.
EAST – Dan Hickling
ECAC EAST – Babson, Castleton and Massachusetts-Boston all enjoyed productive, two-win weekends … Top-line center Mike Driscoll potted two goals in Babson's 7-0 blanking of D-II foe St. Anselm. Goalie Jamie Murray made 25 stops for the shutout and even racked up an assist. Murray then turned in an 18-save whitewash the next night against New England College. … Likewise, Castleton goalie Ryan Mulder was perfect in both his starts, with blankings of both Southern Maine (4-0) and UNE (3-0). … UMB's Steven Buco scored with 1:39 gone in overtime to cement Friday's 5-4 over New England College. The next night, Buco turned playmaker, setting up both of Nathan Milam's goals in a 3-1 win over St. Anselm. Milam already has five tallies in the new season.
ECAC NORTHEAST – Just three games on the slate, all on Saturday, and two of them decided by one goal … Wentworth's Ben Brouillard netted the game-winner at 11:42 of the third in a 3-2 triumph over Salve Regina. Kevin Crowe also scored twice for the Leopards, who are now 3-0 overall for new head coach Jay Pecora. … Suffolk got third-period goals from Justin Selep and Danyil Medvedev to take a 3-2 squeaker over Salve Regina. Medvedev's game-winner came at 15:44 … Tyler Beasley scored twice on power plays in the third period to lift Nichols to a 4-1 win over Curry.
ECAC WEST – Elmira went to overtime twice, against Neumann and Manhattanville, and emerged with just one point. Neumann's Chris Bournazos scored on a power play at 2:14 of extra time to beat Elmira 3-2 on Friday. The Soaring Eagles had erased a 2-0 deficit with third-period tallies from Alexander Taulien and Eric David. … On Saturday, Greg Whittle scored with 3:37 left in regulation to help Elmira salvage a 1-1 tie. … Nazareth and Utica played twice, with the upstart Golden Flyers taking a 2-2 tie on Friday followed by a 5-4 win the next night. In that win, Nazareth scored three unanswered goals in the third to erase a 4-2 Utica lead on home ice. David Seward's tally at 7:43 was the game-winner.
MASCAC – The lone weekend tilt was an exciting one, a 5-5 deadlock between Massachusetts-Dartmouth and Framingham. UMD held a 5-3 lead with 1:48 left the third before Brendan McCarron and Keith Barnaby both scored for Framingham. Barnaby's goal came with just 10 seconds remaining. Jaret Babych scored twice for the Corsairs in the second period. UMD outshot their hosts 6-2 in overtime, but Framingham goalie Alessio Muggli held firm to preserve the tie.
SUNYAC – Plattsburgh won both its starts in different fashions. On Friday, Cardinals goalie Brady Rouleau outdueled Brockport's Jared Lockhurst in a 1-0 victory. Rich Botting netted the game's lone goal at 13:32 of the second period. Lockhurst made 33 saves in a losing effort. The following night, Platty ran past Geneseo, 7-4, outscoring the Knights 6-1 over the last two periods. Seven different Cardinals scored as they erased a 3-0 Geneseo lead. … Morrisville and Buffalo State hooked up for a pair of ties, 4-4 and 5-5. The Bengals had to rely on last-minute heroics both times, with game-tying goals coming from Jake Rosen at 19:43 on Friday and Marcus Michalski at 18:06 the next night. … Oswego prevailed in its only start, 6-4 against Cortland, with half a dozen goal getters chipping in.
WEST – Brian Lester
MIAC – Competitive nonconference games were the story for a couple of teams over the weekend…St. Olaf came through with, perhaps, the biggest win, knocking off Wisconsin-Stevens Point 3-2 on Saturday. The Pointers were the 2014 national runner-up, but the Oles showed up ready to play. Steven Sherman scored the game winner as St. Olaf won its first game of the year. The Oles won despite the Pointers' 50-33 edge in shots. Steve Papciak racked up 48 saves for St. Olaf….St. John's led twice but had to settle for a 3-3 tie against Eau Claire on Sunday. It was the first ever tie between the two schools. Neal Smith, Tyler Dunagan and Tyson Fulton all scored goals for the Johnnies, who have yet to lose in four games. Saxton Soley came through with 23 saves. The Johnnies and Blugolds combined to go 0-for-7 on the power play. St. John's held a 33-26 edge in shots.
NCHA – Nationally-ranked opponents Adrian and St. Scholastica avoided upsets over the weekend. Adrian exploded for three goals in the third period on Friday to knock off the Milwaukee School of Engineering 5-4 and avoid an upset loss. The Bulldogs were paced by Jeremy Olinyk, who scored twice in the victory. Olinyk also dished out an assist. James Hamby came up with 18 saves. Adrian held a 45-24 edge in shots. The Bulldogs completed a sweep of the Raiders on Saturday and have won their last 11 games against the Raiders. They own a 29-3-2 record in the all-time series….St. Scholastica picked up a pair of 4-3 wins over Concordia (Wis.). In the series finale on Saturday, Dylan Nowakowski scored twice, including the game-winner. Corey Koop was tough between the pipes, racking up 29 saves for the Saints. St. Scholastica has opened the season strong, winning its first four games. The Saints have scored four or more goals in each of their four wins.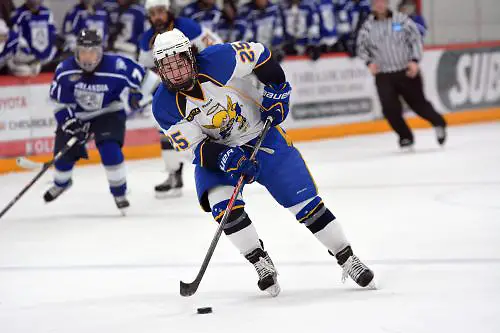 WIAC
– Wisconsin-Eau Claire and Wisconsin-River Falls showed flexed their offensive muscle in non-conference wins over the weekend…River Falls scored three times in the third period to roll to a 5-2 win over Hamline on Saturday. Christian George scored twice for the Falcons, who owned a 33-26 advantage in shots. George added an assist as well and now has eight goals in his career. Jeff Bergh scored his third career goal in the win for River Falls. The Falcons, 2-0 on the season, were 3-of-7 on the power play. Tanner Milliron tallied 24 saves….Eau Claire opened its 2014-15 season in style, blanking St. Olaf 3-0 on Friday. The Blugolds shut out the Oles for the first time in 26 meetings. Adam Knochenmus, Brandon Whalin and Ethan Nauman all scored goals for the Blugolds, who are the defending WIAC tournament champions. Tyler Green came through with his first shutout win since Feb. 7 of this year. Green racked up 32 saves.