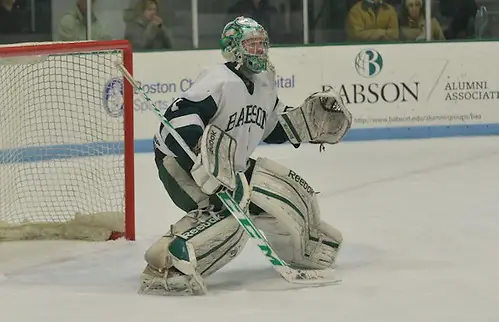 Eye popping.
Such are the saves that Babson goalie Jamie Murray makes, as well as the resulting stat package.
Through the early stages of the new season – three games worth – Murray has allowed just one goal, and has racked up shutouts – his seventh and eighth career blankings – in his last two starts.
That's a current scoreless string of 155:53, a save percentage of .986, and a teensy-weensy 0.36 for a goals-against average.
Little wonder that the Beavers, defending champions in the ECAC East, are off to a healthy 3-0 (2-0 in conference) launch.
"It sounds kind of cliché," said Murray, a junior from Scituate, Mass., "and I'm sure that it's said a lot, but (at) Babson, we pride ourselves in team defense. The defense does a great job of keeping the shots from the outside, and let me handle what shots they do get off. They make my job pretty easy."
Perhaps so.
But does the defense make the goalie, or does a stingy, confident netminder make the defense play with maximum swagger?
Chicken or egg?
"I have a lot of faith and confidence in my defense," said Murray, "and I like to think they have a lot of faith and confidence in me."
And why not?
As a sophomore, Murray backstopped the Beavers to their second consecutive NCAA tourney berth, while putting up spectacular (1.50, .948) numbers.
Clearly, his cage mastery this season is no fluke.
"I go into every game thinking I'm not going to let up one goal," said Murray. "That's the mindset that I have. My final goal is to give my team a chance to win."
It makes one wonder how anything ever gets past him.
The one shot that did, by Curry's Adam Valadao, came on a back-door tuck-in following a rebound, early in the second period of the season opener.
"It's part of the game," he said. "I looked at it after the fact to see what I could do better."
It's that studiousness, that drive to improve, that has helped Murray become one of Division III's premiere netminders.
To that end, Murray, has put in many long hours under the eyes of Babson goalie coach Ed Kesell, and in particular, Brian Eklund, the former Brown and NHL goaltender.
Murray, who first began working with Eklund while still in high school, credits him with tweaking both his technique and his psyche.
"He let's me play my style," said Murray, "and helps me out with the little things I need to work on.
"When I first started working with him, I was really, really raw. I didn't have a lot of technical skills. I think he tried to build me from the ground up. He sees what works for me, and what doesn't."
What works for Murray, who bears a facial resemblance to the fabled Tim Thomas, is his athletic style, which often finds him charging out of his crease to challenge an astonished shooter.
Shades of the former Vezina and Conn Smythe winner, perhaps?
"Yeah," Murray, said. "I'm not as crazy as Tim Thomas. He's definitely the far end of the spectrum. But at times I feel that I just pitch everything I've learned and just try to stop the puck. For better or for worse, sometimes it does, and sometimes it doesn't."
So far, it's been all for the better.
Utica freshman Carter producing on offense
He's young and playing out of position, but neither of those drawbacks has stopped Utica's Dalton Carter from becoming the nation's leader in points per game.
Carter, a freshman out of Toledo, Ohio, has popped in eight points – a goal and seven assists – in Utica's three games, a 2.67 ppg clip.
He also leads all ECAC West point-getters with five, all assists.
Carter was moved back from the wing by Pioneers' coach Gary Heenan to take advantage of his shot and puck moving abilities.
"Dalton grew up playing forward," said Heenan, "so he has offensive instincts. We are only using him as a dman but he does love to jump in the rush and is quarterbacking our power play."
Geneseo off to slow start
Geneseo has gotten off to a sluggish defense of last year's SUNYAC championship, putting up a 2-2 (all in conference) mark, and already equaling its number of conference losses from a year ago.
One Ice Knight who has been thus far immune to any struggling is senior forward Tyler Brickler.
To date, Brickler has popped racked up six points (3 g, 3 a), one point off the conference scoring lead.
"[He] is our biggest asset," said Geneseo coach Chris Schultz. "He will be leading the charge offensively and has a great opportunity to be an All American with a continued career in pro hockey after this."
As for the bigger picture, Schultz feels that the Knights have plenty to sort through, beginning with himself, after last weekend's home losses when they were surprised by Potsdam, 2-1, and hammered by Plattsburgh, 7-4, after coughing up a three-goal lead.
"We have alot of work to do defensively," Schultz said. "We are a team that loves to score goals and play offense dynamically. We had a false sense of our abilities, defensively, going into this past weekend and that starts with me. We turned the puck over 56 times in the neutral zone on Friday which led to our demise. We were better in the neutral zone Saturday, but once we got our 3-0 lead on Plattsburgh, we were not disciplined to play great defense. We had too many fly-byes and no desire to play tough in our own end.
"We will get better."
Noteworthy
Tyler Beasley has wasted no time at all establishing himself as a power play force for Nichols. Beasley, a junior forward, popped in three extra-man goals last week for the Bison, giving him a share of the national lead in that department. Beasley, who also chipped in an assist, was named ECAC Northeast Player of the Week for his effort. … Copping the same honor in the MASCAC was Framingham State forward Ryan McDonald, who fired in three goals and five points. … The NESCAC will be the last of the D-III loops to get going, with five games on the slate for Saturday and four more on Sunday.