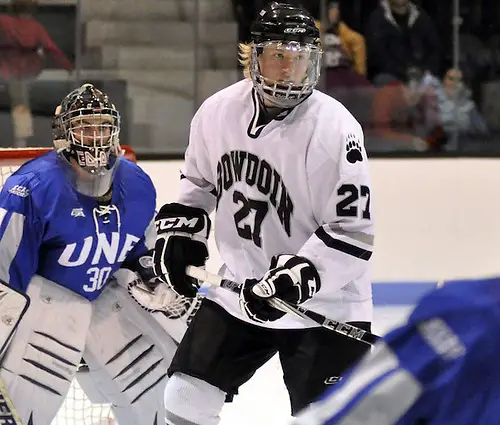 This past weekend, games were played and the action is heating up.
Who won? Who lost? Who stood out?
Our Division III columnists have the wrap-up.
ECAC EAST
– Castleton and Norwich both moved ahead of idle rivals Babson and Massachusetts-Boston in the league standings, tied as they are at the top now with six points. However, for Castleton, the weekend produced a mixed bag, a 5-4 loss to St. Anselm followed by a 5-2 win over visiting New England College. The Spartans got two third-period goals from defenseman Tyler Gaudry against NEC as they scored four times times to break open what had been a tight 1-1 contest. … As for Norwich, the Cadets had little trouble in defeating visiting Southern Maine (5-0) and UNE (4-1). Nevin Lawler netted three goals on the weekend, including two against USM.
ECAC NORTHEAST
– Nichols won its only contest of the weekend, 7-3 over Wentworth on Saturday, and getting goals from seven different sources in the process. The Leopards had taken an early 2-0 lead, but the Bison struck back for four consecutive goals, including three in the middle stanza. … Suffolk kept pace with Nichols (both are 3-0) by winning a pair of close contests, 2-1 over Johnson & Wales (in OT) and 3-1 over Western New England. The Rams trailed in both games, but still grabbed the maximum four points thanks to game winners by Tim Benedetto and Brett Lawson. … Nichols will host Suffolk on Wednesday in what amounts to an early season showdown clash.
ECAC WEST
– Neumann and Hobart both sit atop the conference with identical 3-1 conference records. Goaltender Ben Gurley stopped all 20 Manhattanville shots in leading the Knights to a 3-0 triumph on Friday. The next night, Mike Davis scored at 3:31 of overtime to down Manhattanville again, 4-3. … Hobart also won twice at home, 5-2 over Nazareth and 5-4 in overtime against Utica. Brad McBride's goal at 1:34 of extra time secured the Statesmen's Saturday triumph.
MASCAC
– Plymouth State's Mike Freitag had a productive week, scoring twice in Thursday's 3-3 tie at Framingham State, then chipped in one more tally in the Panthers' 4-1 win over visiting Mass-Dartmouth, Saturday. … Westfield State got an early jump on what proved to be a rewarding week, with Tuesday's 6-4 shootout with Framingham State, and a 6-1 trouncing of Salem State on Thursday. Westfield freshman Nik Passero netted his first two collegiate goals against Framingham, then chipped in another, two nights later. Junior Dalton Jay netted a three goal hat trick in the Salem win, while Maxime Richard popped in two more.
MIAC
– Freshman Huba Sekesi came through with a hat trick as St. John's finished off a sweep of St. Olaf with a 4-2 win on Saturday. Sekesi scored his first three collegiate goals in the win, including the first on a power and the last with three seconds remaining. It was the first hat trick for a SJU player since John Haeg did it in 2012. Saxton Soley made 21 saves and the Johnnies (4-0-2, 2-0) outshot the Oles (1-5, 0-2) 32-23….Gustavus got a solid performance from goalie Erik Johnson in its conference opener against Concordia but had to settle for a tie in the series finale. Johnson stopped 30 shots in the Gusties' 2-1 win on Friday, earning his second consecutive victory. On Saturday, Gustavus (3-2-1, 1-0-1) opened up a 3-0 lead but couldn't hold onto it as Concordia rallied for the tie. Blake Schammel scored twice and also dished out an assist. His linemates were also productive. Connor Deal scored a goal and tallied two assists while Tim Donohue finished with two assists. The Cobbers (2-3-1, 0-1-1) earned two points, however, by winning the shootout on a goal by Jordie Bancroft….Hamline (3-3) topped its win total from a year ago after knocking off Superior 2-0 on Friday. The three wins matches the victory total from the last two seasons combined for the Pipers. John Sellie-Hanson earned the shutout, the first of his career, as he racked up 34 saves.
NCHA
– Finlandia came up with one of the most stunning wins of the weekend, edging No. 8 St. Scholastica 4-3 on Saturday for its first victory of the year. The Lions (1-3, 1-2) handed the Saints (4-1, 4-1) their first loss of the season. Justin Scott punched in the game-winning goal, scoring 4:26 into the third period. Andrew Brownlee shined between the pipes, racking up 37 saves. The Lions, who gave up 30 goals in their first three games, led 2-0 early and were up 3-2 entering the third period. Finlandia won despite being outshot 40-21. Finlandia missed out on a sweep, however, as it lost 3-2 to the Saints on Sunday…Nick Kohn made 24 saves and helped Milwaukee School of Engineering complete a sweep of Marian on Saturday. The Raiders won 3-1 on both nights. Brent Wilcox tallied a goal and an assist to pave the way for MSOE (2-4, 2-4) in the finale. Kohn came through with 17 saves on Friday. MSOE took 44 shots, with Patrick Dwyer, Jerad Tafoya and Omar Mullan all scoring for the Raiders. Marian (2-4, 2-4 was limited to 18 shots as the Raiders ended a four-game losing streak…Lake Forest bounced back from a 3-1 loss to top-ranked St. Norbert on Friday to forge a 2-2 tie against the Green Knights on Saturday. Charlie Stein and Billy Kent both scored for the Forresters (2-2-1, 1-2-1). Leo Podolsky made a career-high 42 saves a night after tallying 37 saves against the Green Knights (5-0-1, 5-0-1).
NESCAC
– Think Trinity was ready to get the season started? The Bantams exploded for 14 goals during the opening weekend, split evenly between a pair of 7-2 triumphs over Connecticut College and Tufts. Freshman Tyler Whitney got his collegiate career off with a flourish, scoring three goals, including two game-winners. … Bowdoin's John McGinnis enjoyed a four-point night (two goals, two assists) in the Polar Bears' 6-0 Friday thumping of Middlebury, then added another the next night in a 3-3 tie with Williams. Connor Quinn netted the crucial game-tying tally for Bowdoin with 52 seconds remaining in regulation. Assisting on that extra-attacker goal? You guessed it. It was McGinnis. Freshman Colby Cretella had earlier tallied twice for Williams. The Ephs, by the way, won their opener, 4-2, at Colby, with freshman C.J. Shugart sniping two goals.
SUNYAC
– Plattsburgh ran its record to 5-0 with hefty wins over Buff State (6-1) and Fredonia (4-1). As per usual, the Cardinals enjoyed balanced scoring, with 10 different marksmen hitting the net during the weekend. … Oswego, ranked second in the nation, routed a pair of nonconference foes, Canton (9-1) and Nazareth (4-0). Sophomore Matt Galati had a pair of goals in each game, and is now tied for the national scoring lead with Adrian's Kyle Brothers. Both have impressive 5-7-12 numbers. … Morrisville earned its first two wins of the season, taking counts a pair from Cortland, 6-4 and 7-3. Robert Molinaro scored twice in each game.
WIAC
– In a rematch of last season's opening round NCAA tournament game between Stevens Point and St. Thomas, the Pointers once again knocked off the Tommies, picking up a 3-1 victory on Friday. Stevens Point (3-1) scored twice in the third period to secure the win over the Tommies (1-2-2). Andrew Kolb broke the tie with 4:52 remaining, scoring on a power play goal. It was his second goal of the season. Lawrence Cornellier also scored in the third. The empty-net goal pushed his total to four on the year. The Pointers held a decisive 33-12 edge in shots. Brandon Jaeger made 11 saves…River Falls remained unbeaten with a pair of wins over MIAC schools this weekend. The Falcons (4-0) topped Bethel 5-2 on Friday and beat Augsburg 5-3 the next day. River Falls held a 39-14 edge in shots against Bethel (2-3). Blake Huppert scored his first goal of the year in the win. Ryan Doner, Christian George and Mike Fazio also scored. Tanner Milliron came up with 12 saves. Against Augsburg, River Falls struck for three goals in the third to rally for the win. Alex Murphy scored a goal and tallied an assist. He has six goals on the year. Taylor Burden also racked up a goal and an assist. Milliron made 28 saves.