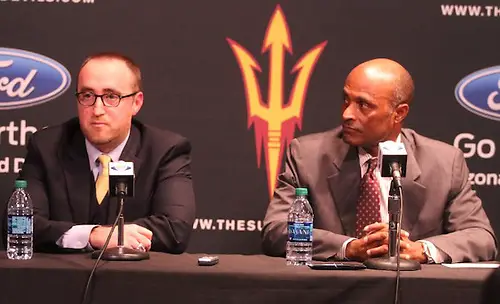 In what athletic director Ray Anderson called a "historic and bold decision," Arizona State announced Tuesday that thanks to $32 million in combined donations, including "the single-largest donation ever to Sun Devil athletics," the school will begin competing in Division I men's hockey starting in 2015.
The donations, from an anonymous donor and Don and Chris Mullett and their families, will also be enough to launch a women's team to keep the school in Title IX compliance; ASU is looking at adding either women's lacrosse or rowing in 2016.
"It's critical to note that the donors' willingness to financially support the addition of new women's sports programs as part of this hockey initiative is phenomenal," said Anderson. "On behalf of all of us at ASU, we thank you for that participation and that commitment. That is very meaningful to this university."
Earlier story: Arizona State gets $32 million donation to launch varsity men's team
Anderson also said that the Pac-12 Conference, of which ASU is a member, is supportive of the move, and hopes it might lead other Pac-12 schools to elevate their hockey programs to Division I status.
"It will hopefully tip the dominos in the northern schools in Washington and Oregon and our folks in California, who have many programs, and probably don't want to see Arizona State competing when they are not," Anderson said. "We are getting a lot of support from a lot of folks, but they recognize that we are being ASU, which is being entrepreneurial and innovative and out there, and we are willing to do that."
ASU hockey is the reigning ACHA Division I champ, winning the Murdoch Cup last year by defeating the Robert Morris ACHA team 3-1.
Anderson also announced that Greg Powers, the coach of the club team, will be the varsity coach, acknowledging his "passion and commitment" to the club team, which he worked as a second job.
Powers thanked Anderson and senior associate athletic director Dave Cohen for the opportunity, and said that the 90-day turnaround from the initial exploration of elevating the program "is nothing short of a miracle. I think it speaks volumes to the future and the initiatives that Sun Devil athletics overall has, and I am thrilled to be a part of it."
In 2015-16, ASU will play a hybrid schedule, competing as a Division I independent and also playing ACHA D-I teams. In 2016-17, the Sun Devils aim to play a full independent D-I schedule with hopes of moving in 2017-18 to a "to-be determined conference," Powers said.
ASU has not yet decided on a home rink for its new team. They currently play at Oceanside Ice Arena in Tempe, but Powers indicated he expects to have a facility on campus. The Sun Devils also could play at US Airways Center in downtown Phoenix, the former home of the Arizona Coyotes.
"We have a lot to figure out," said Powers. "The most important thing is we have very viable options that will be suitable for first-class college hockey. I can tell you that my goal personally as the head coach is to be on campus as soon as possible."
"We certainly have the commitment to have a Division I-quality home for our varsity team, and we'll accomplish that," Anderson said.
When asked what would enable ASU to succeed where U.S. International and Northern Arizona failed as Division I hockey schools in the 1980s, Powers said: "We're Arizona State; that's the difference. We are a large, successful, committed university, not to say that U.S. International and certainly NAU are not, but we are in a different market. It's a different time now than it was when those two programs launched.
"Hockey in general on the West Coast, to say it is growing is a gross understatement. Last year alone, 59 kids from the state of California played Division I hockey, 14 from Arizona. We have the NHL here in Phoenix, and two of the last four Stanley Cups belong to a West Coast team in the Los Angeles Kings."
Powers also addressed how quickly fans can expect ASU to be a competitive NCAA squad, and pointed to what he believes are ASU's recruiting advantages.
"Are we going to be a national championship contending team very quickly, within a couple of years at the NCAA level? No, that's why we have a ramp-up period where we play a hybrid schedule and then an independent schedule and then go into conference play," Powers said.
"We have proven at the ACHA level with student-athletes turning down scholarship opportunities to come play here that we pushed the most unique college hockey experience in the country. Now we truly are the most unique college hockey experience in the country, and we are going to exploit that."
College Hockey Inc. executive director Mike Snee was in Tempe for the announcement and said the college hockey community was excited by the news.
"It is always exciting when a school announces it is going to add varsity hockey," Snee said in a statement. "But this is different. Arizona State elevating its successful men's ACHA team to NCAA Division I is a defining moment for college hockey. The tremendous growth of hockey participation in the southwestern United States has been well documented, and having an NCAA Division I school offering hockey in this part of the country is actually overdue. Hopefully Arizona State will be the first of many schools in new areas to offer the sport."