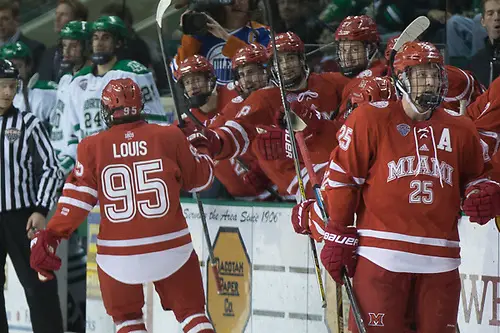 Each week during the season we look at the big events and big games around Division I men's college hockey in Tuesday Morning Quarterback.
Jim: Well, after remaining at the top since the beginning of the season, Minnesota has been unseated as the No. 1 team in the USCHO.com Division I Men's Poll.
Michigan Tech is the somewhat unlikely team at the top. I feel like Tech, at 10-0, was the ultimate choice with Minnesota, North Dakota and Massachusetts-Lowell all losing. This sort of reminds me of Quinnipiac a couple of seasons ago. Voters tried to keep the Bobcats from the top spot for a while but ultimately QU became the obvious choice.
This was hardly a unanimous vote for Tech, but I think the Huskies would love to follow the footsteps of that Quinnipiac team that reached the national title game.
Todd: I spent some time Sunday night trying to decide between Michigan Tech, North Dakota and Boston University for the top spot on my ballot. In the end, I fell back on some statistics: Taking out games played against the team in question, Tech had the best opponents' record of the group.
It's really an incredible story. The Huskies' 10 wins so far this season is more than they had in the 2009-10 and 2010-11 seasons combined. There have been a lot of dark days in recent years for Tech — a 13-season stretch from 1998 to 2011 where it cracked the 10-win mark only three times stands out — but Mel Pearson's transformation of the program has really taken off.
Jim: I think there has to be a tremendous amount of pride for Tech fans for taking such major steps forward. Another team whose fans can be pleased is Miami.
Hardly a school familiar with difficult seasons like Michigan Tech, Miami is still coming off a last-place finish a season ago. Enrico Blasi's team had a great postseason run to the NCHC title game last season and might be riding some of that momentum this year. So is Miami a legitimate contender in your eyes?
Todd: I think time will show last season to be an anomaly for the RedHawks. This seems much more like the Miami program we've seen over the last decade-plus.
That being said, I don't know if there are any areas where the RedHawks as a team have been outstanding so far this season. I think that will have to change for them to be an NCHC contender, but with players like Sean Kuraly, Austin Czarnik and Riley Barber to go with a defense that has shown the ability to be solid, there is a good chance of that happening.
Speaking of teams trying to do a 180 from last season, Boston University earned another road victory last weekend, beating Maine on Friday to improve to 4-0 away from home. The Terriers were 1-12-1 on the road last season. What's been key in that turnaround?
Jim: I think there are a number of factors that contribute to BU's success. The most obvious is the powerful recruiting class led by Jack Eichel, easily Hockey East's most prominent recruit since Paul Kariya.
The conversion of defenseman Ahti Oksanen to forward has kick started the offense. But most importantly the fact that these players seemingly buy into coach David Quinn's system in his second year at the helm is most important.
Todd: We've gone this far without mentioning one of the most impressive performances last weekend: Minnesota-Duluth holding Minnesota to one goal and 42 shots on goal in a home-and-home sweep. Friday's 3-0 victory was a complete performance from the Bulldogs, who never gave the Gophers much of a chance.
In each of their first four weekends, the Bulldogs started with a loss and finished with a win. Now on a four-game winning streak, it seems like UMD has something going with a big series at Omaha on deck. Those games might tell us which of those teams will be a real NCHC contender, don't you think?
Jim: While I agree this weekend's series is important, I think both teams are going to be contenders in the NCHC come season's end. In fact, the only team I see as out of the picture in that league is Colorado College, which is defining the term "rebuilding" this season.
Todd: An 8-1 loss to your closest rival, as CC suffered last Friday at Denver, has to put a lot of things in focus for the Tigers. There has to be a long view for new coach Mike Haviland and the Tigers, and maybe someday they'll point to that loss as a time it became clear how much needed to happen.
Thumbs up
To Rochester Institute of Technology's Matt Garbowsky, who scored all three Tigers goals in Friday's 3-3 tie vs. Canisius. He followed that up with a goal and an assist in a 3-0 win on Saturday.
Thumbs down
To the eight misconduct penalties in the final 27 minutes of last Friday's Denver-Colorado College game, two of which were game misconducts that accompanied major penalties. It's a rivalry game and the score was 7-1 when those incidents took place, but give it a rest, guys.
Coming up
There are three series between ranked teams on the docket this weekend:
• New No. 1 Michigan Tech hosting No. 9 Minnesota State. Raise your hand if you had this being a meeting of top-10 teams before the season.
• No. 2 North Dakota plays at No. 16 St. Cloud State. The Huskies won three of the four games played between the NCHC's top two teams in last season's standings.
• No. 13 Omaha hosts No. 8 Minnesota-Duluth, with the Mavericks looking to extend a six-game unbeaten streak.