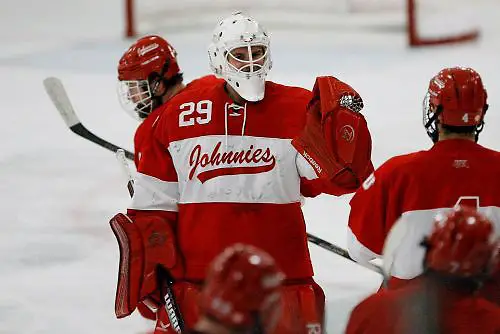 The crystal ball is out and our Division III columnists are at it again.
Who gets wins this weekend and who doesn't? Digest the predictions below.
DAN HICKLING
Friday
ECAC East – Castleton (3-2-0, 3-1-0) at No. 11 Massachusetts-Boston (4-0-0, 2-0-0) – Mass-Boston 3, Castleton 1
UMB returns from its two-week layoff with scant signs of rust. Could be a defining weekend for Castleton which also has No. 7 Babson on Saturday.
NESCAC – Tufts (0-2-0) at Middlebury (0-1-1, 0-1-1) – Middlebury 4, Tufts 2
After a trouncing by Bowdoin and being forced to settle for a tie with Colby, Middlebury is still trying to figure itself out. Some answers may come courtesy the likewise winless Jumbos.
Saturday
ECAC Northeast – Becker (1-4-0, 0-3-0) at Suffolk (4-0-1, 3-0-1) – Suffolk 3, Becker 1
Still-unbeaten Suffolk doesn't score a lot, but their foes score even less. While on that subject, the Hawks have been blanked the last two times out.
MASCAC – Fitchburg State (0-3-2, 0-1-1) at Framingham State (0-3-1, 0-2-1) – Fitchburg 2, Framingham 1
Framingham scores four goals again, but few goalies in the conference are as good as Fitchburg's Ryan Wysocki, who may see his customary 40 shots per game, but could put up another of his head-standing performances.
ECAC West/SUNYAC – Utica (1-3-1, 0-3-0) vs. No. 2 Oswego (5-0-0, 3-0-0) at the Carrier Dome, Syracuse, N.Y – Oswego 5, Utica 1
The big stage of the Frozen Dome will be suitable for a large-sized showing by the Lakers, ranked second in the nation. Utica can give them a game, but will they?
BRIAN LESTER
The puck is set to drop on another weekend of hockey, and two big games over the weekend involve a matchup between top teams in the WIAC and NCHA.
Adrian takes on Wisconsin-Eau Claire on Friday night before battling 2013 national runner-up Wisconsin-Stevens Point on Saturday. Both games are on the road for the fifth-ranked Bulldogs.
The Bulldogs (6-0) have scored 37 goals this season and feature one of the top offenses in the nation.
Josh Ranalli and Kyle Brothers have paced the offense with five goals apiece. Duston Hebebrand has come through with four goals. Adrian has also gotten solid goaltending from James Hamby and Scott Shackell.
No. 6 Eau Claire (3-1-1) has scored 19 goals on the season and has given up 11. Defense will be the key to success against the Bulldogs. The Blugolds have allowed opponents to go just 1-of-20 on the power play this season.
Tyler Green and Jay Deo have split time in goal and either one is capable of starting on any given night.
For the No. 6 Pointers, who have won their last two games, defense will likely be a key to their success as well. They have given up just seven goals on the season and this game provides an opportunity for a huge nonconference win
Brandon Jaeger has played well, fashioning a goals against average of 1.40. If he rises to the occasion, the Pointers will be in a position to win.
I think Adrian gets the win on Friday by a 5-3 score, but takes a hit on Saturday and in a tight one I'll give the Pointers the edge in a 4-3 win.
Below are a few other games to watch this weekend.
St. Johns (4-0-2, 2-0) vs. St. Mary's (2-3-1, 0-1-1): The Johnnies are one of two unbeaten teams in league play. They come into the series on a two-game win streak. Neal Smith has played a key role offensively, scoring four goals. Huba Sekesi has tallied three goals. Goaltender Saxton Soley gives SJU a chance to win every night.
The Cardinals have given up three goals in each of their last two games, but will look to get back on track this weekend. Martin Gruse has played well, scoring four goals and dishing out three assists, while Phil Heinle has led the way in goal. He has tallied 175 saves.
This should be a competitive matchup, but in the end SJU will find a way to win. SJU, 4-2, 3-2
Gustavus Adolphus (3-2-1, 1-0-1) vs. Hamline (3-3, 0-0): The Gusties have scored 18 goals on the season and will look to be on top of their game offensively against the Pipers. Five players have scored two or more goals, with Jake Bushey paving the way with four. Conor Deal has tallied three goals and three assists. Erik Johnson will need a big game in goal.
Hamline is playing its first league series of the season and is a much different team than it was a year ago. The Pipers will need to be at their best on offense. They have scored 14 goals. Kevin Novakovich has led the way with four. For the Pipers, this is an opportunity to make a statement against one of the top teams in the MIAC. I think they do it in the series opener. HU, 2-1, GU, 4-2
Lawrence (4-2) vs. Wisconsin-River Falls (4-0): Lawrence has an opportunity to nail down a big road win. The Vikings have won their last two and have been led by Blake Roubus, who has tallied four goals and four assists. Renato Engler has come through with three goals and six assists for Lawrence, which has scored 22 goals and given up 17. Goalie Mattias Soderqvist has been consistent between the pipes.
The Falcons, ranked 10th in the nation, have scored four or more goals in every game. Their offense is anchored by Alex Murphy, who has come through with five goals and two assists. Ryan Doner has tallied two goals and five assists. Tanner Milliron has been solid in goal, too. The Falcons should get the job done at home. River Falls, 4-2