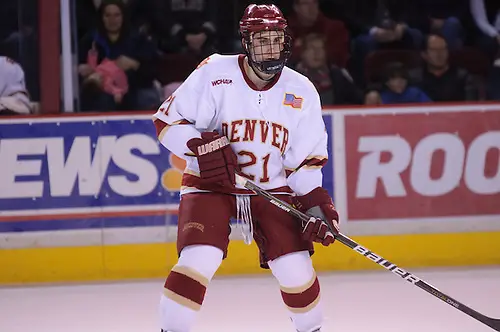 Coming into this season, the No. 10 Denver Pioneers had their largest senior class since the last year they won the national championship, in 2004-05. So far, that leadership has paid dividends.
With seven seniors playing regularly, the Pioneers are 8-3 and have won a variety of games, from tight low-scoring affairs against Boston College and Wisconsin to a come-from-behind offensive win against Western Michigan to blowouts against their in-state rivals, Colorado College and Air Force.
"Having that big senior class helps for that," said senior defenseman Joey LaLeggia. "Over the last few years, we've been in a lot of tight games, and even when Wisconsin scored the goal to cut the lead in half and make it 3-2 with under 10 minutes left, nobody was panicking. Everybody was very calm on the bench and still confident. I think that really has everything to do with our experience and our large senior class leading everybody top to bottom."
With the graduation of standout goalie Sam Brittain, no one was sure what to expect from Denver, especially considering its struggles to score last year, when they ranked 36th nationally in offensive production. The Pioneers have used their seniors to become an offensive machine ranked fourth in team offense and second on the power play.
The Pioneers' top line includes last year's leading scorer, sophomore Trevor Moore, freshman Danton Heinen and senior Daniel Doremus. The three lead the Pioneers in scoring, each with 13 points. After last Saturday's win over Wisconsin, Denver coach Jim Montgomery said of the line that "they've got it on a string a lot." Doremus and Moore also played together on a line last season.
"I think our line just clicked right away," said Doremus. "It's tough to put a finger on anything specific. Those two are incredibly talented, and can make plays from anywhere on the ice. I just try to create space for them. I think I kind of balance it out by getting them the puck and making space and letting them make creative plays."
One of the big strengths of Denver is the offensive production it gets from its defensemen. LaLeggia, who earned his 100th career point against Colorado College, is fourth on the team in scoring. His partner Nolan Zajac is sixth, and Will Butcher of the second defense pair is eighth. Someone from a rival school observed that the Denver defense attacks in waves.
"I think that's a tribute to coaching, to Jim Montgomery," said LaLeggia. "We all came to Denver with very good offensive instincts and offensive skills that not a whole lot of defensemen have, and Monty has done a great job of teaching us how to be 200-foot players and teaching us how to take care of our own end, but still giving us the green light to do what we do offensively."
Added Doremus: "We want them to have the puck and get engaged in the play. That's what makes our team so dynamic and hard to play against, because we rely on all five guys on the ice to take part in the offense."
The defensemen are also a key to Denver's second-ranked power play unit, which clicks at a 28.3 percent success rate.
"A lot of it has to do with our defensemen," said Doremus. "They're extremely talented, and they quarterback the power play. They are a big part of breaking it into the zone and starting it off."
"Like Danny said, I get the opportunity to play with Nolan Zajac on the power play, and he just makes it so easy," said LaLeggia. "He's one of my favorite players that I've ever had the opportunity to play with. He is so easy to play with, with how smart he is and the offensive instincts he has. When you have a guy like that on your power play, it just makes it easier for everybody else to click and find each other out there."
After going 5-1 in November, Denver is off for Thanksgiving and will resume play on the road at Cornell Dec. 5-6 before closing the first half with a series at home against North Dakota. Doremus thinks the team's experience will help it remain focused.
"Our leadership group this year, our senior class and even our juniors, they're outstanding, so I think we have learned lessons in the past and the consequences of coming back unfocused, or a lack of attention to detail, and pushing the pace in practice right from when we get back and how that can affect us," Doremus said. "I think we understand that we have to get back to that level when we get back. At this point, we are out of school, so all we have to do is focus on hockey, which is really nice."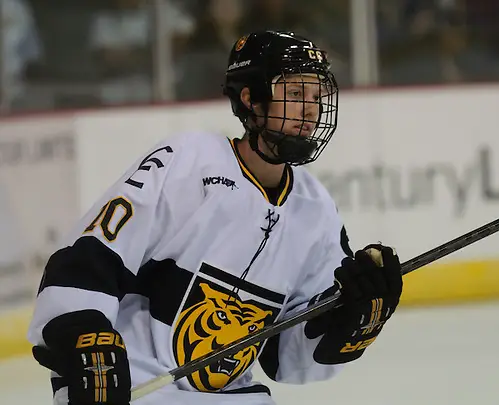 Giving thanks
In the spirit of the holiday, this week we'll look at what each NCHC team has to be thankful for. Overall, the league is off to a great start, with six of its eight representatives ranked in the USCHO.com Division I Men's Poll.
The league also has the best out-of-conference record of any conference in Division I men's college hockey at 30-15-2, including a 14-9-2 mark against ranked opponents.
We'll go in alphabetical order on this list.
Colorado College
There haven't been many bright spots for the Tigers so far this year. They are 0-5 in league play, sitting in the cellar, and are only 3-8 overall, the worst mark of any team in the league.
Scoring continues to be a problem; the top scorer on the team is Cody Bradley, who averages .727 points per game. Hunter Fejes is second, averaging .545 points per game. Neither of the two goalies, Chase Perry and Tyler Marble, has a save percentage above .900, and both GAAs are high at 3.73 and 4.77, respectively. The Tigers are 58th out of 59 teams nationally in team defense while ranking 55th on penalty-killing efficiency.
So what does first-year bench boss Mike Haviland have to be thankful for? The Tigers just earned their third win of the year last Friday at home against Wisconsin 5-2, and returning home in the second half is a good thing.
CC is 0-7 on the road, and its next seven NCAA games are on the road. However, after facing Connecticut in Hartford on Jan. 6, CC is home for seven of the last nine weekends. World Arena is a tough place to play, between having an Olympic-sized ice sheet and being at an altitude of over 6,000 feet.
CC is 3-2 at home so far this year, and having the second half of the season played mostly at home could help the Tigers get on a roll.
Denver
A year ago, Denver rode the coattails of goaltender Sam Brittain while struggling to score goals. In fact, Denver didn't have a single player average a point a game last season; Moore led the team in scoring while averaging .761 points a game on an offense that ranked 36th nationally, averaging 2.67 goals a game.
What a difference a year makes. Second-year coach Jim Montgomery has to be thankful for his team's offensive production so far.
Through the first six weeks of the season, Denver has five players averaging 1.10 points per game or better, including freshman phenom Heinen, who leads the team in scoring. Defenseman Zajac, sixth in scoring, has a better scoring average than Moore posted last year.
Denver's offense is now ranked fourth nationally, averaging 3.64 points per game. The power play is second nationally, clicking at 28.3 percent. The ability to score seemingly at will is a big reason Denver is off to an 8-3 start. The team is 3-2 in league play and currently fourth in the standings.
All the goal-scoring hasn't come at the expense of defense. Denver ranks 18th nationally in team defense, giving up on average 2.18 goals per game, which is lower than last year's defensive-minded squad did.
Miami
Last year at about this time, Miami lost Blake Coleman to injury and went into a swoon, one it didn't really recover from until the NCHC tournament. However, even when Coleman went down, the RedHawks were barely above .500.
This year, Miami is off to a much better start. The team is 10-4 on the season and is 6-2 in league play, sitting atop the standings. Miami is No. 5 in the USCHO.com Division I Men's Poll thanks to its fast start.
On a team blessed with offensive talent, including Coleman, Sean Kuraly, Austin Czarnik and Riley Barber, coach Enrico Blasi is probably most thankful for the play of goaltender Jay Williams, who sports an NCAA-best record of 10-1 while recording a 1.55 GAA and a .928 save percentage. Williams is sixth nationally among goaltenders in GAA and is tied for fifth in shutouts with two. The RedHawks are tied for 12th nationally in team defense, giving up only 2.00 goals per game on average.
The RedHawks are off for Thanksgiving and end the first half with a key league series against Omaha.
Minnesota-Duluth
Minnesota-Duluth has been one of the surprises of the season. The Bulldogs sit second in the league standings behind Miami and are ranked eighth in the USCHO.com Division I Men's Poll. After .500 play through October, Minnesota-Duluth caught fire, winning its first five games in November before losing to Omaha last Saturday.
The stretch was more impressive because of the opponents against whom the Bulldogs claimed victories: then-No. 7 St. Cloud State, then-No. 1 Minnesota, and then-No. 13 Omaha, the lowest-ranked team the Bulldogs have played so far. Overall, Minnesota-Duluth has played the third-toughest schedule in the country to date.
What has been the key to the Bulldogs' great run? Look to freshman goaltender Kasimir Kaskisuo, who has won the starting job while posting a 2.09 GAA and a .924 save percentage. Coach Scott Sandelin must be thankful to see the freshman display such poise early in his collegiate career.
While the Bulldogs have gotten some balanced offensive production, including scoring from Dominic Toninato and Alex Iafallo, it is the defense that has helped the team go 5-1 in November. Before Saturday's 4-1 loss to Omaha (which included an empty-net goal), the Bulldogs hadn't given up more than two goals since Nov. 1 in a 4-3 win over Miami.
UMD is 21st nationally in team defense, giving up on average 2.21 goals per game. Despite not having a single player averaging over a point per game, the Bulldogs are 17th in team offense, averaging 3.14 goals per game.
The Bulldogs are off for Thanksgiving and resume play Dec. 5-6 against Colorado College at home.
Omaha
Under coach Dean Blais, Omaha has always been an explosive offensive team, and that continues this year. Despite losing two of its top scorers from last year, UNO is ranked 15th in team offense, averaging 3.20 goals per game. Sophomores Austin Ortega and Jake Guentzel have led the way, and a trio of freshmen — Jake Randolph, Tyler Vesel and Avery Peterson — have stepped up in their first season to produce points at a respectable rate, with Randolph leading the way with nine points.
Despite the continued offensive production, Blais has to be most thankful for the play of senior goaltender Ryan Massa, who has posted a 6-1-1 mark so far and a 1.48 GAA and .951 save percentage. Massa is ranked fifth nationally among goalies for his GAA, and his save percentage is second only to Mathias Dahlström of Northern Michigan.
Massa's play is a big reason UNO is ranked 11th nationally in team defense, giving up only 1.90 goals per game, a substantial decrease from last year's mark of 3.24 goals per game, when UNO ranked near the bottom in team defense at 49.
Massa's play has also helped UNO rank seventh in penalty-killing efficiency, killing at a 90.9 percent success rate.
UNO already has had two bye weeks but closes with three straight weekends of key league series and a nonconference series with Alabama-Huntsville right before Christmas. The Mavericks travel to North Dakota this weekend, Miami the following weekend and close at home against St. Cloud State and UAH.
North Dakota
North Dakota is second in the USCHO.com Division I Men's Poll, third in the league standings and sports a 9-3-1 mark so far. The team is 12th nationally in team offense, averaging 3.31 goals per game, and 15th nationally in team defense, giving up only 2.08 goals per game.
North Dakota has had a lot of success in part due to a strong defense. Zane McIntyre has a .927 save percentage, and the team leads the country in short-handed goals with seven.
Coach Dave Hakstol has to be most thankful that senior Mark MacMillan got healthy again after being hurt against Providence and missing four games. North Dakota struggled in MacMillan's absence, eking out a come-from-behind OT win over Air Force, sweeping woeful Wisconsin and then losing to Miami.
In MacMillan's first game back in the lineup, he had a goal and an assist in a 4-1 win over the RedHawks, scoring a four-on-four goal to tie the game just two minutes after Miami had taken the lead.
MacMillan is tied for the national lead in short-handed goals with two (as is his teammate Drake Caggiula), and is second on the team in scoring average with 1.22 points per game. MacMillan is on the top line with leading scorer Caggiula, who is tied for fourth nationally in scoring, and Michael Parks, who is 17th. The trio has been a big part of North Dakota's success.
After the series this weekend against Omaha, North Dakota hosts Lake Superior State, then travels to Colorado to end its first half with a key league series against Denver.
St. Cloud State
The defending NCHC regular season champion, St. Cloud State has had a rough start, sitting at 5-6-1 overall and sixth in the conference. Of course, when you look at their schedule, the Huskies' record makes more sense, as they have faced the No. 2-ranked team twice in Union and North Dakota, top-ranked Minnesota, sixth-ranked Colgate, and (at the time) No. 17 Minnesota-Duluth. Two of St. Cloud's losses have been in overtime to Minnesota and Minnesota-Duluth.
Overall, St. Cloud has the seventh-toughest schedule in the country to date. That strength of schedule, as well as the graduation of Nic Dowd, has resulted in a reduced offensive production from the Huskies, who are averaging 2.33 goals per game, good for 36th nationally, and significantly off their pace of 3.58 goals per game last year.
Forward Jonny Brodzinski continues to pace the Huskies. His offensive production is a little off last year's pace of 1.07 points per game, but he continues to be a tough player for opposing teams to contain. His seven goals are good for a tie at 13th nationally.
One thing coach Bob Motzko has to be thankful for is the Huskies' power-play production, which is fifth nationally at a 25.49 percent success rate. Brodzinski is a big reason for that, as he has potted four power-play goals, tied for third nationally, and only one behind the top two of Quinnipiac's Sam Anas and Bentley's Max French.
St. Cloud renews an old rivalry this weekend when it travels to Bemidji, and then closes its first half with a series in Omaha in the second weekend of December.
Western Michigan
Western Michigan has also had a tough start. The Broncos are seventh in the league standings and have an overall record of 3-8-1.
Since beating Denver 6-3 on Nov. 8, which was the third straight game in which the Broncos scored four or more goals, the offensive production has turned anemic again. They scored three goals in a loss against St. Cloud, then one, none, and two goals over a stretch where the Broncos have gone 0-3-1-1.
Nolan Laporte and Chris Dienes lead the team in scoring, each at nine points, good for .750 points per game.
In team stats, the Broncos are 40th nationally in both team defense and penalty-killing efficiency, and rank 36th in team offense. One bright spot so far has been the power play, which clicks at a 19.61 percent success rate, good for 22nd nationally.
Ultimately, the Broncos are a young team, with only two seniors, Will Kessel and Justin Kovacs, seeing regular playing time. Senior goalie Frank Slubowski has played four games so far, while junior Lukas Hafner has appeared in nine and posted a .916 save percentage and 2.28 GAA. His play was a big part of the Broncos' success in Denver in early November.
Coach Andy Murray has to be thankful that the power play is clicking well and that with Hafner in net, the Broncos have a solid goaltender who can keep Western Michigan in a lot of tight defensive games, which should help until Western's younger players can grow into their roles.
Over Thanksgiving, the Broncos will face Ohio State in Notre Dame's Shillelagh Tournament, then face the Union-Notre Dame winner. Western is then off before closing its first half with two games at home against Colorado College.
Players of the week
Offensive player of the week — Quentin Shore, Denver: In Denver's weekend sweep of Air Force and Wisconsin, Shore had five points on four goals and an assist. On Friday, in a 7-0 win over Air Force, Shore notched his first career hat trick, and a natural one at that, scoring thrice in the second period, one short-handed and one on a power play. He added an assist on a power-play goal in the third. On Saturday, he scored a power-play goal in the second period to give Denver a 2-1 lead after Wisconsin had tied the game up five minutes earlier. He had a plus-2 rating on the weekend and eight shots on goal.
Defensive player of the week — Will Butcher, Denver: Denver gave up only two goals on the weekend, in part due to Butcher's play. Butcher also pitched in on the other end of the ice, recording two assists and a goal. He assisted on the first goal in Friday's 7-0 win over Air Force and assisted on a power-play goal and then scored a power-play goal in the second and third periods, respectively. On Saturday, Butcher finished plus-1 in Denver's 3-2 win over Wisconsin. Butcher helped Denver kill six of seven power-play opportunities on the weekend.
Rookie of the week — Tyler Vesel, Omaha: In UNO's split with Minnesota-Duluth, Vesel had three points, including assisting on a power-play goal in Friday's 3-2 loss and scoring the first goal on Saturday in UNO's 4-1 win. He also assisted on the game-winner Saturday. He finished plus-2 on the weekend and blocked five shots.
Goaltender of the week — Jay Williams, Miami: Williams earned the honors for the second time this year, earning two wins in a weekend sweep of Western Michigan while posting a 1.00 GAA and a .958 save percentage. On Friday, he earned his second shutout of the year and fourth of his career with 23 saves in Miami's 1-0 win. On Saturday, he gave up two goals, one on a power play and one at even strength, while making 23 saves. He helped kill eight of nine Western Michigan power-play attempts on the weekend, and has the best record in Division I college hockey at 10-1.