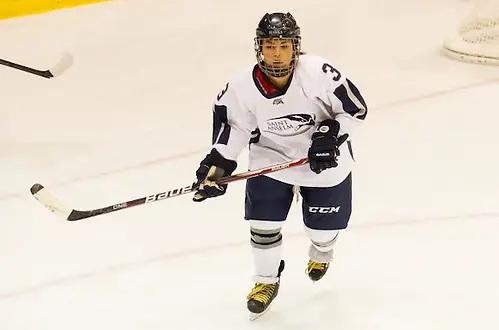 It's well-documented that hockey talent has been emerging from nontraditional places such as California, Arizona, and even Florida and Texas.
And New Mexico.
Seriously.
St. Anselm senior defenseman Robin Yoshida is just one of two New Mexico natives in all of Division I and Division III women's hockey (Amherst's Kristen Molina, an Albuquerque native, is the other), and has a story similar to how other players got their start, only hers starts in a place that can hardly be considered a place where hockey thrives.
"My dad taught me how to skate when I was really young," said Yoshida, a Los Alamos native. "I had been figure skating my whole life, and when I was around eight years old, my friend's dad was coaching a hockey team and trying to get some kids to join. I switched to hockey skates and have been involved ever since."
Yoshida added that reflecting back on those early years has been humbling when she realizes the sacrifices people made.
"I have a lot of memories having to get up at 4 or 5 in the morning to make it to a game in Taos or Santa Fe on the weekends; I still can't believe my parents did that for me for so long," Yoshida said. "Other than that, my most significant memories are probably playing on the outdoor rink in Los Alamos. You don't see rinks like that in New England. It was cold, but I was lucky to get to experience that growing up."
During her sophomore year of high school, Yoshida left home to play travel hockey in Anaheim, California, and then went to the Cushing Academy outside of Boston for her junior and senior years.
"That experience was the best thing I could have done to prepare myself for college not only in hockey, but academically as well," explained Yoshida. "At Cushing, I had all of the guidance I needed in one place to help me develop. My coach, Paul Kennedy, was a big name on the East Coast and he helped me get to where I needed to be to compete for a college spot. Playing in the prep school league, I had to acclimate to the competition around me, and I also got more exposure and recruiting opportunities."
Growing up, Yoshida always dreamed of playing college hockey, and when she realized her talent was college-ready, as was her academic profile, it was then just a matter of deciding on a school.
Enter St. Anselm.
"I always wanted to play in college and I knew that hockey could help me get into a good school," Yoshida said. "In the prep school league, most of the girls are trying to play college hockey. Once I realized that I could hold my own among the college competition, I knew I could play somewhere. It was more about finding out what kind of school I wanted to go to and what level of hockey was the best fit. By senior year, I knew that I wanted to go to a small school with good academics and a good Division III program."
In 34 career games with the Hawks, Yoshida has recorded three assists. More than that, though, has been the "great experience" she has experienced at the school.
"I walked into a highly competitive, winning program," Yoshida said. "We won 24 games last year and have won the ECAC Open the last three years in a row. We have a tradition of winning, but we have a culture of hard work. St. A's is a hard school academically and with such high expectations hockey-wise, it is hard to keep up and it takes a true work ethic. This year, we were ranked second in the polls for our league behind Norwich, and some of our team goals are to win at least 20 games, win the ECAC tournament again and compete for a full 60 minutes every game. Coach (Kerstin) Matthews always says that at the end of the day, her hope is that we leave St. A's strong and confident women and that is what I hope for myself.
"This is the best I have ever played and I just want to get better every day until it's over."
A sociology major, Yoshida wants to get her masters in public health with a focus on epidemiology and maybe global health.
"I hope I can get a job studying infectious diseases and be able to use my education to help people," she added. "I will be applying to grad schools on the East Coast after graduation, and in the next five years, I plan to get my masters and then I hope to do the Peace Corps before I look for a job."
With the season just getting underway and the Hawks sporting a 6-1-1 overall mark and a 4-1-1 ECAC East mark, the team is taking the "one day at a time" approach and so far, it's working to a 'T.'
"As a team, we have a lot to accomplish this year," Yoshida said. "We are focusing on taking care of each game one at a time and showing up for three full periods. We have a really young team and as seniors, we are making sure that we are instilling the culture of the program into our team. We need to make sure we are staying focused, working hard, and doing the little things every day to get better. I am focusing on finishing this year doing my best academically and getting the most out of the rest of my experience here."
As for back home some 2,254 miles away, Yoshida keeps an eye on the hockey scene and yearns for more exposure and growth in that part of the country.
"The talent is only getting better, and I hope that there are more opportunities for kids in New Mexico to get the kind of exposure they need to compete in college without having to live across the country," said Yoshida. "The world of women's hockey has really taken off, and I really hope that there are more girls getting involved, especially in New Mexico. I don't think people realize how many opportunities there are out there to not only play hockey, but to use hockey to further your education. Being on a team and playing a competitive sport teaches you such invaluable skills.
"Hockey is the best sport in the world, and I hope that more kids in New Mexico are getting to experience it along with all of the benefits it can have."
Noteworthy
Plattsburgh received 11 first-place votes to stay atop the USCHO.com Division III Women's Poll. Elmira garnered the other four first-place nods and sits second. … Elmira senior Ashton Hogan has scored 11 goals in her first six games this season, and is on pace to shatter her career-best of 19 in 2012-13. She also needs 12 points for 100 in her career. … In three games, St. Thomas freshman goalie Paige Kittelson is 2-0-1 with a staggering .981 save percentage and a miniscule 0.32 goals-against average. Only Bowdoin sophomore Lan Crofton has a better save percentage (.982). … Oswego has allowed an NCAA-best 0.86 goals per game. … Adrian's power play is operating at a remarkable 38.46 success rate (10 goals in 26 chances). … On the flip side, St. Catherine and Connecticut College are the only two schools that have not allowed a power-play goal yet this season.