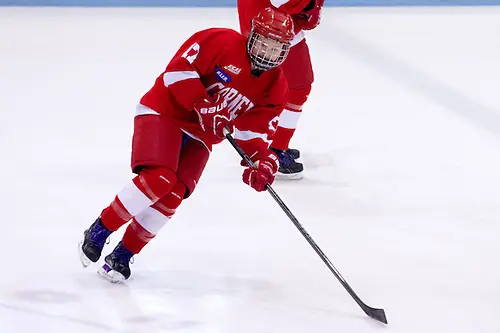 Cornell reached its first NCAA tournament in 2010. That team finished with nine losses, three of which deserve asterisks. They occurred while Catherine White, Laura Fortino, and Lauriane Rougeau, ultimately the team's top three scorers, were competing internationally for Canada, leaving the Big Red with just 13 skaters for one game and 12 for two more. The team's final loss came in Minneapolis in triple overtime to Minnesota-Duluth in the championship game.
By March of this year, Cornell had qualified for five consecutive national tournaments, claiming either an ECAC regular-season or tournament title, or both, each time. The Big Red didn't lose more than six games in any of the last four of those championship seasons.
On Friday and Saturday, Cornell traveled to Duluth to face UMD for the first time since that NCAA Championship and dropped a pair of games, giving the Big Red (3-6-0, 3-2-0 ECAC) as many losses in a month as any player on the roster had suffered in a previous college season.
Forward Brianne Jenner missed that 2010 NCAA run as she delayed the start of her Cornell career so that she could centralize with the Canadian national team as it prepared for the 2010 Olympics. Jenner played for Canada at the 2014 Games and won a gold medal. In between, she piled up 178 points for the Big Red in three seasons, including 70 points as a junior in 2012-13, the most by a Cornell player since the 1977-78 season.
Her return to Ithaca, N.Y., for a final campaign was reason for optimism for many, Jenner included.
"I was pretty excited for the season two weeks after the Olympics," she said. "Obviously, that was the highlight of my career so far, but I've had a great three years so far at Cornell, and I'm just kind of looking forward to the senior season."
The season hit a speed bump right out of the gate, and in this case, the bump was moving, as the Big Red opened with a pair of 6-2 defeats at current No. 1 Boston College.
"I'd be lying if I said it wasn't a really tough start, for sure," Jenner said. "We were still pretty excited for the opportunity, to see if we could have a good game against them. Unfortunately, if you watch that game, we just weren't ready for the game pace. We'd been practicing hard, but it's still tough to adjust. They are a fast team and they're a really good team, so we're just going to try to get better and looking forward to an opportunity to play them again."
To get another crack at the Eagles from Hockey East, Cornell would need to advance to its sixth-straight national tournament, and that doesn't look overly promising for a squad that sits three games below .500.
However, five of the six losses have come against ranked opponents, which may cause the situation to look more bleak than it actually is.
"Cornell is good; they're going to win a lot of games," Minnesota-Duluth coach Shannon Miller said after her team completed the sweep.
There aren't many teams that have a presence like Jenner atop the line chart.
"It means so much, not just on the ice," Cornell coach Dough Derraugh said. "Obviously, there's that side of things, what she brings there, but off the ice — her experience, her character, a great leader in all aspects, a great person overall. To come back from a centralization year and to bring all those experiences back for our team and for our girls to see that and to learn from that is a tremendous boost for us."
After growing up dreaming of competing for Canada in the Olympics and having that dream become a reality, might there be a bit of a letdown for anything that follows an Olympic high?
"I'm sure it's a challenge," Derraugh said. "We've been fortunate. The ones that have done that like Brianne Jenner and Rebecca Johnston are really consummate professionals. They're just very competitive, and it doesn't really matter whether they're playing pond hockey in the backyard or whether they're playing at Cornell or whether they're playing for the Olympics. They're very disciplined in their training and everything that they do and they're tremendous competitors and they want to win wherever they go. For them, I don't think there is that hangover."
For the team as a whole, there has been some sort of malaise. After losing its first four games, and then rebounding with wins over Brown, Yale, and Colgate, the 7-2 and 2-0 losses in Duluth stalled Cornell's momentum.
"I feel like tonight, the effort was there," Derraugh said after the Saturday game. "I think we worked hard. We just got to work a little bit smarter and improve on some of our habits right now. We're just getting a little bit careless. You can't in this league, and when you do that, we just don't have the firepower that we're going to be able to come back against the strong teams."
To be sure, the Big Red do possess some firepower beyond Jenner. Senior Jillian Saulnier has posted 159 points in three plus seasons. Emily Fulton leads the squad with 14 points thus far, after having a breakout 43-point performance as a junior. Beyond that trio, nobody has yet reached 50 points in her career. That allows opponents like the Bulldogs to focus their defensive efforts on those three seniors.
"It's tough, especially when you're coming into a team's building," Derraugh said. "It doesn't give you much opportunity to get them away from the matchups. But it's a good challenge. It's a good challenge for our young team early on. I think we're learning a lot through these experiences, and hopefully, we stick together and continue to use that adversity to get better. I think sometimes you go through a season, and if things go real smoothly, especially in the first half, and you don't get those challenges, I think you get surprised at the end. Hopefully, it's going to be a good thing for us to have to battle through this."
What makes the college game intriguing is that it is hard to predict when everything will start to click for a less-experienced player, and potential suddenly evolves into production.
"I think those younger players, they're getting a lot more looks this year and getting some ice time in big games like this," Jenner said. "I think that experience, hopefully it will help them down the line. I'm pretty confident that they'll be there for us and score some big goals."
Junior Taylor Woods, a player who might have been poised to provide another scoring threat up front, was shifted to defense a couple of weeks back.
"She told us that she had played defense before and since we were down to five [defensemen], it was pretty hard for them to keep the pace up, so we tried her back there one weekend, and it's worked pretty well, so I think we'll continue," Derraugh said.
After some of the early losses, it became apparent that the blue line needed reinforcement.
"The class that I came in with, we had some really strong defensemen there," Jenner said. "They played under Fortino and Rougeau in their younger years and they became premier defensemen."
Having graduated Fortino and Rougeau one year, and Hayleigh Cudmore and Alyssa Gagliardi the next, the defensive corps is unlike the one that Jenner played in front of as a junior.
"I think we have a different look, for sure," she said. "It's just going to take some time to get used to. I still think that we have the parts in this dressing room to make a challenge for any championship at the end of the year. It's just going to take us kind of working through it. Right now, we're still struggling through some things."
Opposing coaches notice those struggles, particularly given only Brown and Minnesota State are yielding goals at a higher clip.
"They're very strong up front, but there's a weakness in behind," Miller said. "That's what we attacked. We put the puck low in their zone. Especially late in the game, everything was down low, down low. We just wanted to keep it down low, attacking down low, and expose their weaknesses."
With the addition of Woods, the unit now is comprised of three juniors, a sophomore, and a pair of frosh in Erin O'Connor and Sarah Knee.
"It's sometimes a steep learning curve for the incoming freshman when they get to the NCAA," Derraugh said. "They're certainly getting lots of experience, and I feel like our freshmen defensemen have gotten better since the start of the year and are improving, so hopefully, that continues throughout the year, and we'll see what happens at the end."
Compounding the youth on the blue line is the fact that sophomore Paula Voorheis is in her first season as the primary goaltender.
"From what I heard from the girls, last year she was very solid for them whenever she was called on," Jenner said. "I think we've had some games where we've kind of hung her out to dry in the third period. Those high-scoring games are mostly on us and not on Paula's play."
To remain in contention for an at-large bid to the NCAA tournament, it is imperative that Cornell begin its turnaround sooner rather than later.
"We've talked to the young team; there's only 30 to 35 games in the NCAA, and you don't have a long season where you can make it up at the end, so every game is so important," Derraugh said.
Should the losses continue to build and the possibility of receiving an at-large berth die, there's still the hope of winning the league tournament and earning the automatic invite, but that's a demanding order, given the current composition of the ECAC.
"It's strong from top to bottom," Derraugh said. "That's great now in the NCAA, because all the leagues are so competitive and you can't take a night off. It makes it exciting for the fans, and I think it makes it exciting for the players. It really is a real challenge, and we see that in our league now, the ECAC. Lots of surprises, and you never quite know what you're going to get from weekend to weekend. It's going to be the team that can really put it together here in the second half and pull together."
Jenner expects that hers will, and that could lead to one more trip to Minnesota in March for the Frozen Four.
"I'd love to be here," Jenner said. "It's a long way between then and now. We're just going to try and get a couple more wins before the Christmas break, and we're going to go pretty hard during the exam break and really push ourselves. Hopefully, we can peak at the end of the year. That's what our goal is."