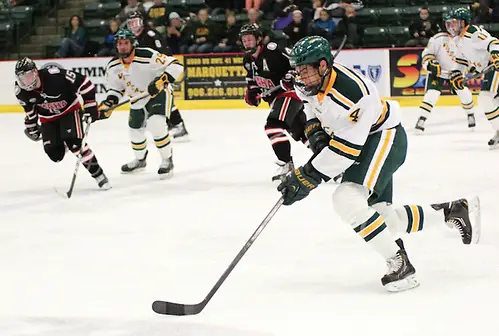 After surrendering just six goals in its first nine games, Northern Michigan's Saturday in Anchorage must have seemed like a strange dream for the Wildcats — especially after they had shut out the Seawolves 1-0 the night before.
"We got a good start with a win on Friday, but we didn't play well on Saturday," Wildcats coach Walt Kyle said. "Whether that was fatigue or something else, I don't really know."
Alaska-Anchorage's 4-0 victory Saturday was the first time all season the Wildcats had surrendered more than two goals — odd in itself for a team that had, until that moment, played lights-out defense backed by netminder Mathias Dahlstrom.
But the Seawolves scored three goals in an eight-minute span of the first period — something that Kyle said hadn't happened yet this season.
"They put us on our heels and that was that," Kyle said. "We weren't able to generate very much offense. And I thought we got a little out of ourselves."
Still, if the Wildcats' track record in 2014 is any indication, they should be themselves again very soon — possibly as soon as this weekend in Fairbanks, Alaska, against the Nanooks.
"I really like the leadership we have. I don't perceive that's going to be an ongoing issue," Kyle said of giving up four goals in Saturday's game. "That's not to say we're not going to get scored on, but I think we'll get back to playing the way we're going to playing the way that we need to to be efficient."
Northern Michigan has certainly been efficient on the back end. The Wildcats' 1.00 GAA through 10 games is the nation's best, while Dahlstrom, a sophomore from Smedjebacken, Sweden, has established himself as one of the best goaltenders in the country. He's tied for the NCAA lead with four shutouts and has the top save percentage (.958) and GAA (0.99) in the country.
Aside from the loss to the Seawolves, the only other time Dahlstrom (who has started all 10 games so far for NMU) has given up more than one goal was a 4-2 win against Upper Peninsula rivals Lake Superior State on Oct. 24.
"I think collectively we've played pretty well," Kyle said of his team's defensive performance.
"And [Mathias] had certainly been outstanding. We haven't been able to score much, so we have to find some solutions there. But while we're doing that we're going to have to maintain a good defensive posture."
With a 7-2-1 record overall and a No. 19 ranking in the USCHO.com Division I Men's Poll, the Wildcats have gotten there because of that defensive posture.
"At the end of the year it's always good to be in close games, and to have won close games because you know you feel comfortable and confident you can do it," Kyle said.
Kyle seems to be taking a relatively zen approach to his team's success this season. No matter who the team is playing, he said, he wants to keep the Wildcats' focus on how they play rather than the results.
"We're trying to keep everything quality-of-play-oriented," Kyle said. "We've been doing that, and we've been efficient. We're not going to go off of that on a loss or two or 10. We just have to keep managing that."
Northern Michigan is in the midst of a 10-day Alaska excursion. The team arrived in Anchorage last Wednesday, split with the Seawolves over the weekend, then made its way to Fairbanks on Wednesday for this weekend's series with the Nanooks.
"Last year we went up twice," Kyle said. "We're fortunate up to have it over break.
"We're trying to let the guys have some fun and make the most of it."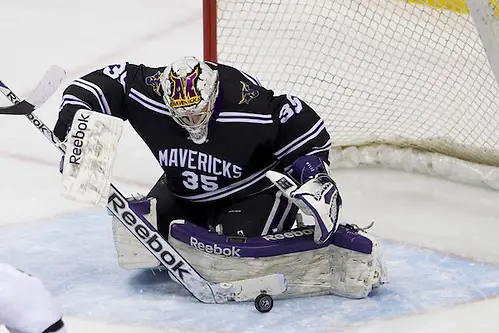 Depth becomes them
It took an all-around team effort, including a resurgent Stephon Williams in goal, for Minnesota State to sweep previously unbeaten Michigan Tech last weekend.
"We played all four lines all weekend. We played six defensemen," coach Mike Hastings said this week. "Depth has become a strength."
The Mavericks came from behind to win both games, scoring two third-period goals in each game.
Five different players scored goals for Minnesota State, even as the red-hot Bryce Gervais was kept off the score sheet.
"We stayed after it,' Hastings said. "We had a pretty flat nose by the beginning of both third periods. We ran into that wall often. But that showed the maturity of our upperclassmen — Matt Leitner and Jean-Paul LaFontaine [both of whom scored in the third period Saturday] — and I thought our defensive corps played as well as they've played all season."
Hastings' upperclassmen have been getting things done most of the season.
The team's top five scorers are juniors and seniors, including Leitner and Gervais with 14 points each, which puts them in a tie for the WCHA lead, and LaFontaine, Teddy Blueger and Zach Palmquist with 11 points each.
Meanwhile, Williams stopped 55 of 58 shots in the series, reminding observers of his fantastic rookie season of two years ago.
Williams, who had lost the starting job to Cole Huggins last season, is 9-1. However, going into the Tech series, he had a so-so .901 save percentage. That's been bumped up to .915.
The Mavericks, who are 9-3 and have won seven of their last eight games, return to Michigan's Upper Peninsula this weekend to take on Lake Superior State.
Ice chips
• At 10-3-1 (7-1 in WCHA), Bowling Green is off to its best 14-game start since the 1995-96 season. The Falcons have won six of their last seven games.
• Alaska-Anchorage's rookie class has been solid so far. The group leads the Seawolves with 11 goals, and goalie Olivier Mantha has a .935 save percentage and 2.26 GAA. Mantha recorded his first shutout on Saturday, a 4-0 win over Northern Michigan.
• Alaska won its first league game of the season on Friday, defeating Lake Superior State in a wild, 7-5 game in which six different players scored goals for the Nanooks.
• Ferris State senior goaltender CJ Motte played in his 100th game on Saturday. In his three-plus seasons, he is 55-35-10 with a .929 save percentage and 2.10 GAA.
• Alabama-Huntsville's improvement this season isn't just in the win column (UAH is 3-9-2; the team was 2-35-1 last year). Through 14 games, the Chargers have posted 27 goals and 47 assists for 74 points, compared to 13 goals and 24 assists for 37 points through 14 games last season.
• Michigan Tech saw its school-record 10-0 start and five-game home winning streak snapped last weekend when swept by Minnesota State. The Huskies will make their first-ever trip to Huntsville this weekend; the teams met for the first time during last season's Winter Carnival series, with Tech sweeping the Chargers.
• Bemidji State's challenging schedule continues this weekend, with the Beavers hosting No. 15 St. Cloud State — the sixth straight ranked opponent for the Beavers. BSU has played well despite its 3-9 record, but special teams have been an issue. The Beavers have given up as many short-handed goals (six) as they've scored on the power play.
Players of the week
This week's WCHA players of the week were Ferris State forward Chad McDonald (offensive), Minnesota State goaltender Stephon Williams (defensive) and Lake Superior State defenseman James Roll (rookie).