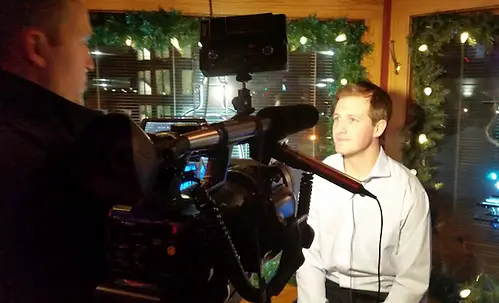 Blake Geoffrion's memory is a little hazy when it comes to the whens and wheres surrounding his first collegiate game, but it is crystal clear about his first shift for Wisconsin at the Kohl Center.
"Joe Piskula passed me the puck up the left wing and I came down and ripped a slapper, and it went barely off the goalie, off the crossbar and out," Geoffrion said. "I could have scored on my first shift, but I didn't."
Eight years later, Geoffrion is ready for another career first, and again it'll take place at Wisconsin's Kohl Center.
He's teaming up with John Buccigross to call Friday night's Wisconsin-Penn State game on ESPNews.
It's a uniting of passions for Geoffrion, the 2010 Hobey Baker Award winner who loves hockey and, as you quickly find out, loves to talk.
There he was Thursday night, sitting alongside Buccigross in a corner of the upstairs room at Madison's iconic Nitty Gritty restaurant, answering questions from a crowd of dozens of hockey fans who showed up to talk college hockey with the duo in an event organized by ESPN.
TV announcing may be new to Geoffrion, but talking about hockey is certainly not. That's why he said he's not too nervous about what'll happen once the lights go on Friday night.
"A lot of the questions that we're going to have early on and the interviews that I'm doing and talking about the game, that's about the game of hockey," Geoffrion said. "Once the game starts, I'm dissecting plays which — you know how I am — I do that all day long."
Geoffrion, 26, is getting his introduction to TV analysis — he did some radio color commentary for Badgers games while injured in his sophomore year — through a series of links going back to the injury that ended his playing career.
On Nov. 9, 2012, during the NHL lockout, Geoffrion was playing in Montreal's Bell Centre for the AHL's Hamilton Bulldogs when he absorbed a check from Jean-Philippe Cote of the Syracuse Crunch.
Geoffrion's helmeted head hit Cote's skate blade, then the ice. Once doctors realized the severity of the injury, he was rushed to a hospital, where he underwent emergency brain surgery to repair a fractured skull.
He said it took about eight months to recover from the injury, and through tears he told Montreal Canadiens general manager Marc Bergevin that he was going to have to give up playing hockey.
Along the way, Geoffrion reached out to Buccigross, an ESPN "SportsCenter" anchor whose passion for hockey comes through on air and in his celebrated social media presence, about telling his story.
Buccigross did that in July 2013 with a nearly-5,000-word feature for ESPN.com that chronicled the injury but also the family that has meant so much for Geoffrion.
At some point, Buccigross asked Geoffrion whether he'd like to be an analyst for an ESPN broadcast, and that's what launched Friday night's appearance in the television booth.
"The guy won the Hobey Baker, he's a younger guy. Let's bring him in," Buccigross said in recalling how he made a pitch to his ESPN bosses for Geoffrion. "Those are the kind of guys we should go for."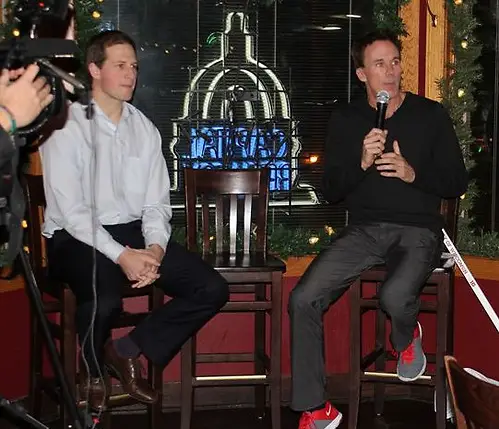 It's a natural fit for it to take place at Wisconsin, where Geoffrion grew from being, in his words, "a complete jerk" during a two-goal freshman season to a 28-goal scorer as a senior captain.
And even though it's still hockey, it's another stretch of the comfort zone for Geoffrion, who after his retirement from the game took a job with executive recruiting firm Korn Ferry in Chicago.
He wanted to do something that he would be passionate about, and so far he said he's enjoying it.
Being out of the hockey-playing lifestyle has changed Geoffrion, and not in a bad way.
"I'm very, very happy," he said. "I love what I do. I have more of a life now. I'm able to spend a lot of time with my wife and learn more about her passions and what she likes.
"I'm going to 'The Nutcracker' next weekend, which is not particularly my passion, I would say, but we're going to try it out and see how it goes."
First, he'll try TV and see how that goes.