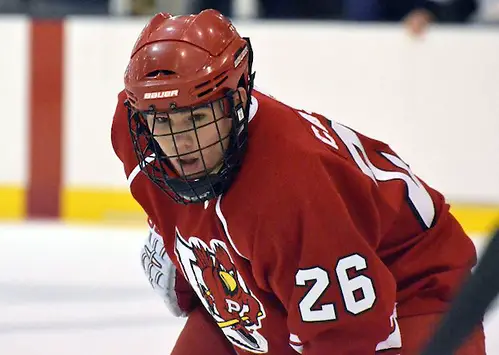 Thanksgiving is over and Christmas is right around the corner.
But before everyone unwraps gifts, they can enjoy a little more hockey before the holiday break.
BRIAN LESTER
Below is a look at my picks for a handful of matchups among teams this weekend in the West region.
MIAC
Augsburg (5-4, 2-0) vs. No. 13 St. John's (5-1-3, 3-0-1): This is one of the biggest matchups in the conference this weekend.
The Johnnies are in first place and are looking to get back on track after a 2-1 road loss to St. Scholastica. Neal Smith and Huba Sekesi lead St. John's with five goals apiece, while Saxton Soley has fashioned a goals-against average of 1.58. The Johnnies have yet to lose at home this season.
The Auggies, who received votes in the USCHO.com Division III Men's Poll this week, open this series on the road and are hoping to end a two-game losing streak. The good news is they have been impressive away from home, sporting a 3-1 road record. Mark Ohnsted leads the offense with six goals and five assists. Dylan Meier has scored five goals and dished out two assists. I think this is a series that ends in a split, with each team winning at home. St. John's, 4-2; Augsburg, 3-2.
Concordia (Minn.) (5-3-2, 2-1-1) at St. Thomas (3-3-2, 2-1-1: Concordia has a ton of momentum heading into the series, especially after making history in the PrimeLink Great Northern Shootout. The Cobbers are riding a five-game unbeaten streak and have yet to lose on the road. Jordie Bancroft has come through with eight goals and four assists to pace the Cobbers. Freshman Alex Reichle continues to get better in goal and owns a 1.81 goals-against average.
The Tommies are the defending champs and have won two of their last three. They have scored just 17 goals and will look to crank up their offensive production this weekend. Alex Altenbernd and Willie Faust lead the Tommies with four goals apiece. Drew Fielding has allowed only 12 goals in net. I can't see either team getting a sweep here, but expect Concordia to win the first game of the series. Concordia, 4-3; St. Thomas 3-2.
WIAC
No. 14 Wisconsin-Eau Claire (4-2-2) at No. 7 Wisconsin-Stevens Point (6-2): Nothing beats a conference opener like a matchup between two nationally-ranked teams. The Blugolds and Pointers square off for the first time this season and both teams are out to make an early statement in the league.
Eau Claire ended a three-game winless streak with a big road win over Augsburg and will look to build on that momentum. Ross Andersen and Ethan Nauman anchor a balanced scoring attack with six goals apiece while Tyler Green and Jay Deo continue to split time in goal.
The Pointers made a huge statement last week, beating previously unbeaten Adrian on the road, and now they come home with a chance to get another big win. Joe Kalisz and Kyle Sharkey lead the offense with five goals apiece while Brandon Jaeger has been rock solid in goal. This one will be close, but the Pointers get the edge at home. Stevens Point, 5-3.
No. 5 Wisconsin-River Falls (7-0) at Wisconsin-Superior (5-4): The quest for another league championship begins for the Falcons, who have scored four or more goals in all but one game. They thrive on a balanced attack where 10 players have scored two or more goals, including five by Alex Murphy, and Tanner Milliron has been tremendous between the pipes, giving up only 14 goals.
The Yellowjackets have won their last three and hope home ice works to their advantage in this huge early-season matchup. They are 4-2 at home this season. Tanner Dion and Jake Johnson have scored five goals apiece while Cory Simons has shown off his potential in goal the last two games, winning twice. The Falcons will prevail in this one. River Falls, 4-2.
NCHA
Lawrence (5-4-1, 4-2) vs. No. 1 St. Norbert (8-0-1, 5-0-1): The Vikings have started off well in league play and want to maintain that momentum. It won't be easy against the reigning national champions. Lawrence opens this home-and-home series on the road and needs to be at its best to have a chance to make an early-season statement. The Vikings are led by Brendan Vetter and Blake Roubos. Both players have struck for four goals apiece. Mattias Soderqvist has started nine games between the pipes.
The Green Knights have rattled off three consecutive wins and have cranked out 51 goals. Michael Hill and Erik Cooper lead the high-powered offense with six goals apiece. David Jacobson has done his job in goal, giving up just nine goals. St. Norbert is too good on both ends of the ice to fall short in this series. St. Norbert, 5-2 and 4-1.
No. 12 St. Scholastica (6-1, 5-1) at Lake Forest (4-3-2, 3-2-1): The Saints hit the road with a chance to extend their two-game win streak. They edged St. John's back on Nov. 25 and are hoping to come out sharp despite the extended break. Derek Sutliffe has paced the Saints with six goals and six assists. Josh Hansen has scored six goals as well. One of the keys to St. Scholastica's success has been its ability to score off the power play. The Saints have nine power-play goals this season.
This series is a huge test for the Foresters, who have also won their last two games. They have proven they can compete with the best, forcing ties against St. Norbert (2-2) and Eau Claire (1-1). Luke Swardenski has led Lake Forest with six goals while Jack Lewis and Ben Certo have come through with eight assists apiece. Leo Podolsky has been tough as a goalie and owns a 1.87 goals against average. This is a series that ends with a split. Lake Forest 4-3, St. Scholastica 5-3.
DAN HICKLING
Friday
ECAC West – Nazareth (4-4-2, 3-1-1) @ Elmira (3-4-1, 2-2-1) – Elmira 5, Nazareth 4. Even at this early date, this matchup has the earmarks of a season-definer. Even more so for Elmira, which has yet to flash its defending championship form. If nothing else, the home ice is the ace up the sleeve.
SUNYAC – No. 8 Oswego (5-1-2, 3-1-1) @ No. 4 Plattsburgh (8-1-0, 7-0-0) – Plattsburgh 2, Oswego 1. The East's marquee matchup of the week. The Cardinals may prevail in a tilt for the ages. But don't hold us to it.
Saturday
MASCAC – Salem St. (4-2-0, 2-2-0) @ Worcester St. (2-5-2, 1-2-1) – Salem 5, Worcester 1. It's time for the preseason favorite Vikings to put some MASCAC wins together. There's a good chance one of those will come here.
NESCAC – No. 15 Amherst (5-1-0, 2-1-0) @ Williams (4-1-1, 3-0-1) – Williams 4 Amherst 2 – Amherst can win a high-scoring tilt, or a low-scoring bleeder. But so can Williams, and having with the taste of last week's upset loss to Morrisville still stale in their mouths, that should make all the difference.
ECAC East – No. 2 Norwich (7-0-1, 5-0-0) @ Castleton (3-6-0, 3-3-0) – Castleton 4, Norwich 3. There is a "trap" game in every elite team's future. The Cadets won't have to leave the state of Vermont to find theirs.
Sunday
ECAC Northeast – Suffolk (6-0-1, 4-0-1) @ Wentworth (4-4-1, 2-2-1) – Suffolk 3, Wentworth 1. Suffolk is among the hottest squads in the country and there's no cooling down here.