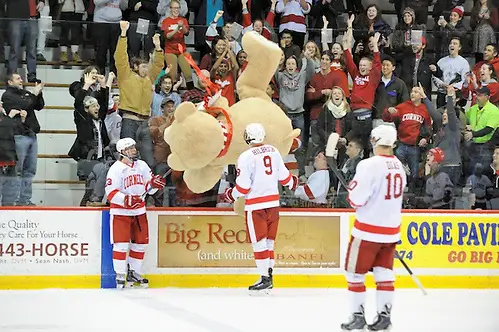 You may have seen the footage from Saturday night's efforts to launch a giant teddy bear over the glass at Lynah Rink after Cornell's game against Denver.
Here's one more key piece of that story.
It seems that it was Bill Gillam, father of Cornell goaltender Mitch Gillam, who brought the bear from the family home in Peterborough, Ontario, in the back of his truck for Teddy Bear Toss night.
(An aside: Picture, for a moment, the border crossing agent catching a glimpse of a giant teddy bear. You don't see that every day.)
If you've missed it, here's the video that's gone viral since Saturday night:
[youtube_sc url=https://www.youtube.com/watch?v=4yVDZqi2M94]
Ned Dykes of the Cornell Hockey Association was taking photos Saturday night and came up with some tremendous shots. The one at the top of this post shows the crowd's reaction as the bear finally gets over the top of the glass.
Here are a few of Dykes' photos:
//
And on Monday, ESPN's Keith Olbermann (Cornell Agriculture and Life Sciences, 1979) had the video and some of his own brand of commentary during his "Worst Persons in the Sports World" segment:
[youtube_sc url=http://youtu.be/mgEm7UxbOl0?t=3m3s]