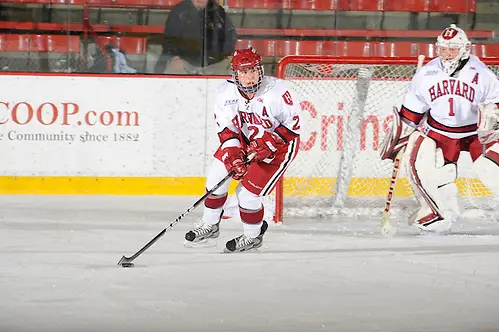 This fall, Josephine Pucci and Amanda Kessel, two members of the 2014 United States Olympic Team who had NCAA eligibility remaining, were unable to return to Harvard and Minnesota, respectively, due to lingering concussion symptoms.
For Pucci, this came in the wake of having to sit out all of the 2012-13 season after suffering a concussion.
Kessel's lost season was noteworthy after she won the Patty Kazmaier Award as a junior in 2013 while leading the Gophers to a national title for the second year in a row.
"I was in contact with Amanda all summer and knew that she was struggling, but still hoping in the back of my mind that she would be able to at least come to school and finish out her degree this year," Minnesota coach Brad Frost said. "If she was able to play, then that would have obviously been a bonus, but she's not in that position to symptoms-wise be able to do that. Any time you lose arguably the best player in the country off your team when you were expecting her a year ago to be with us, it's very difficult. More importantly, what's important for her is her recovery."
One factor that makes the injury so hard to cope with is that recovery is so uncertain.
"There's no cure for them and every concussion is different," Frost said. "Symptoms are different depending on the severity of it and also depending on the athlete, which is really one of the most frustrating things. If you break your arm or tear your ACL or something like that, you know that there's a certain recovery period, and once you do your rehab and recover from that injury, you'll be ready to go. With concussions, it could be a week, two weeks, two months, or potentially never fully recovering to a point where you're able to play sport again."
As fans, we hear the news of such injuries, and immediately we think, "What does this mean for Minnesota's hopes of contending?" In reality, our thoughts should focus on the health of the victim of the injury.
"Selfishly, we could really use Amanda Kessel on our team, because she would help us win hockey games," Frost said. "The more you think that way, the less you're thinking about her and what's important for her lifelong journey. That's exactly why we made the decision that we made. It's not about our team, it's not about her playing hockey again, it's completely about her getting healthy so that she can function as a normal person. We love Amanda enough to make sure that we support her in any way that we can help her to recover. Not to play hockey. If that happens, that's great for her down the road, but more importantly, for her to function as a normal adult."
Whether or not Kessel ever gets the chance to skate onto the ice again, she has already written her name into the history of the sport. Concussions have ended the careers of others before they could.
Syracuse's Paul Flanagan is in his 16th season as a D-I head coach and has had to deal with careers cut short because of concussions, such as Valleyfield, Quebec, native Laurie Kingsbury in October of 2012.
"Basically, just getting bumped in the front of the net, and she was a very, very strong girl," Flanagan said. "But just getting bumped and her head went back, and she didn't even hit it all that hard on the ice, on a Saturday afternoon, and it didn't really hit her until Tuesday. Six months later, she was disqualified from ever playing again. She'd had a bad concussion when she was younger. It's just so frustrating to see that it can be something so simple that can ruin someone's career."
Kingsbury had five goals and four assists in her too-brief NCAA experience, and it's a safe bet that her name would be known to all had concussions not intruded.
"She had to sit out classes for the rest of the semester and she saw two neurologists here, one back in Montreal, and they all told her that you're done," Flanagan said. "She's still somewhat symptomatic. That's a severe case."
Although not all concussions are as bad as Kingsbury's, Flanagan estimates that the frequency of concussions averages around two per season.
"One of the things that I find as a coach that's difficult is you rely on your trainers," Flanagan said. "Your trainer then goes to the doctor, whatever they tell you, obviously, you've got to abide by that. But in terms of them trying to figure out is it a grade 1 or lower-level concussion, versus you hurt your ankle, your shoulder, your knee, your trainer can manipulate it and they have a pretty good idea. 'She's going to be alright,' or, 'This is bad and you've got to get her to the hospital.' Quite often with a concussion, what might start out as just a little bump, two days later it's a full-blown, high-level grade [3] kind of concussion, and the player is out for the year and possibly done. It's very, very difficult to diagnose and to tell, and that's a big part of the problem. Kids don't know. Trainers don't know. It's pretty hard for a doctor, and even a neurologist, unless they have some really advanced MRI pictures of your brain, it's pretty hard to tell."
The student-athlete herself can get in the way of an accurate diagnosis.
"You add in the fact that the kid wants to play," Flanagan said. "The kid gets her bell rung or hit on the head Friday night, they want to play on Saturday. They aren't going to tell the trainer. And I find that is maybe a bigger issue, an underlying issue of all this. [At Syracuse], for instance, it's three strikes and you're out. You come in with one concussion, and you get two more while you're here, you're done. They disqualify you. Because they're worried about liability; they're worried about lawsuits. Somebody has that third one and the coach, trainers, let him or her play, and they suffer another one and there's brain damage or whatever, God forbid. The schools do not want, at least here, they do not want to get involved with lawsuits."
The knowledge that a third concussion will end an athletic career puts everyone in a tough position.
"So you think about the kids," Flanagan said. "The kids are just, 'Now I've got two; I came here with one.' And they don't really differentiate between a low-grade and a high-grade concussion. So I've got one I had in high school, another one my first year. Now I'm a junior; I got my bell rung. Are you going to go tell the trainer? Probably not. So where does the kid draw the line? Some kids are tough as nails and fight through it and won't say anything to anyone. It's going to affect their studies and how they can concentrate in class. Maybe there's a scholarship riding on it. The family can't afford it. There's a lot riding on it."
Not every athletic program has a rule in place that disqualifies an athlete from competition following a third concussion, and programs also may handle the aftermath differently.
"I know here, Laurie Kingsbury was told that she could stay here and go to school until she graduates, and she wouldn't have to pay a cent because she was on a full ride," Flanagan said.
However, for the student-athletes dealing with concussions, studying can be just as impossible as playing or training, both because of symptoms and medical procedures.
"They shut you down," Wisconsin coach Mark Johnson said. "If you get diagnosed, depending on the severity of it, your cell phone is gone, your computer is gone, you're putting sunglasses on, you're in a dark room. You're basically able to do not much of anything. They don't want a lot of sharp movements; they don't want bright lights. Depending on what stage you're on, it can be really frustrating. I think that's the part — I had to deal with them when I was a player — is trying to get to that normalcy where I can get up every morning and actually feel good. Then I can go and try to do some things. But the hard part with those things is you don't know when that's going to happen."
When dealing with concussions that knocked star players Stefanie McKeough and Brittany Ammerman out of action during the 2012-13 season, Johnson's focus shifted beyond hockey.
"You hope the kids get to a point where they can lead a healthy life and have a good future," Johnson said. "In some cases, they'll go multiple months, and a couple cases where they'll go a year, year and a half, and two years, and you're still not feeling well. The health becomes the priority. As coaches, that's what you're looking at. We can all play games, and the game is going to go on, but you want to make sure these kids, when they do leave you, they're healthy and they can lead a productive life."
Due to the possible severity of the injuries, it is paramount that they are handled correctly.
"The one thing we've seen is the awareness and the protocol has changed over the last 10 years," Johnson said. "Somebody goes down hard in a practice or there's a collision in a game, that individual is going to get seen right away by medical staff and trainers, and if it does get diagnosed as a concussion, then you just get hit with the protocol that everybody follows. If it's diagnosed as a concussion, you start with this protocol. And you start with one, and you don't go to two until you get past one, and so forth. So these kids get a chance to heal. Their brains get a chance to heal. So when they do in fact come back, if they do come back, they're 100 percent."
And that's the big "if," because some people aren't able to come back to hockey.
Frost had to deal with that during 2001-02, his first full season on the Gophers' staff. The team had just graduated its first recruiting class and had a lot of holes to fill, and Renee Curtin was one of the players being counted on to make a difference. Curtin had 544 points in six seasons for Roseville Area and capped her high school career with the 2001 Ms. Hockey award in Minnesota.
"People in Minnesota remember Renee, but in the hockey world, she was probably one of the most special players to ever play the game, and unfortunately, she wasn't able to showcase that at the collegiate level," Frost said.
Curtin suffered a severe concussion and a fracture in her neck playing hockey as a high school junior. Although she recovered to play her senior season in high school, concussion symptoms later returned and she was never medically cleared for competition at Minnesota.
While Kessel is the latest Gopher to have a concussion threaten her hockey career, she wasn't the first in her recruiting class.
Ashley Stenerson had four separate concussions before coming to Minnesota in the fall of 2010. A few games into the freshman season for Stenerson and Kessel, goaltender Alyssa Grogan suffered a concussion in practice and was never able to recover sufficiently to get back on the ice.
Stenerson remembers trying to support Grogan and asking her how she was doing.
"You really don't understand," Stenerson said. "With most injuries in hockey it's kind of the mentality of let's tough it out and get back out there; you'll be fine. What is different with concussions is that it's your brain, so it's messing with your emotions and your energy levels and just really every aspect of what makes you you. It's just kind of off."
A year later, she was able to relate all too closely with Grogan's plight.
"It definitely was different my sophomore year just going through it," Stenerson said. "I guess I didn't realize how much just a simple, 'How are you doing? How are you feeling? I'm here to support you.' I guess I didn't realize just how far that went for someone who is in the other shoes of being injured."
Her final hockey concussion occurred while playing in a summer league game.
"I was hit, I went into the boards head first," Stenerson said. "I've had my fair share of concussions. I had never seen like people say seeing stars and just kind of seeing black and white dots get closer and farther away from you. I had never seen that. When I sat down on the bench and I was seeing that, I kind of knew that I must have really gotten my bell rung. At that point, it's just kind of like I'm done for the day. I got home and slept. I think that was like on a Thursday and I went in to see my trainer on Monday and I still just almost didn't know what was going on. I was just so out of it."
Once classes resumed at Minnesota, Stenerson was unable to return to the ice, and her studies were disrupted as well.
"It's hard when you're told to go sit in a dark room and stay away from your electronics," Stenerson said. "I don't know if it was worse being told that you need to stay away from electronics being in this dark room, or having to be by yourself and not doing anything. It was definitely hard."
NCAA rules added to the problem.
"There was a time where Alyssa and I actually couldn't travel with the team or take part in traveling and meals like that just because with our concussions, we weren't able to take a full credit load," Stenerson said. "So that's really kind of when that loneliness and separation from the team, that's when it was very hard and just lonely, because you're going through this — it's emotional, it's physical, it's just every way that you could be injured. Then kind of to be taken away from your biggest support system, it's just devastating."
The Gophers were in the midst of an NCAA Championship season that Stenerson had to experience from the sidelines.
"Not spending every second with the team and not being around them, you really miss them and just the support," she said. "They're like your family, so having that support system around you less often is hard to deal with. A lot of people might think, oh, it's awesome having to take half the credits or getting all this help with your homework and whatnot, but really, it just kind of pushes you deeper into that isolation and makes you feel like less of a college student. I'm already feeling like less of an athlete because I'm not able to be with my team and do this. Now I'm at college and now I'm feeling like less of a college student. For me, I knew I wasn't going to go on to play in the Olympics and do things like that, so education was first to me. When I realized that I wasn't going to be able to continue taking classes and just be able to learn how I always learned before, that was really when I knew that it's a deeper trouble."
Since then, Stenerson has recovered to the extent that she'll be graduating this month, but that doesn't mean she's fully healthy.
"I deal with headaches, nausea, just kind of feeling dizzy every single day," she said. "My brain definitely doesn't work the way it did before when I'm trying to study and I'm trying to read and just focusing. The span that I can focus for is maybe 15, 20 minutes, where before I could sit down and study for two, three hours with no problem."
The headaches have eased somewhat over the more than two years since she was hurt.
"Since I've been injured, they're definitely less severe," Stenerson said. "Kind of how I would explain it is I have a headache every day, so it's just kind of a new normal, and for this part of my life, it's just how I'm going to wake up. It's how I'm going to feel. I think if we were to look at a six-month span, they probably are getting a little less severe, but it's still to the point where I still get sick because of it. It definitely still affects everyday life."
The misfortune hasn't caused Stenerson to regret playing hockey.
"I think I'm more cautious if I see somebody get hit in the head," she said. "I'm a lot more worried about, 'Are you okay? Do you have any headache?' But what I think is interesting is, this has really forced me to see hockey from the other side and understand how much more there is to life after hockey. And I think I'm lucky at 21, 22, 23 years old to really understand the life lessons that I've learned from hockey: hard work, time management, accountability. I think knowing those and knowing that in my job I'm going to have to do these same things that I did in hockey to be successful. I think just having to step back and realize those have been extremely valuable to me. I don't think there's any [feeling of] I don't want my kids or my cousins or anybody like that to play hockey, because yes, there's a risk to get hurt and everything, but there's also a risk to get hurt driving to work every day. I guess the life lessons I learned from hockey, there's nothing that could replace that."
Her overall conclusion is similar to the coaches who have watched concussions impact the game throughout their years involved in it.
"The only way to take concussions out of hockey would be to just not play hockey," Stenerson said. "Kids are always going to get bigger and faster and stronger. Unfortunately, I think it's always just going to happen. I think we're starting to do a better job of having concussion protocols and all these processes. You have to go so long without a headache and you have to get your heart rate to this level, and you have to pass these tests. I think all those things are great. I think as we continue to learn more about concussions and what exactly they are and what exactly they do, we'll be able to adapt and hopefully prevent them more, but I just think the nature of the game is that, unfortunately, it's just going to happen to a few people here and there."