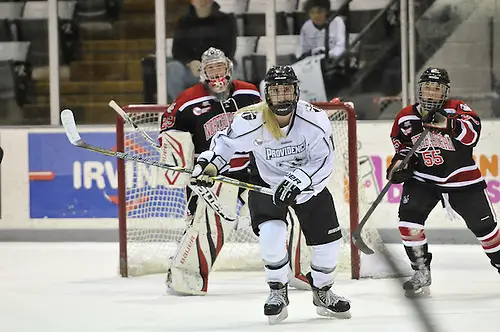 Something about growing up playing together makes sisters want to continue to be teammates in college, and the trend seems more common in hockey than other sports. It could be because there is a smaller domain of programs to select in hockey, or it could be that it just appears that way to me because I follow hockey much closer than any other sport.
However, consider recent examples: senior Brittany Ammerman and 2012 graduate Brooke Ammerman, Wisconsin; senior Shelby Bram and 2012 graduate Bailey Bram, Mercyhurst; junior Layla Marvin and sophomore Lisa Marvin, North Dakota; sophomore Cayley Mercer and 2014 graduate Carly Mercer, Clarkson; and junior Mary Parker and 2014 graduate Elizabeth Parker, Harvard.
That doesn't include twins, like seniors Kari Schmitt and Sara Schmitt at Ohio State, because twins tend to wind up playing together no matter the sport.
So when sisters like Dartmouth senior defenseman Morgan Illikainen and St. Cloud State junior Molly Illikainen end up at different programs, it is more exception than rule, particularly when they are only a year apart.
That isn't the biggest sporting departure for their family.
"My dad played in college, and he got us skating pretty early," Morgan said. "We're kind of like a big hockey family. My brother [Alex] is the only one that plays basketball."
The hockey players include sister Madison, who is a high school sophomore. So how does the son of a former hockey player and coach become a basketball player who recently signed an NLI to play at Wisconsin, while all his sisters played hockey?
"I don't think he wanted to compete with his sisters too much," Molly joked. "We're too big of a competitive family for that."
The actual reason may have more to do with the six-foot-eight-inch Alex already being a foot taller than his sisters.
In any case, the choice that the girls of the family made for a sport is a popular one in their Minnesota hometown.
"Grand Rapids is definitely known for its hockey," Morgan said. "Everyone supports the hockey team. My brother resents that a little bit, because the basketball team doesn't get nearly the crowd that the boys [hockey team] gets. Our boys can still fill a rink just for a regular game. Definitely, hockey is the big thing around Rapids and Coleraine, especially. Our girls' team right now is a co-op with Coleraine and Rapids. It's definitely a little bigger fan base for us."
Morgan started out playing center as a youth player, until one season her under-14 team had a need for defensemen and shifted her to the position.
"I had a better defensive mind anyway, so it worked out," she said.
Meanwhile, Molly remained a forward, but didn't forget about the defensive aspects of the game.
"Growing up, I just had to see what my strength was, and it was board work and just patience in the corners," Molly said. "I just started working the boards, seeing how I could get out of the boards faster. I think I just developed my hands down low, having to be a defensive center, knowing I have to be against really great teams. Honestly, it was more just using what I had. Being able to work on the boards and being almost a defensive center at first really developed that."
The siblings were able to hone their games together, as they both made the high school varsity at a young age.
"Obviously, it's a privilege playing with your sister in high school," Molly said. "Not many people get to do that, and I got to play with her for a couple of years, so I was really privileged.
The goal of every high school player is to advance to the state tournament at the Xcel Engery Center.
"Just being in Minnesota, the state tournament is a huge deal," Morgan said. "If we make it to the state tournament, literally, no one is in school."
They both got a chance to experience the trip to St. Paul.
"My eighth-grade year, we made it," Morgan said. "We didn't do as well as my ninth-grade year, we got second."
The Grand Rapids-Greenway Lightning team that reached the title game in 2008 featured a number of future college players beyond Morgan and Molly, who were in ninth and eighth grade, respectively. Emily Erickson, Molly Arola, and Jessica Havel would go on to play at Bemidji State, Dana Gallop at Minnesota-Duluth, and Heather Horgen at Wisconsin-River Falls.
"We were stacked that year," Morgan said.
It was ultimately a bittersweet experience for Molly.
"She got hurt second period of the first game," Morgan said. "Someone dropped her mid ice, fell on her collarbone, slid into the boards, broke her right ankle, so both on the right side. [Molly] skated off. She thought it was just her collarbone [that was fractured]. She didn't even know her ankle was broken until afterward."
In the championship game, the Lightning put up a good battle but came up short.
"Looking back on it, I always wonder if Molly hadn't gotten hurt, what could have changed that year," Morgan said. "Obviously, [Eden Prairie] was stacked. They had like nine D-I players. We kind of had to juggle our lines and call people up."
Looking back, it's the good times that stand out.
"Being able to share those experiences, and like when we grow up, we get to cherish them and laugh about them," Molly said.
When it came time to pick a college, Dartmouth was one of the first schools to take an interest in Morgan.
"I just had a really great, longer relationship with Mark [Hudak] and the coaching staff here," she said. "I visited like three times, and every time was great. It really was just the one place on my official visits that there was literally no doubt in my mind. It was comfortable, but yet not comfortable enough that it wasn't going to push me. Obviously, the schooling was great, and I kind of wanted to come out East and get away from home a little bit."
While Hanover, N.H., was a long way from home, it was similar in some ways.
"Our school is only four or five thousand, so we're a little smaller campus than some of the bigger schools," Morgan said. "It's kind of like the same weather, climate. It's the same small-town feel. When you're in Hanover, it's kind of like its own little world. Once you come here, you really have everything you need. It's kind of like you're isolated in the sense of everything is Dartmouth and everything is [Dartmouth hockey]. It's a great atmosphere."
Molly went in the same direction for a college choice as her sister, but to a different destination.
"She picked Dartmouth, and Dartmouth is a great school, but Providence just worked out the best for me at that situation,". Molly said. "I would have loved to play with my sister at that level, but I chose my own path and I knew what was best for me, and I picked Providence right from the start."
A metropolitan area like Providence is obviously a change from a town like Grand Rapids, where the population is just over 10,000.
"The school was really small, so I just fit right in," Molly said. "I came from a small high school. It just kind of seemed like home there. It was a small campus and close, so all athletes are just really close to each other. It was really great. The transition was kind of hard at first, just being far away, but we had a lot of Minnesotans on the team, so we all bonded really well and kept each other motivated to stay out there. If you can have a chance to go and explore, you might as well explore it while you can. I just knew that I had a chance to do that, and if worse comes to worse, I could come home."
Molly's career at Providence started well. Her 30 points ranked third on the team, and the Friars' record was just shy of .500.
Her sophomore year was more challenging. Her production dropped. Providence lost eight more games than it had the previous season and failed to reach at least the semifinals of the Hockey East tournament for the first time in the league's history.
She made the decision to transfer to St. Cloud State after her sophomore year.
"I just wanted to be happy," Molly said. "Definitely, [Providence] is a great school, but something was missing. I knew that maybe coming home with family and friends and people I know [would help]. I think that was the key component, just being comfortable. Something just had to change for me. I love it [at St. Cloud State], and I don't regret anything. I just needed something that I could call home."
St. Cloud is a little more than a two-hour drive from Grand Rapids, so it is easier to get her supporters in the stands than it was when she was playing at Providence.
"If I'm playing bad or good, it's so nice to just see the parents up there at least," Molly said. "My best friends are around, so they get to come to most of my games — my cousins and everyone. Honestly, not having family there over two years, them only making it out once, I appreciate them being able to drive every weekend. I think that's just what some people don't understand; some people really need that support. I'm really glad that I have them there. They've always supported me. Now that they get to come to every game, [I] have a little bragging rights over Morgan that they bring me treats on the weekends."
Even the opposition helped make it a homecoming.
"I've played with almost one person from each team in the WCHA, and really bonded with a lot of them growing up," Molly said. "It's kind of nice to see new faces. A lot of them say, 'Welcome back,' so it's really great to feel welcomed by them."
Morgan hasn't had that proximity to family during her four years at Dartmouth.
"That's the one thing right now that Molly really has a great opportunity for, to play in Minnesota, to play for more a hometown crowd," she said. "My parents have gone there every weekend that they can. They only make it out here two or three times a year, but now that my brother is out here — he left his senior year to come play at a prep school out here — it's like an hour or two away. Definitely, having my brother out here is nice, and they're able to come a little more, because they can catch two kids at once all weekend. They try to get up as much as they can, but most of the time, I'm one of the only kids without a parent. But that's what is expected. They've got their own stuff going on. Dad is coaching, and Madison, our youngest, is still busy dragging Mom around."
As Morgan dealt with living far away from family, she also adjusted to playing on the blue line in the NCAA.
"It's definitely a different game," she said. "Obviously, coming from high school, if you're an upper-tier player, you can get away with being a little more offensive. It was an adjustment, mostly a mental adjustment, kind of figuring out what your role is at the college level and making sure you do that role. There's times when I'm going to try to jump up and create a lot of scoring opportunities. Especially as you grow older, too, in college your role changes. Now that I'm an upperclassman, I'm definitely going to want to contribute and have a bigger role."
As she prepares for the second half of her senior season, she is also considering her role in life after Dartmouth, where she's majored in psychology with a minor in government.
"I'm actually thinking about joining the Navy next year, hopefully to work intelligence and use [that for an] FBI or NSA career. Something like that," Morgan said.
Her sister still has a year and a half of hockey to go, and while she is new to the St. Cloud State program, so is coach Eric Rud and his assistants.
"Everyone loves the whole coaching staff," Molly said. "They're doing so great with us, being patient as we're trying to adjust to them as they adjust to us. They're taking us in a new direction. I think the team has developed a lot from the beginning to now. We know we can be better. I think we just need to keep grinding. We're trying to be a new start for this program."