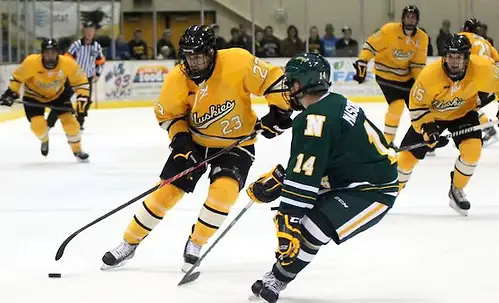 So far this season, Michigan Tech has played just one nonconference series — two home dates with instate rival Michigan.
Before that series, one could have argued that said series was the biggest non-WCHA series in Houghton in a quarter-century. After all, Michigan is a storied program that hadn't visited Houghton since the 1980s. Michigan was ranked in the top 20 at the time and the Huskies were out to prove themselves against the big, bad Wolverines.
That series was big, at the time.
But just more than a month later, it seems to have been trumped.
This weekend, the Huskies host Minnesota-Duluth in a battle of top-10 teams in a nonconference battle so big they may have to play it on Lake Superior to make sure everyone gets a ticket.
Tech coach Mel Pearson knows the Huskies have played a bunch of good teams this season, but the Bulldogs may be the best they've seen so far.
"I feel like I keep saying that every weekend," he said. "But watching Duluth on tape, I think they look good. They're solid in each position. It's going to be a good weekend. And with the PairWise and everything else going on, it's shaping up to be an important weekend for them and us."
Old-school WCHA fans surely cringed when they read "nonconference" in relation to a Minnesota-Duluth/Michigan Tech series.
The Huskies and Bulldogs have met 224 times — most of them as WCHA opponents. The Huskies are the Bulldogs' most commonly played opponent.
Last season the teams met in Duluth.
"We played them right at the start of the year so everything was fresh," Pearson said of last year's games. "It still felt like we know them. they know our players and we know theirs. I don't think it feels any different this year, either.
"It doesn't feel weird that we're not in the same league. It just feels normal. Whatever 'normal' is these days."
One thing, however, will be different this season: For the first time, the teams are both in the top 10 of the USCHO.com Division I Men's Poll, which dates to 1997. The Huskies are No. 4 in the country while the Bulldogs are No. 9.
"That's what you want," Pearson said. "It's what good rivalries are built around, when you have two strong teams that are playing each other when they're good.
"It's good for our league, our program to be put in situations like this and be tested. That's why we brought Michigan in here earlier, and we played up to the competition. I'm hoping Duluth will also bring up the best in our team."
The Huskies and the Bulldogs seem like awfully similar teams — Pearson described it as looking at his own team in the mirror. Both are tied for the lead in their respective conference standings and both have young goaltenders (Tech's Jamie Phillips and UMD's Kasimir Kaskisuo) who have taken over to backstop the team to victory.
"They have depth like us," Pearson said. "Their forwards, they have 16 guys who have scored and we've had 15. They have a good defensive corps with size and mobility, and we look at ours and that's been the strength of our team, on defense."
It's Michigan Tech's final series before the holiday break — and its last chance to get some games in before the Great Lakes Invitational Dec. 28-29 in Detroit.
Although this weekend's series won't put the Huskies in a better position in the conference — the Huskies and Minnesota State are tied for first place with 20 points — Pearson said playing UMD will help them when they get back into conference play early next year.
"We're happy with where we are," he said. "We'd like to play that Minnesota State series over again, but we put ourselves in a good position to give ourselves a chance in the second half.
"There's still a long ways to go but I like where we're positioned. I can sort of see some separation in some groupings in the league right now, but we also understand it can change in a second."
Memorable trip for Nanooks
Alaska had a good weekend on the ice, splitting a league series at then-No. 2 (now No. 3) Minnesota State, including a 5-4 overtime victory on Friday night.
But the road trip was made even more special on the way home with a stopover in Seattle on Sunday.
That's where the Nanooks visited teammate Justin Woods, who is at the Ronald McDonald House there after being diagnosed with cancer in May. Woods has Ewing's Sarcoma, a rare bone cancer most commonly found in children and adolescents, according to an Alaska news release.
Woods will be continuing treatment in Seattle until February or March.
The Nanooks also visited other children and families at Ronald McDonald House, handing out 50 gift bags, an experience junior forward Nolan Huysmans called "humbling."
"The kids kept talking about how much we were brightening their day, but honestly, it brightened our day even more so," he said.
Said coach Dallas Ferguson: "Our athletes were all-stars [Sunday] night. We are very fortunate to have such wonderful young men representing the university and the community of Fairbanks. The time we spent at the Ronald McDonald House was truly one of the most special things I have done as a Nanook. It is a wonderful organization, and it was extremely humbling to see the smiles from the children and hear the gratitude of their parents."
Woods, a Fairbanks native, had one goal and five assists in 33 games as a freshman defenseman last season.
Ice chips
• Alabama-Huntsville had last weekend off, the first break of the season for the Chargers. UAH travels to Alaska this weekend, going all 4,000-plus miles for the WCHA's longest road trip. (Fun fact: According to Google Maps, it would take only a measly 71 hours to make that drive by car.) The Chargers are 6-14-1 all-time against the Nanooks and 3-9 in Fairbanks.
• Alaska-Anchorage's Brett Cameron broke out of an 11-game goalless drought in a big way, scoring four goals in the Seawolves' 4-4 tie with Bemidji State on Saturday night. The senior forward is the first player in Division I this season to score four goals in a game. It was the first four-goal game by a UAA player since 1995 when David Vallieres did it.
• Speaking of Bemidji State, the Beavers finally broke out of what had been something of a power-play slump. In Friday's game against UAA — a 3-3 tie — BSU went 2-for-3 on the man advantage. It was the first time of the season the Beavers have scored multiple power-play goals in the same game. On Saturday, they did it again, going 3-for-7 on the power play. The Beavers are 12-for-71 on the power play (16.9 percent) — seventh in the conference.
• No. 13 Bowling Green is unbeaten in its last five games (4-0-1) and next plays Jan. 3 in an outdoor game against Robert Morris at Fifth Third Field in Toledo, Ohio. Freshman goalie Chris Nell improved to 5-0 with his second shutout of the season, a 5-0 victory on Saturday night at Northern Michigan.
• Coming off an idle weekend, Ferris State returns home to play Lake Superior State. The series is the Bulldogs' first in Big Rapids since Nov. 22. Following the weekend, they won't play at home again until Jan. 16-17 when they host Minnesota State. After playing the Lakers, 10 of their next 12 games will be played on the road.
• Lake State and Ferris have met 127 times, dating to the 1977-78 season — that was two years before the Bulldogs were a full-time member of the CCHA. The Lakers have historically had success at Ewigleben Ice Arena, going 29-24-6 all-time, but are just 2-5-3 in their last 10 games in Big Rapids.
• No. 3 Minnesota State has four hat tricks this season, including Dylan Margonari's three-goal game in Saturday's 5-2 victory over Alaska. Four different players have hat tricks for the Mavericks (Bryce Gervais, Teddy Blueger and Brett Knowles are the others). The hat trick total is the most since Minnesota State had five in the 1998-99 season.
• Northern Michigan dropped out of the USCHO.com Division I Men's Poll this week after a loss and a tie against Bowling Green. Sophomore defender Brock Maschmeyer had two goals in Friday's 5-5 tie. Maschmeyer and Darren Nowick each have scored four goals on the season to lead the Wildcats. Nowick also leads the team with seven assists and 11 points.
Players of the week
This week's WCHA players of the week are Alaska-Anchorage senior forward Brett Cameron (offensive), Bemidji State senior defenseman Matt Prapavessis (defensive) and Bowling Green freshman goaltender Chris Nell (rookie).