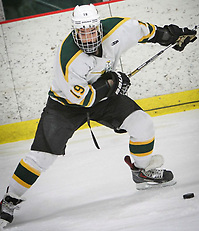 Mason Baptista learned right away about expectations at St. Norbert.
As a freshman, he was part of a Green Knights team that had won the NCAA Division III national championship the previous season.
"There were a lot of expectations and the standard was set to where winning was the only acceptable outcome," Baptista said. "I learned a lot that year, but I also learned a lot the year we didn't win the championship (2013). We saw that it was going to take everything you have to be the best."
Baptista has won two championships in his career, his first as a freshman and his second one last season when the Green Knights knocked off Wisconsin-Stevens Point 3-1 in the national final.
Baptista, now a senior leader for the Green Knights, is determined to win one more before he hangs up his skates.
During a break from studying for a final exam in the library, the talented forward out of New York took time to reflect on the journey up to this point.
"It's been an interesting ride," Baptista said. "I remember being a freshman and doing whatever I could to earn playing time as a fourth-line type of guy. It's been quite a progression since then and I've been able to become an impact player."
Baptista has scored four goals and dished out 12 assists this year and has helped top-ranked St. Norbert complete the first half of the year with a 10-0-1 record.
Last season, while helping the Green Knights roll through a 28-3-1 campaign, he racked up 11 goals and team-best 27 assists. He scored seven goals and tallied 12 assists as a sophomore and finished with three goals and 10 assists as a freshman.
Like most players, Baptista would love to be able to score more goals. But he and his teammates have bought into the unselfish play mentality, which has been instrumental to the success of the Green Knights.
St. Norbert racked up 246 assists a year ago and already has 95 this season. Baptista's assist total leads the team, but Marian Fiala has come through with 11 and Cullen Bradshaw has dished out 10. Sixteen other players have at least two assists.
"The mentality is to shoot first, but our ability to move the puck around has led to better opportunities for scoring," Baptista said. "We don't just have that one guy moving the puck up the ice. We get a lot of touches and we rarely have an unassisted goal."
The Green Knights are hoping to continue their success in the second half hope the season ends with another championship.
Regardless of how it all plays out, Baptista is thankful he chose St. Norbert.
"It's been amazing," Baptista said. "A lot of guys have aspirations of playing D-I hockey, but I have friends who have gone that way and a lot of them end up on the backburner. Coming here has given me the opportunity to develop as a player and have a chance to be a big part of the team. I love everything about this school and I'll definitely miss it when it's over.
"Hopefully, I can go out on top like the seniors did last season."
Cardinals Bounce Back
St. Mary's ended a two-game losing streak on Saturday with a convincing 11-2 victory over Aurora. The Cardinals earned a split in the series after falling 6-3 in the opener on Friday.
The win was a positive step for a Cardinals team that has struggled in the first half of the season. St. Mary's is 3-5-2 overall and 0-2-2 in the MIAC.
The 11 goals was the most scored this season by St. Mary's and the most goals scored by the team since winning 14-3 over Concordia (Minn.) during the 2007-08 campaign.
Michael Simba and Martin Gruse scored twice to pace the Cardinals, who held a 40-25 edge in shots. Phil Heinle racked up 23 saves.
Gruse leads the Cardinals with seven goals and Jed McGlasson has tallied six goals and four assists. Bob Marx has come through with three goals and seven assists and Heinle has played well in nine starts.
Despite being below .500, the Cardinals have proven they can compete at a high level. It has beaten St. Thomas and St. John's in shootouts this year, although the games go down on the record as ties. In another game against the Tommies, the Cardinals fell 3-2.
St. Mary's also played Stevens Point and battled the Pointers hard before falling 3-2 in overtime last month.
The Cardinals, who will look to turn things around in the second half, return to action until Jan. 4 when they battle the Milwaukee School of Engineering on the road.
Record Setter
Devin Stuermer etched his name into the school record book at Concordia (Wis.), scoring a pair of goals in a 5-1 NCHA win over Finlandia on Saturday to become the program's all-time leading goal scorer.
Stuermer now has 28 goals in his career, including seven this season, breaking the old mark of 27 set by Jonathan Smith, who played at Concordia from 2007 until 2011. He has also racked up seven assists.
Stuermer's performance helped the Falcons win their fourth consecutive game as they have come a long way since opening the season on a six-game losing streak. Concordia is now 5-7 overall and 2-6 in the conference.
Stuermer wasn't the only one making his mark. Eli Riddle and Anthony Pickering tied school records in the win. Riddle tallied an assist in the victory and has tied Jari Sanders for most assists in a career with 37.
Pickering tied the record for consecutive games with a point. He has tallied a point in eight consecutive games, tying the mark set by Stuermer.
Goalie Domingo Torrenueva continued his strong play. He started his third consecutive game on Saturday and made 30 saves against Finlandia. Torrenueva is 3-0 as a starter this season.
Tough Tests
Wisconsin-Stout faced two stern tests this past weekend, battling nationally-ranked opponents Wisconsin-River Falls and Stevens Point in their first WIAC games of the season.
The Blue Devils lost 7-3 to the Falcons and were beaten 7-5 by the Pointers and are winless in their last three games. They head into the holiday break with a 2-7-1 record.
Both games this past weekend were on the road, where the Blue Devils are 0-5-1. The good news for the Blue Devils is that they will play 10 of their final 14 games at home, and that advantage could help spark a turnaround in the second half.
Stout will play its first three games of 2015 at home, starting with a Jan. 9 game against MSOE.
Jake Useldinger, Justin Moody and Craig Lindegard all scored four goals apiece in the first 10 games of the season. Useldinger has also dished out five assists. Stout has scored 26 goals overall and has given up 43.
Nearly half of the goals the Blue Devils have scored have come off the power play, with Stout scoring 11 on the season. Lindegard has scored three times on the power play. The Blue Devils have given up 10 power play goals this season.
In The Poll
St Norbert is still the No. 1 team in the nation and is one of seven West region teams ranked. River Falls is fourth and Stevens Point is eighth. Adrian checks in at No. 9 and St. John's is ranked 11th. Wisconsin-Eau Claire and St. Scholastica are 13th and 14th, respectively.