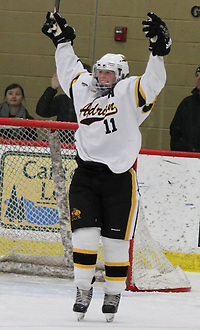 There's an old saying that states when one door closes, another one opens.
Kelsey Kusch knows all about that adage, as she experienced it firsthand several years back.
Coming out of the esteemed Victory Honda AAA program in suburban Detroit, Kusch played her freshman year at Concordia (Wis.), but things didn't go as planned in the classroom or on the ice.
She then looked at one of her original options, Adrian, and came back to her home state to play for the Bulldogs, where she has been lighting up the score sheet the past three years.
"I never had any true D-I offers, but at Concordia, which is about eight hours from home, I wanted the out-of-state experience, but nothing seemed to click for me both academically and athletically," Kusch said. "Being able to come back to play in Michigan and be so close to home has made my experience at Adrian even better. My parents are able to come to all of my home games, which makes playing and winning on our ice special. Being the only D-III school in the lower part of Michigan, Adrian has always been on my radar for hockey."
Once Kusch made the decision to leave Concordia and venture home, it was full steam ahead.
"I realized that my place was always at Adrian, so I transferred and haven't looked back since," said Kusch, who also won a U-12 state title with Belle Tire in her youth days. "It wasn't until I got here where I saw how much Adrian has to offer. The Exercise Science program that I am in has given me so many opportunities to get experience to be a physician's assistant. Plus, our facilities are amazing, especially the rink (Arrington Ice Arena)."
Bulldogs' coach Chad Davis, a former D-I player at American International from 2000 to 2004, said coaching Kusch and watching her develop has been a tremendous treat.
"Kelsey sets the tone for the team on and off the ice," Davis said. "Every day, you're going to get a player who is hungry to get better and wants to win. She is a player who is always shooting countless pucks and doing extra skill sessions. With all the success she has had on the ice, she only cares about helping the team win. Off the ice, she has been great with being a mentor to young players. Kelsey always is the first person to volunteer for any cause the team may be helping out with."
Davis added that even as Kusch's staggering offensive numbers speak for themselves, they don't give a true indication of what Kusch's game is all about and how it has evolved.
"We like her ability to score at any time and every shift; she has the ability to create scoring opportunities," said Davis. "With that being said, we still look to her in crucial situations in our defensive end. Overall, we know we can count on her to make plays at both ends of the ice."
Also the captain of the Bulldogs, Kusch tallied 39 points in 2012-13 and then 47 last season. With 10 goals and 16 points through eight games this year, she's well on her way to smashing her numbers of past seasons.
"Personally, I think I have elevated my game from last season in almost all aspects," noted Kusch, a St. Clair Shores, Mich., product. "I think my shot has improved the most and has already come in handy. On a team level, our intensity, work ethic and all-around positive attitude has been outstanding and I am so proud of what we have accomplished so far and know that we have so much more in us for the second half of the season. I don't see myself or our team stopping for the rest of the season. We put in so much time and effort and have really grown as a team in these few short months. The atmosphere is much different this year than it has been in the past. Everyone is on the same page and we all want the same thing, to dominate every team we face."
Kusch also gave credit to the leaders on the squad, saying they have played a large role in the Bulldogs going 7-0-1 thus far in NCHA play.
"I think our leadership will continue into next semester," Kusch said. "We've already had so many of the younger players step up as well. I have the utmost confidence in everyone on this team that we can do anything at this point. I can't wait to finish out my last year on top and this is the team to do it with."
Showing a selfless side, Kusch said that team chemistry is amazing and playing with a team full of talented players is "simply incredible."
"Working with players like Hannah McGowan, Kristen Lewicki and Devyn Fitzhenry, to name a few, has been one of the best parts of playing at Adrian," said Kusch. "Practice is so competitive going against players like them and it only makes me work harder to be on their level in some ways. We always know where each other is on the ice, no matter what line we are on for that game. Plus, shooting against Jade Walsh has really given me an advantage. She's such a fierce presence in net and I know I'll be ready to face other goaltenders after a week of practice against her.
"All of these players have made huge contributions to my personal success, and I would not have been the player that I am without them."
And to think that Kusch, who is tied for sixth among the national scoring leaders, wasn't one of those kids that learned to skate before she could walk.
In fact, it was actually quite the opposite.
"I started hockey relatively late at 11 years old and could barely stand on skates, and I was never really a part of a winning team," explained Kusch. "I kind of accepted the mentality of not making it anywhere. Then I was and still am lucky enough to play at Adrian and it changed my perspective completely. We have one of the most competitive teams out there and it has only made myself and my teammates better as players and it shows me that all of the training, 6 a.m. practices and five-game weekend showcases leading up to college were worth it."
With Adrian and Finlandia the only NCAA women's hockey schools in the state and with Wayne State folding its D-I program back in 2011, it gives those players that want to stay home limited options. Kusch is banking on the future having more schools in the Mitten State taking on women's hockey.
"I think there should definitely be more D-I teams in Michigan and I think it would give the top D-III players a chance to excel in the NCAA," Kusch said. "I've always been surprised that the B1G schools like Michigan and Michigan State don't have women's hockey programs. Starting up D-I, and D-III programs for that matter, would only increase the growth of women's hockey. I hope that in the future, more teams enter the league and create an even more competitive nature in the NCAA."
Still, with just a semester and change left in her Adrian career, Kusch can't help but reflect on what she has accomplished.
"Coming to Adrian is one of the best decisions I have made," Kusch said. "The team and coaches have made hockey an unforgettable experience and truly made me into the player that I am today. Playing at our arena with all of our fans is such an awesome feeling and the women's program has gotten so much support since I have been here and it really makes a difference."
"We know Kelsey is very dedicated to her studies," added Davis. "We see her being very successful in her professional career. I think she will most likely turn the page when the season is done and concentrate on getting into a PA program."
Prior to that happening is the impending holidays, where Kusch plans to kick her feet up and spend quality time with her family.
"We normally get together with my dad's side on Christmas Eve and then some from my mom's side on Christmas Day," said Kusch. "Winter is my favorite season and there is nothing better than Christmastime for me. Although the break is short, it's nice to be at home and recover before the hardest part of the season comes."
Noteworthy
Chatham goalie Megan Buchanan downed William Smith with two straight shutouts last weekend – 2-0 Saturday and 3-0 Sunday. Buchanan picked up the goose eggs in net with 22 saves Saturday and then 24 on Sunday afternoon. … With most teams already breaking for the holidays, there are just 11 games on the upcoming weekend schedule – all nonconference games. … Of all the conference leaders heading into this weekend, all have zero regulation losses, save for Wisconsin-River Falls (WIAC), which is 5-1-0. Norwich (ECAC East) is 6-0-0, Plattsburgh (ECAC West) is 7-0-0 and has also allowed just four goals in conference games, Gustavus Adolphus (MIAC) is 5-0-1, Adrian (NCHA) is 7-0-1, and Amherst (NESCAC) is 4-0-0. … Elmira's Ashton Hogan, third in the country with 22 points (15 goals, seven assists), has three game-winning goals, five power-play goals and two short-handed goals. Her five power-play markers are second to St. Scholastica's Nina Waidacher, who has six. Plattsburgh's Kayla Meneghin and Utica's Gabrielle Schnepp also have two short-handed goals to lead the nation in that department. … Four goalies (Bowdoin's Lan Crofton, 0.59; Connecticut College's Katherine Chester, 0.65; Plattsburgh's Camille Leonard, 0.80; St. Thomas' Paige Kittelson, 0.97) have sub-1.00 goals-against averages thus far. … Wisconsin-Stevens Point goalie Janna Beilke-Skoug has played every minute of every UWSP game and boasts an 8-2-1 record with a 1.54 GAA, a .936 save percentage and a pair of shutouts.