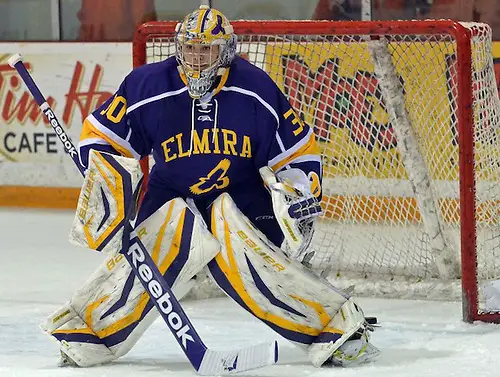 It was that noted hockey blogger – William Shakespeare – who posted those famous lines, "Uneasy lies the head that wears a crown."
Shakespeare, no doubt, was referring to the heavy weight of expectation that comes with being anointed as pre-season conference favorites, such as it seems to be the case in the Eastern realm of Division III hockey.
Six squads were tabbed for the top – one in each of the Eastern conferences – but as the holiday break approaches, and with all conference play completed until January, we find ourselves with a convenient point to look and see how these "Chosen Ones" are living up to such great expectations.
Not so well, as it turns out.
Only one of the preseason faves – Norwich in the ECAC East – currently sits in the top spot, although the remaining five are certainly within striking distance.
All that said, keep your eyes peeled when things pick up again in the New Year.
Act Two, as our blogging friend might say, should be a doozy.
ECAC EAST
Who was picked: Norwich (7-0-0 in conference).
Who's in first: Norwich.
No shocker, here, as the Cadets lead the league in scoring (4.43 gpg) and are second (to Babson) in scoring defense (1.00). Freshman goalie Braeden Ostepchuk (0.33, .980) is as stingy as any netminder which means if his mates give him a one-goal lead, you might well put the win in the books. What is a surprise is that the Cadets have plenty of company among the unbeatens, namely both Babson and Massachusetts-Boston are unstained at 6-0-0. Something's bound to give in the second weekend in January, both of those contenders will have to make the trek to Norwich.
ECAC NORTHEAST
Who was picked: Nichols (3-1-1).
Who's in first: Suffolk (4-0-1).
The Bison rattled off a five game winning streak (three in conference) to begin the year, then had to hustle to salvage a 1-1 tie with Suffolk on Nov. 19. Three days later, they dropped a 3-2 nailbiter to Johnson & Wales, and are just 1-2-2 (overall) at the break. Suffolk, which has just one winning season since 1994, may just be the most pleasant surprise of the season. The rematch with Nichols, at home on Feb. 7, could be the game of the year.
ECAC WEST
Who was picked: Elmira (2-2-2).
Who's in first: Hobart (4-2-0), Nazareth (3-1-2), Neumann (4-2-0).
A six-team league is bound to be a bit claustrophobic, so it figures that two points (by which Elmira trails the others) separates the top four entries. The Soaring Eagles won't play in conference again until Jan. 23, with six non-league games in between in which to tweak their weaknesses.
MASCAC
Who was picked: Salem St. (3-3-0).
Who's in first: Plymouth St. (5-0-1).
Back and forth. Baaaaaaack and foooooorth. Such has been the lot of the Vikings, who at .500 and tied (with Massachusetts-Dartmouth) for third, have had the darndest time trying to get any traction. Two of their three MASCAC losses have been by three goals, but so have two of their three losses. Plymouth, which jump-started its season back on Nov. 6 with a 3-2 win at Salem, have had no such problems. Junior Gordon Ceasar (1.30, .963) has given the Panthers superior goaltending.
NESCAC
Who was picked: Trinity (3-0-1).
Who's in first: Williams (4-1-1).
They are undefeated, have played two less conference games than the Ephs, and are just two points off the lead, so there is no cause for panic in Bantam Nation. For that matter, Trinity leads the NESCAC in offense (5.50 gpg) and defense (1.75).
SUNYAC
Who was picked: Oswego (5-1-1).
Who's in first: Plattsburgh (8-1-0).
A function, in part, of the schedule which had the Cardinals playing nine conference games to Oswego's seven. Thus Plattsburgh holds a five point lead, a gap that would be larger if Oswego hadn't handed Platty its lone conference loss last weekend. Oswego has a slew of talented scorers but just one, sophomore Krystian Yorke (4-6-10) is in the SUNYAC's top seven. Yet, the Lakers lead the league in scoring with 5.00 goals per game, which speaks to their balanced point production.