I've once again intercepted mail from Hockey East arenas to the North Pole and am sharing it with you.
On UMass-Lowell stationery:
Norm Bazin here.
I've got to tell you, Santa, I've got no complaints. An undefeated record within Hockey East and first place, all while playing only three seniors and up to 11 freshmen. Loud and enthusiastic fans filling the Tsongas. (Hope you caught the crowd singing the National Anthem all on its own on opening night when the PA system failed.)
It doesn't get much better than that.
Other than, of course, a third straight Hockey East title, a return to the Frozen Four and two big wins there to send the city of Lowell into utter euphoria.
That's all.
On Boston University stationery:
Santa, David Quinn here.
Last year was a big bag of coal, but what a present you left for me when we signed Jack Eichel! Jaws are dropping all over the league.
And that wasn't the only present. You left me four freshmen defensemen who play every game as well as a goaltender and several other forwards.
We now have the talent to compete with anyone, which is why, I guess, we're No. 2 in the country.
So other than saying, "Thanks!" I guess I'd just like to ask that those elite recruits keep coming under our Christmas tree instead of the one further up Commonwealth Avenue, if you know what I mean.
On Vermont stationery:
Santa, this is Kevin Sneddon.
You've been a very good Santa this year! Or is that backward? I guess I'm the one who's supposed to be good.
Whatever the case, we're 11-3-1, a point out of first place and ranked in the top 10.
As one notable Yuletime philosopher once said, "Not too shabby!"
A year ago wasn't bad. We were only .500 within Hockey East, good for eighth place, but we played strong out of conference and made the NCAA tournament. Unfortunately, we drew Union in the first round and that team ran the table.
A similar thing happened in the Hockey East tournament. As the eighth seed, we drew Lowell and even though we pushed them to a third game and outshot them 13-4 in the third period, we couldn't get the equalizer past Connor Hellebuyck. Just like Union would do in the NCAAs, Lowell ran the table to another Hockey East title.
So another NCAA tournament berth would be great, but I'd love to sew up home ice and a first-round bye so we're not just the first step to another team running the table.
We'd like to do that running ourselves.
On Providence stationery:
Santa, Nate Leaman.
I didn't pay attention to the preseason polls back when they said we'd be bad, so I didn't pay attention this year when they said we'd finish first.
But plenty of other people do.
So to most of them, we've been a disappointment.
Hey, I want us to finish first just like the fans, but we need to just trust the process and work to get better. Let first place take care of itself.
On the other hand, however, a little more scoring would help. We're only ahead of Northeastern and Connecticut in overall offense, so a little help there would be welcome.
Puck luck. Scoring touch. Clanged posts turned into sniper-style goals.
Whatever.
And along with that, a power play that clicks at better than 11 percent would also help.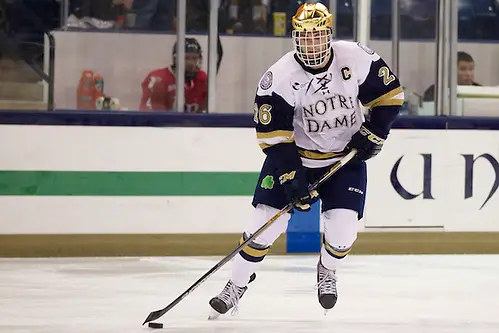 On Notre Dame stationery:
This is Jeff Jackson here.
I didn't believe in writing letters to you last year and I don't believe in it this time, either. What kind of crazy Hockey East tradition is this?
On the other hand, last season we finished tied for seventh in the league and still made the NCAA tournament, so there must be something odd, but effective, in the Hockey East water.
So I'm going to rub the head of my Joe Bertagna bobblehead doll and ask you to please bring us a power play. We're at just 6.8 percent now. We're not going to make the NCAA tournament with a man advantage that weak. So if you really do exist, how about doubling that rate?
On Boston College stationery:
Well hello, Santa, this is Jerry York.
Most years, I haven't had to ask for much of anything. We've been on our way to another national title, or at least strong contention for one.
This season, we're middle of the pack. Just a .500 record in the league and a single game above that overall.
We've got a middle-of-the-pack offense and middle-of-the-pack defense. A pretty good penalty kill, but an awful power play. Just 9.1 percent.
Since when are the Eagles middle of the pack?
We really need our senior class to step up its production. I know these guys have been role players all their careers here, but if you could give one or two of them a sniper's touch, that'd be great.
We also need Thatcher Demko to stay healthy. That's a big one for us.
That's it, Santa. Help yourself to some milk and cookies, and go Eagles!
On Merrimack stationery:
Mark Dennehy here.
Santa, we're 10-5-2 and nobody is talking about us. I know we haven't beaten the iron in our nonconference schedule, but we're a tough team to beat, especially at home (7-1-1, if you haven't been paying attention).
We play strong defense and have a very good penalty kill. We've got a terrific freshman named Brett Seney.
But maybe it's a good idea that we're still flying underneath the radar. Let people think we're still last year's 3-15-2 club. They won't know what hit 'em.
Hey, I guess I'm supposed to ask for something, so how about a few more Brett Seneys under our recruiting tree for a real breakthrough year next season?
For this year? I see we're tied in the standings right now with Boston College. I could live with that being true at the end of the year.
On Northeastern stationery:
Jim Madigan here.
I tell you, Santa, for a while there, I was going to clobber you over the head with a bag of coal. We didn't win our first game until Nov. 15.
That was a tough stretch, let me tell you.
We've won four out of our last six, so maybe we're past all the bad times.
But we're still next to last in Hockey East in overall offense (1.87 goals a game) and only one notch better in team defense (3.27 allowed). And our penalty kill is the worst, only 72.5 percent.
So there's lots you can put underneath our tree.
A Beanpot sure would be nice, too. Last year, we were dead even with BC with six minutes to go. Just don't raise our hopes again only to crush them. If you do, then here come two words for you.
Bah humbug!
On Connecticut stationery:
Santa, Mike Cavanaugh. How are you doing?
This is a first time for me, although I saw you bring presents year after year to my mentor at BC, Jerry York.
How about doing the same for the Huskies? We're new to the league, but this feels like the good old days. Familiar ground.
We've knocked off BC and Vermont and tied second-ranked BU. So we're no doormats.
We're playing pretty good defense, but could really use some more scoring. We're last in the league in offense.
So how about a Johnny Gaudreau? Or maybe the UConn equivalent of Marty Reasoner, who came to BC when it was down and led the parade along with Brian Gionta.
A Brian Gionta would look very nice under the recruiting tree, Santa. How about it?
On Maine stationery:
Santa, this is Red Gendron.
I still think this silly letter-writing thing is just a cockamamie idea of that USCHO nitwit Hendrickson.
But here goes.
Everybody reminds us that we only won one game on the road last year, and we've still got the doughnut this year. I said before the season that we'd better be better on the road.
And we're not.
So please — pretty please with sugar on it — can we please get not only one road win but a whole string of them so that albatross isn't hanging over our heads every time we step outside of Orono? (For the record, that was three pleases in one sentence, including a pretty please.)
It's that simple. Road wins. End of story.
On New Hampshire stationery:
Hey, Santa, Dick Umile here.
Where do I start?
I thought we might have a tough time, losing our goaltender right before the season started and having youth at a number of positions.
But next to last place? 1-5-1 in Hockey East? 4-9-1 overall? Winless in our last five games?
We're not that bad. Those last five games have all been one-goal losses except for a tie and one empty-netter.
I'll make it simple for you. We need wins. A whole bunch of them. And we need them right away because these kids are playing hard and we're awfully close.
But awfully close doesn't cut it here in Durham.
Wins cut it.
So please bring us a whole lot of them, Big Guy. Whaddya say?
On Massachusetts stationery:
Santa, this is John Micheletto.
Bah humbug. Bah humbug. Bah humbug.
Two years ago, my first year here, we finished next to last. Last season, same thing.
So I got wishing that we wouldn't finish next to last again.
Where are we now?
In last place.
Very funny.
Bah humbug, Santa. We'll make the playoffs no matter what, but I've still only got those two words for you: Bah humbug.
And finally, not that it has anything to do with anything, but …
There will be a first-half wrapup next week, but this will be the final conventional column before the holidays. I hope you have a great holiday season.
When you do your holiday shopping, please consider my novels. I've got a new one called "Offside" coming out next Monday in ebook formats and a week after that in trade paperback.
If you liked "Cracking the Ice" — and I don't know of anyone who didn't — you'll like this one. It takes place in 1967, the year before "Cracking the Ice," and it even has a small role for that work's hero, Jessie Stackhouse. The primary sport this time is football; there's only a tiny amount of hockey. But I think you'll like it.
My other novels include "Cracking the Ice," which takes place during the height of the Civil Rights struggle. Jessie Stackhouse is a black, 15-year-old hockey phenom who is recruited to break the color line at an all-white prep school. The headmaster who recruited him tries to help, but the coach doesn't want him there and neither do most of the players.
"Bubba Goes for Broke," written under my pen name David Bawdy, is an R-rated comedy and crime caper featuring the world's dumbest crook and the Hooters waitress he tries to con. If you're easily offended, this book is funny, but it's not for you.
"Body Check," my first hockey romance, has been very popular. In it, a female sportswriter falls for an old college flame who's traded to the local pro hockey team she covers. A journalist covering the man she loves? This breaks all the rules.
(This was published before the Jenny Dell – Will Middlebrooks romance became public and caused her to lose her job.)
This novel, published under the name D.H. Hendrickson, is definitely R-rated for the spicy you-know-what scenes. (Hey, they're a requirement for a contemporary romance.)
You can always follow my fiction writing on
my website where you can sign up for my newsletter so you can hear (never more than once a month) about my latest releases.
Happy holidays, thanks for reading and see you next year.