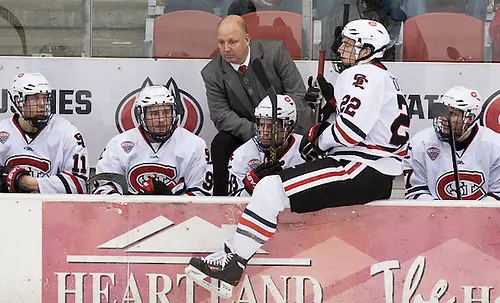 One year after claiming the inaugural Penrose Cup, awarded to the NCHC's regular season champion, St. Cloud State has struggled to establish consistency. The team sits just under .500 at 6-7-1.
While the Huskies have played a difficult schedule, coach Bob Motzko isn't leaning on that as a crutch to explain his squad's record.
"We've earned our wins. The unfortunate part for us is we've earned a couple of our losses, too," he said. "There are things we've done in those games we've been in where we're on the wrong side of play and we need to work on that and be better, and that's what we are trying to do. We've earned and deserve everything we've got right now. There have been some real bright spots in the first half; there's also been a handful of mistakes, and they are all correctable."
It doesn't get any easier for the Huskies, who close their first half on the road this weekend against a high-powered Omaha team.
The Huskies' offensive production is significantly off what it was last season; they average 2.5 goals per game. They also don't have a single player in the top 50 in scoring nationally.
The sixth-ranked power-play unit has been a bright spot, clicking at a 24.14 percent success rate, but five-on-five goals have been more difficult to come by.
"I think it's just one five-on-five goal per game," said Motzko. "I think that's something we can overcome. Sometimes it's important when you are playing well and doing the right things, you need to score a goal to put the game in a better light for your team. One night a week it comes our way."
One bright spot offensively has been the play of junior Joey Benik, who is tied for the team lead in scoring with Jonny Brodzinski with 13 points.
"Joe is just at a whole new level right now, in two things," said Motzko. "One, you couldn't have asked for things to go more wrong for him early in his career when he broke his leg in the first practice of the year and he missed nearly half the year, and then we got to see him in spurts, and he showed that a year ago.
"He showed many times that he was on the verge of breaking out, but nagging injuries continued to hamper him. He had a terrific offseason, one of the better ones I've seen, which really paid off. He's as strong as he's ever been, he's in the best shape he's ever been in, his confidence is at a new level, and he's playing outstanding for us. All the tools were there; he's shown that at every level, but it's peaking and it's great to see, him being rewarded for a lot of hard work."
The Huskies have also been getting good production from freshman Patrick Russell, who is fourth on the team in scoring. Motzko is expecting bigger things from Russell in the second half.
"I really think in the last month, he's starting to get to the level we need him to be at," said Motzko. "It was a little adjustment period, like all guys, but he's making the step right now and we really expect big things out of him in the second half because he's comfortable now and has adjusted to the pace and is picking the pace up."
While the 6-7-1 record isn't going to win the Huskies another Penrose Cup or a place in the NCAA tournament, Motzko is happy overall with how his team has progressed.
"I like a lot of the things we are doing; nothing is getting away from us," said Motzko. "We're just having a hard time stringing things together, and we are just going to continue to concentrate on our own game and what we have to do to get better at it."
Colorado College looks to improve on road
As the Colorado College Tigers prepare for their final series of the first half, a two-game set on the road at Western Michigan, CC coach Mike Haviland is hoping his players can learn from last Friday's heartbreaking 3-2 overtime loss at No. 8 Minnesota-Duluth.
"I thought we played a real good hockey game, probably our best of the year against a very good team in their building," Haviland said. "We're a team that needs to find a way to finish the job. When it got down to the last five minutes there, they were really coming and pressing. We have to play with confidence and finish the job, and they found a way to tie it late and get one in overtime."
The Bulldogs built on that late win by shellacking the Tigers the next night 7-2.
"My thing is, we gave up goals at the start of the second and the start of the third, and you can't give up goals in the first minute and half of those periods," Haviland said of Saturday. "They're big momentum swings for the team. I like our character. We battled back to make it 4-2, and then the back breaker was the fifth.
"They're a really good hockey team, and they're where they're at for a reason. As much as I liked our Friday night and a little bit of Saturday, we have to learn what it takes to win hockey games on the road and not get off of the game plan for any of the 60 minutes."
CC is one of five teams nationally that is winless on the road in the first half, although aside from Maine, none of the other four has played close to CC's number of road games, eight. Maine has played six, and the other three have played between two and four.
At home, things are brighter, as CC has gone 3-2. For now, Haviland said his team needs to simplify things on the road.
"I think it's difficult to win on the road; I don't care what level you're at," he said. "You're going into a place where they're sleeping in their beds, they're comfortable, they feel good to be at home; every team does. We sometimes have lapses of a couple minutes where we turn pucks over and try to do a little too much instead of playing a simple game on the road, and when you turn things over and try to beat guys, you give other teams chances, and teams have been putting them behind us.
"The message is that you have to play consistent for 60 minutes, a simple road hockey game and not give up the odd-man breaks or the second and third chances in our end."
CC has had its issues on defense. Though the Tigers are playing two young goaltenders in Chase Perry and Tyler Marble, CC has struggled as a team on defense, ranking 58th out of 59 teams nationally with an average of 4.46 goals allowed. Only Massachusetts has a worse average.
"That's a whole team concept; it's a commitment that everybody needs to make," said Haviland. "I think we've changed a couple of things in the last couple of weeks, and except for Saturday night, the three prior games hadn't really given up that many goals. We really need to bear down and make that commitment. It's everybody; you can't cheat in the defensive end. Right now, there are some things we need to clean up."
One thing that might help CC's road results is an improvement on special teams. The Tigers are 44th nationally on the power play with a 12.28 percent success rate, and 54th on the penalty kill at 76.4 percent.
However, Haviland said he believes there has been improvement on those numbers in recent weeks.
"I look at it the last four games we are 15 out of 16 on the kill, and our power play has jumped up and had goals in the last four games," he said. "I think those numbers, a lot of it had to do with the beginning of the year, and sometimes they are tough to move. We feel that we are getting better in those areas, especially in the last four games, so we have to continue to move forward.
"I think that our attention to detail in those areas, especially on the PK side, has really gone up, and I think on the power play side we talk about simplifying things and putting pucks at the net and not trying to make the second and third pass and being on the same page. It's starting to work."
CC has a lot of its second half at home, including a five-week stretch starting on Jan. 30 save for one road game against Denver. So if the numbers continue to move forward, CC should be well-positioned for its extended stay in the friendly confines of World Arena.
Players of the week
Offensive player of the week — Cody Murphy, Miami: Murphy, who had only one goal entering the weekend, scored four in Miami's split with Omaha. On Friday, he notched a natural hat trick in an 8-2 win, breaking the game open for his team from a 1-1 first-period tie to make it 4-1 in the second while finishing the game plus-3. On Saturday, he scored a power-play goal in the third to pull Miami to within one in a 5-2 loss. He finished plus-2 on the weekend.
Defensive player of the week — Jordan Schmaltz, North Dakota: Schmaltz led the way defensively and offensively in UND's sweep of Lake Superior State, notching five points on the weekend, four on power-play chances. In Friday's come-from-behind win, he assisted on North Dakota's second goal, which helped spark a rally from 4-1 down, and also assisted on the sixth and seventh goals in a 7-4 win. On Saturday, he scored a power-play goal and an assist in a 3-1 win, and helped UND kill all nine Lake Superior power-play chances on the weekend.
Rookie of the week — Tucker Poolman, North Dakota: Poolman was versatile last weekend, playing forward one night and defense the next. He notched three points in UND's sweep of Lake Superior State. On Friday, he moved to forward after two North Dakota forwards went out of the game due to injury and quickly scored two power-play goals to help spark his team's rally to a 7-4 win. On Saturday, he played defense and notched an assist while blocking two shots and helping his team kill all nine Lake Superior power-play attempts on the weekend.
Goaltender of the week — Zane McIntyre, North Dakota: McIntyre claimed goaltender of the week honors for the second consecutive week for his performance in North Dakota's sweep of Lake Superior State, where he posted a 1.21 GAA and .933 save percentage. He entered the game in relief Friday for Cam Johnson with North Dakota trailing 3-0 and made 12 saves as UND rallied for a 7-4 win. On Saturday, he made 16 saves on 17 shots in a 3-1 win. He also helped kill all nine Lake Superior power plays he faced.