Massachusetts hockey alum Anthony Raiola grew up in a Minnesota family that has always been active with charitable works, so it's no surprise that sense of giving has rubbed off.
"Just being able to give back and help others is something that has always been a big part of me," Raiola said. "I really like making other people happy — that's what it's really about for me. It's just the experiences that come along with it and being able to feel good about yourself and doing good for others."
Fresh out of college last spring, Raiola was hired as an intern and now works full-time with BOKS, Build Our Kids' Success, an initiative of the Reebok Foundation. BOKS is a free, before-school program that is designed to encourage physical activity for children. The program is used in 1,240 schools in six countries.
"Our main goal is to get kids active and moving throughout the day, and ready for a day of learning in school," Raiola said.
Recent studies report staggering rates for children's obesity: The Centers for Disease Control and Prevention report the percentage of obese children aged 6-11 years increased from 7 percent in 1980 to nearly 18 percent in 2012. For adolescents aged 12-19 years, the numbers rose from 5 percent to 21 percent.
"Kids in this generation are supposed to be dying five years earlier than our generation due to health problems," said Raiola, who will be 24 in January. "So it's really about getting the kids moving."
BOKS has a pair of 12-week programs that are used in the schools. There is an emphasis on skills of the week, such as sit-ups, push-ups and lunges. BOKS is working with the Aspen Institute to create another 12-week program that will be skill-based, such as kicking, throwing, bouncing and jumping.
"It's physical literacy at the basics," said Kathleen Tullie, the founder of BOKS and Raiola's boss. "Every kid needs to be physically literate, and this country is failing with that, ever since taking physical education out of schools. Unfortunately, we've gotten away from how important physical literacy and sports is. We need to bring that back as a priority. It should be part of the Common Core curriculum."
Aside from the physical benefits, exercising in the morning has direct benefits for children's learning, Tullie said.
"All the evidence shows that if kids are physically active they will do better in school," she said.
Tullie was influenced by Harvard psychiatry professor Dr. John Ratey's book, "Spark," which addressed the relationship of exercise and brain function. Ratey wrote that 15-20 minutes of exercise at 60-80 percent of maximum heart rate has the same effect as taking Prozac or Ritalin.
"We have seen the kids participate in physical activities before school," Tullie said, "and they are more confident, they are more alert, their executive functions increase, their working memory is significantly increased, they do better on standardized testing and they have better classroom behavior. Exercise is medicine."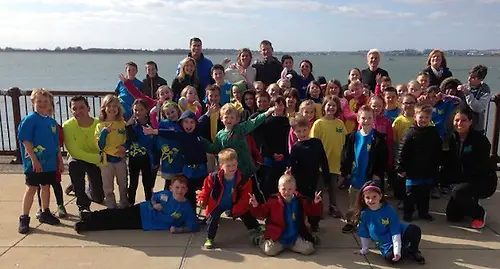 Raiola, who played four seasons of defense for UMass, works on developing the social media content for BOKS. Since he has a hockey background, Raiola thought it would be a good idea to tie BOKS with Reebok's hockey division, and then he took it one step further by developing a tie-in with the 2015 NHL Winter Classic in Washington.
BOKS partnered with fundraising organization Omaze and the NHL to create a Winter Classic Experience. Donors will receive gifts ranging from digital video thanks to apparel to skating opportunities for the Classic, which this year features the Chicago Blackhawks and Washington Capitals.
"We are hoping to raise exposure for BOKS and hopefully raise funds so we can grow the program and get more kids in the inner city active," Tullie said.
"I'm very excited," Raiola said. "Just being a hockey player and being new to this position and being able to bring the two things together is very cool and a heartwarming experience for me."