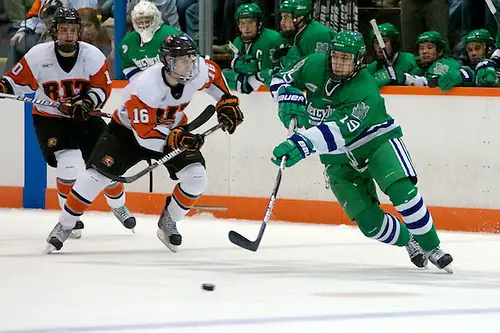 With the calendar about to turn to 2015, there's one thing certain when it comes to Atlantic Hockey — insanity and chaos reign supreme.
Last season, a Robert Morris team that entered the semester break at 2-12-2 ripped off a nine-game undefeated streak and went 11-4-4 in the second half en route to the conference playoff championship. The year prior, Canisius lost five in a row before stringing together eight straight wins to claim its banner.
Those two unpredictable years came on the heels of a 2012 tournament where the final four teams playing for a league championship were the top four seeds. In 2011, the top three teams made it to the league championship weekend. Both times, the top seed won it all.
Second-half points come at an even higher valuation. Every game, every period and every shift become even more important than previous ones. Teams can't focus on anything more than the immediate step in front of them. As Sacred Heart coach CJ Marottolo said in our season preview: "There's no days off. Points in any game are hard to come by, so it puts an importance on being able to come out every night."
Key games and series
Jan. 2-3: Air Force at Holy Cross
Air Force is in unfamiliar territory at 5-12-2 overall. But its 4-5-1 AHA record represents the fewest games played in conference. The Falcons open their second half with just their second trip east this year, and they draw one of the best defensive teams in the league. Typically a ferocious second half team, this is a fantastic litmus test for the Falcons.
Jan. 9-10: Bentley at Robert Morris, Holy Cross at Canisius
Bentley finished its first half by waxing Air Force, while Holy Cross leads the pack of teams playing catch-up to the Colonials. Canisius entered the break going 2-1-2. Robert Morris is Robert Morris. All four teams are in the top five of the league standings. Business, as they say, is about to pick up.
Feb. 6-7: Air Force at Sacred Heart
After Holy Cross, Air Force hosts Niagara and Army before hosting American International. Robert Morris is forced to travel to Colorado after the Falcons took three points from the Colonials in Pittsburgh. If it starts heating up, Air Force easily could be threatening for one of the league's top four seeds. The Pioneers, meanwhile, are in the thick of things with a reputation for playing everybody tough. If they're in that middle pack after games with Mercyhurst, Niagara, Rochester Institute of Technology and American International, this series will be incredibly pressure packed. The shadow of postseason travel to Air Force gives it even higher stakes.
Feb. 20-21: Mercyhurst vs. Canisius
Two of the league's original rivals enter the second half situated in the top five. Both project to be huge factors in the playoff race. Played on the league's second-to-last weekend, this is the heavyweight matchup nearly every fan will keep an eye to while their team's games are going on.
Predicted standings
Because of the discrepancy in games played, I've grown the habit of reorganizing the standings according to win percentage and not points. If that were the case, the standings today would look something like this (with actual place in standings in parentheses):
1. Robert Morris (1)
2. Holy Cross (2)
3. Mercyhurst (T-4)
4. Bentley (3)
5. Canisius (T-4)
6. RIT (6)
7. Air Force (9)
8. Sacred Heart (T-7)
9. American International (10)
10. Army (T-7)
11. Niagara (11)
Taking that into account, along with remaining schedules, I'll predict the final standings as something like this:
1. Robert Morris
2. Holy Cross
3. Bentley
4. Mercyhurst
5. Air Force
6. Canisius
7. Sacred Heart
8. RIT
9. Niagara
10. American International
11. Army
If I'm right, the first round of the playoffs will have the following series:
Army at Canisius
AIC at Sacred Heart
Niagara at RIT
Bentley, Holy Cross, and Robert Morris await results in the quarterfinals. Air Force heads to Mercyhurst with the fifth-place bye.
Predicted award winners
Professor Chris Lerch handed out his "midterm grades" a couple of weeks ago. Here are mine, although there aren't many differences:
Midseason all-conference
F Andrew Gladiuk, jr., Bentley
F Cody Wydo, sr., Robert Morris
F Matt Garbowsky, sr., RIT
D Steve Weinstein, sr., Bentley
D Chris Rumble, sr., Canisius
G Matt Ginn, sr., Holy Cross
Midseason all-rookie
F Brady Ferguson, Robert Morris
F Tyler Pham, Army
F Jonathan Charbonneau, Mercyhurst
D Jack Riley, Mercyhurst
D Andrew Debrincat, AIC
G Jayson Argue, Bentley
Midseason MVP: Matt Ginn, Holy Cross
Bold second-half predictions
I'm good for a few crazy thoughts, so let's go:
• Robert Morris and Holy Cross finish 1-2 in the league, but they will not play each other for a league championship. For the third straight year, I'll go so far to say one of the top two seeds doesn't go to Rochester.
• Bentley will play Canisius in the playoffs for the third straight year. This time, however, I think Bentley wins it.
• AIC will win some games down the stretch, and it will have huge ramifications in the playoffs. This seems to happen every year, for what it's worth.
• Sacred Heart is my sleeper team to really do some damage in the second half and in the playoffs.
• Mercyhurst will advance to Rochester for a fourth straight year, and it will meet Bentley in the semifinals. The winner is going to the national tournament with a trophy in its case.
So who makes the NCAA tournament?
I'm going to start with a criticism of the PairWise Rankings. Robert Morris is going to be held back by statistics out of its control. If the Colonials have a solid second half, they will finish the year ranked as one of the best 15 teams in the national poll. Because of computer statistics, however, RMU is going to be denied a chance at the national tournament unless it wins it all.
I'm picking Mercyhurst to win the league championship. I believe Atlantic Hockey deserves a second team in the tournament, but unless some computer math breaks the right way, the champion's the only team getting in. For the first time since 2005, that's the Lakers.