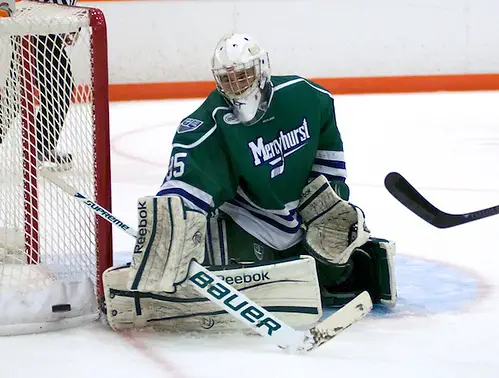 Four-time Stanley Cup-winning goalie Terry Sawchuk once said, "Hockey is a game that makes health insurers happy."
More than likely, he was speaking of the physical nature of the game. After all, he played during the rough-and-tumble times, a 21-year career spanning from 1949 until his untimely death in 1970. For hockey fans, though, it can mean something entirely different.
Hockey fans forever find themselves anticipating and on the edge of their seat. For Atlantic Hockey fans, heart palpitations and excitement never cease to appear around any corner. For the second consecutive year, the conference postseason tournament turned into a demolition derby last March.
After defeating the top two seeds, seventh-seeded Canisius advanced to the AHA championship game with a chance to become a repeat title holder. Instead, the Golden Griffins lost to fifth-seeded Robert Morris, a team that was 2-12-2 and in last place just three months before.
The youngest NCAA Division I hockey program before Penn State's entrance, the Colonials look to defend their championship this year as the league changes structure to 11 teams. With the departure of Connecticut to Hockey East, pod-based scheduling is no more, replaced by unbalanced draws. Programs will play four league opponents four times, the rest twice.
The current draw leaves much to be desired for teams that lose local rivalry games. Canisius will play archenemy Niagara just twice, with both games held at Niagara's Dwyer Arena. Rochester Institute of Technology and Canisius have been rivals back to their days in the ECAC West, and both are opening new facilities this season. But the teams will square off only twice, both games at downtown Buffalo's new HarborCenter. The Griffs will have to wait until 2015-16 to check out the Tigers' new Polisseni Center.
"Scheduling is very difficult and I wouldn't want that job," said Canisius coach Dave Smith. "It's about compromises. But it's tough not going to be able to host Niagara and not being able to go to RIT."
"We're going to travel more this season than we ever have," said American International coach Gary Wright, whose Yellow Jackets will play three of its four-game series against teams from the former western scheduling pod. "But Atlantic Hockey is such a great league that you can't get caught up in looking at who you're playing or when you're playing. You really have to focus on each game, one at a time, given how competitive each team is."
It also means a different playoff structure. Five teams will receive byes, with seeds six through 11 playing best-of-three series in the first round. Winners will reseed in the quarterfinals, with best-of-three series determining who plays single elimination for the right to represent the AHA at the NCAA level.
In a league that top to bottom is ultra competitive, that means the wild regular season never will be indicative of who's left standing at the end.
"There are no days off," said Sacred Heart coach CJ Marottolo. "You really have to focus on playing one game at a time, and that's something we really try to stress. Points in any game are hard to come by, so it puts an importance on being able to come out every night."
"It used to be that there were three or four dominant teams in the league and then everybody else," said Air Force coach Frank Serratore. "That's changed. Everybody could always beat everybody on any given night, but now it happens all the time. You can't ever let up."
As usual, there are questions to be answered and subplots to be analyzed as Atlantic Hockey enters its 12th season:
Can Robert Morris repeat? The Sons of Schooley graduated two players from their entire championship roster and return two 40-point scorers in Cody Wydo and Zac Lynch.
Who wears Cinderella's slipper? For the second straight season, only the top seed in the 2014 playoffs advanced to Rochester, while teams ranked second, third, and fourth all found themselves eliminated.
Can Mercyhurst finish the job? The Lakers are preseason favorites to win the league after returning virtually all their firepower. Is that enough for Rick Gotkin to get his team over the hump and into the national tournament?
Can banners hang in new homes? Canisius and Rochester Institute of Technology open new buildings this year, with the Golden Griffins moving to Downtown Buffalo's HarborCenter and the Tigers moving into the much-heralded Polisseni Center.
What's new really isn't: David Berard returns to Atlantic Hockey after leading Connecticut two years ago on an interim basis. The new Holy Cross coach spent last year at his alma mater with Providence as coordinator of hockey operations.
Jettison the pods: Unbalanced scheduling means the pod-based geography is gone and rivalries are partially altered. How will that impact a team's finishing spot and road both to and through the playoffs?
Here are our picks for the final standings in Atlantic Hockey for the 2014-15 season. Click on each team for a more detailed preview:
The Lakers lost a pair of league all-stars but return a huge amount of talent. For their 12 seniors, this is the final chance to score the team's first title since 2005.
The Colonials are a slightly younger version of Mercyhurst with offensive firepower galore. Derek Schooley should have his team poised for a memorable run at a repeat championship, led by Hobey Baker Award hopeful Cody Wydo, already the top goal scorer in school history.
Brett Gensler and Branden Komm are gone, but the Falcons return almost every other piece. They'll benefit from playing three of their four-game sets against teams finishing in the bottom four of the league last season.
No team personifies "reload, not rebuild" like the Falcons. But their schedule is brutal with home-and-home series against Canisius, Niagara and Robert Morris.
Despite losing 20 games last season, the young Purple Eagles went .500 in league play and advanced to the AHA semifinals. That late-season success and a year of experience for a large (now) sophomore class should spill over for a chance to qualify for Rochester for a fourth straight season.
Finally with a home to call their own, the Golden Griffins move out of Buffalo State to the HarborCenter in downtown Buffalo. But they'll do so without Tony Capobianco, Kyle Gibbons and the most storied class in school history. Valiant champions a year ago, they'll look to regain the mantle they lost in the AHA's final game.
The Tigers hope a new home will help turn the page on a disappointing final season at Ritter Arena. The slate is clean at the $38 million Polisseni Center. RIT has a brutal early schedule, including St. Lawrence, Clarkson, Boston College, and early road series at Robert Morris and Air Force.
Another team losing virtually nothing to graduation, the Pioneers are one of Atlantic Hockey's teams on the rise. But they'll have to contend with a brutal conference schedule featuring home-and-home series against the teams finishing first and second a year ago.
Black Knights coach Brian Riley said that he has one of the best, if not the best, recruiting classes in his tenure at West Point. That has Army poised to begin its climb out of a bottom-of-the-league doldrums.
There's a new face behind the bench in David Berard, but the Crusaders' rebuild has to start somewhere. This team will go as far as its defense will take it.
After several years of consistent improvement, losses to graduation may start to take their toll on the Yellow Jackets. How much rebuilding is required will dictate AIC's fortunes this season.