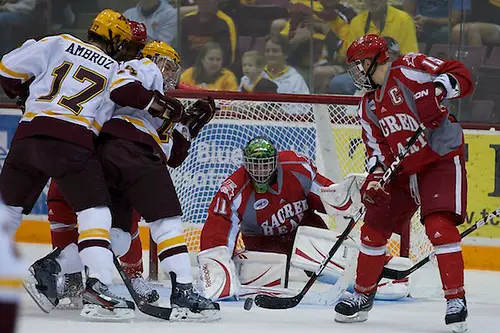 For the Sacred Heart Pioneers, the 2013-14 season started off right away with an indication of changing times.
A team coming off a 2-30-4 season, one of the worst in college hockey history, traveled to take on top-ranked Massachusetts-Lowell. Every prognostication had the River Hawks winning and winning big. One problem with that — Sacred Heart didn't get the memo and shocked Lowell 2-1.
From day one of the season, it became abundantly obvious the Pioneers were a new team. They finished the season 12-24, their first season with double-digit wins since a magical 21-win season in 2009-10.
They picked up three wins for a sweep of second-place Bentley and won their season series against Army. No eastern scheduling pod team swept them, and they picked up cross-divisional wins against Niagara and Canisius.
"The word that we use is progress," said Sacred Heart coach CJ Marottolo. "We made some great progress last year and we need to continue that progress this year. We're nowhere near where we want to be, but everyone keeps getting a little bit better. That's what we're talking about [these days] — we want to keep getting better."
That progress begins with a foundation built on the return of key players. Seven players from last year's team are no longer on the roster, but the Pioneers return their top eight forwards and four defensemen from a year ago. That type of consistency is something the coaching staff can build upon as practice gets underway.
"It's hard to tell who will stand out," said Marottolo, "but it's hard not to be impressed by this team's work ethic. It's something that really started in the spring and has completely carried over. Their work ethic has just jumped off the page right at [the coaches]. Their practice time with the coaches is limited to start the season, but these guys are really attacking the time they do have on the ice. They're attacking their time in the weight room. The excitement is very high. Our captains, Will Rayner and Ben Lake, are doing a great job to make sure the new guys are woven into the program."
With limited time on the ice, it becomes even more important for Sacred Heart to maximize its time utilization in anticipation of the season's start. The Pioneers open with four straight Atlantic Hockey games, part of a stretch that includes six of their first eight and 12 of their first 15 against league teams. As part of their draw, they'll play four games against Mercyhurst and Bentley, the top two teams from a season ago.
In addition, the Pioneers are one of four teams (alongside former AHA foe Connecticut, defending Hockey East champion Massachusetts-Lowell and defending national champion Union) playing in the Frozen Holiday Classic in Bridgeport, Conn.
"Connecticut is a hockey driven state, and the sport reaches all four corners," Marottolo said. "You saw it with Yale and Quinnipiac in the national championship game [in 2013], and now UConn made the jump up to Hockey East. It's something that's great for Connecticut hockey, and it's certainly beneficial for Sacred Heart that hockey is getting out in front in the state."
Despite its rising profile, the focus is on Oct. 10, when the Pioneers open up with Army at Tate Rink in West Point.
"We're starting with conference play, which puts a huge emphasis on practice time," said Marottolo. "We only get two hours per week of on-ice practice, so there's a sense of urgency leading up to our first game. But at the same time, we can't get wrapped up in who we're playing. As a team, we emphasize 'play who you get.'"
About the Pioneers
2013-14 record: 12-24
2013-14 conference record: 11-16 (10th)
2014-15 predicted finish (coaches poll): Ninth
Key losses: F Chad Filteau, F Neil Fachini
Key returnees: F Brian Sheehan, F Drew George, F Ben Lake, F Spencer Graboski, F Justin Danforth, D Will Rayner, D Mitch Nylen, G Andrew Bodnarchuk, G Alex Vazzano
Impact rookie: Kory Kennedy is going to provide some major pop to an offense already brimming with it. In 53 games last year, he scored 71 points, including 30 goals, all while registering 120 penalty minutes. That's nearly double his output from the year before when he scored 46 points with 16 goals. Plus with a name like Kory Kennedy, the media nicknames are endless (Special K, Double K, KK, and anything related to government office and his last name).
Why the Pioneers will finish higher than the coaches poll: Nearly every single piece is back from a plucky team capable of being downright good. That translates to more wins, more competitiveness and a good chance for a first-round bye come playoff time.
Why the Pioneers will finish lower than the coaches poll: They're not going to sneak up on anyone, which means the Pioneers will need to fight harder for points. With the AHA growing more competitive, that means a step back from last year's pleasantly surprising run.