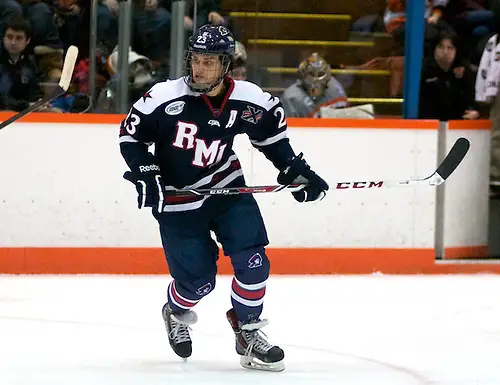 It was a classic Cinderella story.
Last season, Robert Morris had won just two games at Christmas and was sitting in last place in the Atlantic Hockey standings.
But when the calendar turned, so did the Colonials, who began a roll that saw them go 11-4-3 the rest of the season, clawing their way to a fifth-place finish.
The run didn't end there. After surviving a tough three-game first-round playoff series with Army, Derek Schooley's team swept Connecticut on the road in the quarterfinals and then beat Niagara and Canisius in Rochester to claim its first conference championship.
The pieces are in place for a repeat, but Schooley said he'd like to take a more conventional path this time.
"We got off to a terrible start last year," he said. "We have not had a losing season since joining [Atlantic Hockey in 2010], and this time we want to get off to a better start so we don't have to chase down that winning record."
Expectations and excitement are obviously high coming off the Colonials' most successful season ever.
"Every team goes into the season preparing to win a championship," said Schooley. "We had a very good offseason and we're getting better every day in practice. We're preparing for the challenges and grind of a long season. We believe that if we can do that on a daily basis, continue to improve, we're going to do well."
Robert Morris was perhaps a year ahead of schedule with last season's title team. Almost everyone is back.
"We got back 12 of the 13 forwards who were healthy enough to play at the end of the year," said Schooley. "Five of seven defensemen. It's a great core group of players returning.
"We've got some talented freshmen who have to beat out a group of guys who accomplished a lot."
Senior Cody Wydo enters his final season already holding the Colonials career goal-scoring record with 65. His 31 goals last season were second only to Hobey Baker Award winner Johnny Gaudreau. Wydo will be in consideration for the Hobey this season if he can match his previous output.
"There's not another team that returns a 30-goal scorer," said Schooley. "When you have a guy who has produced so much, our all-time leading goal scorer, it's obviously unprecedented for us."
Schooley has a problem on his hands when it comes to goaltending, but it's the kind of problem coaches want. Junior Terry Shafer earned the starting role last season and played in 35 of the Colonials' first 37 games before suffering an injury in the third and deciding game of the quarterfinal series game with Army.
That pressed little-used rookie Dalton Izyk into the spotlight, and he proceeded to backstop Robert Morris to five straight wins and its first playoff championship.
With both netminders back and healthy, Schooley will have two viable options in goal.
"They're both going to play," he said. "Beyond that, we'll see how it goes. We have confidence in both of them."
Confidence is high all around the Colonials, who sail into uncharted waters as defending champs.
"We learned last year that nothing's easy," said Schooley. "They're going to be out to get you when you've had some success. We're going to have to work hard every day and have the determination to defend our title."
About the Colonials
2013-14 overall record: 19-18-5
2013-14 AHA record: 13-9-5 (fifth)
2014-15 predicted finish (coaches poll): Second
Key losses: D Colin South, D Andrew Blazek
Players to watch: F Cody Wydo, F Zac Lynch, F Scott Jacklin
Impact rookie: Forward Spencer Dorowicz had 75 points in 59 games last season for the AJHL's Olds Grizzlys.
Why the Colonials will finish higher than the coaches poll: The defending playoff champ returns almost intact.
Why the Colonials will finish lower than the coaches poll: Expectations are high, and repeating is often harder than winning for the first time.