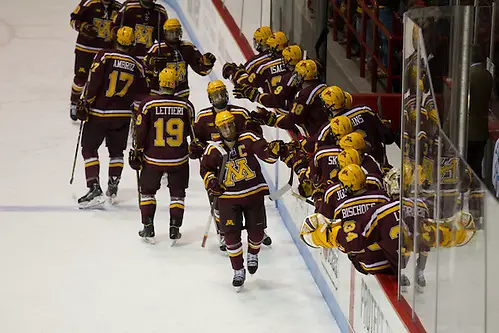 Here's some info on the 24th Mariucci Classic:
The details
Where: Mariucci Arena, Minneapolis.
Friday's schedule: Rochester Institute of Technology (5-8-3) vs. No. 9 Massachusetts-Lowell (12-3-3), 4 p.m. CST; No. 18 Merrimack (10-5-2) at Minnesota (9-4-1), 7 p.m.
Saturday's schedule: RIT/UMass-Lowell vs. Merrimack, 4 p.m. CST; RIT/UMass-Lowell at Minnesota, 7 p.m.
TV: Friday's Merrimack-Minnesota game on Fox Sports North Plus.
Notes to know
RIT is the only unranked team in the field, but it has had some success in this tournament before, defeating the host Gophers in the first round in 2007. Jordan Ruby has been stellar in net as of late, and RIT will need him to come up big, as well as for senior Matt Garbowsky to continue his torrid pace (14 goals so far, tied for tops in the nation).
This is the second holiday tournament for UMass-Lowell, which beat Sacred Heart on Dec. 27 and host Connecticut on Dec. 28 for the Frozen Holiday Classic title in Bridgeport, Conn. Sophomore defenseman Dylan Zink was named the tournament's MVP after scoring two goals and finishing plus-4. C.J. Smith leads the River Hawks with seven goals and 16 points.
At the beginning of December, Merrimack entered the top 20 in the national polls for the first time in nearly two years. The Warriors stayed at No. 18 after taking a point in a weekend home-and-home series with top-ranked Boston University.
The first two tournaments of Minnesota's tournament were held at the program's old rink, also named Mariucci Arena (which is now the Sports Pavilion), and has been played at the team's current facility since it opened in 1993. The Gophers have won the tournament 13 times, including eight times in a row from 1999 to 2006. Recently, Minnesota has struggled, winning only once in the past five seasons. The Mariucci Classic is named after former Minnesota coach John Mariucci, who was the Gophers coach for 13 seasons between 1952 and 1966 and won two national championships.
Social snippet
Join us for the 24th annual Mariucci Classic this w/e – Check out @MyGopherSports & http://t.co/aiMGgmGFV7 for tix. pic.twitter.com/CCC9SQ2jEf

— Minnesota M Hockey (@GopherHockey) December 29, 2014