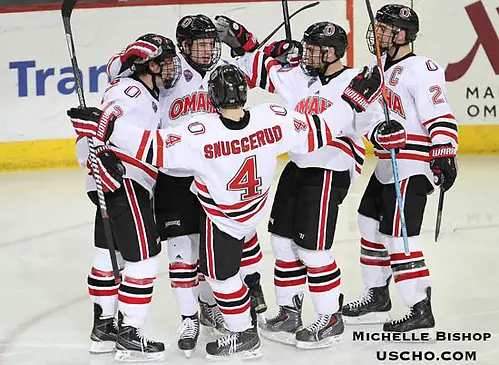 OMAHA, Neb. — What do you get when you combine grit, a play maker and a finisher? To Dean Blais, an electric hockey line.
Those are the three words the Omaha coach used to describe the Mavericks line of Jake Randolph, Tyler Vesel and Justin Parizek.
Omaha started this season with 11 freshmen and many more question marks with the departure of a giant senior class. But two of those freshmen have slid into a role alongside an excelling sophomore that has made for one of the most productive young lines in college hockey.
Freshmen Randolph and Vesel together terrorized the USHL. They were the No. 1 and 3 point leaders in the league, respectively, and on the same line for the Omaha Lancers. Randolph was the second-leading goal scorer despite missing time with an injury late in the season.
This year, the two have been placed with sophomore Parizek and the line has been a key to UNO's abundant, early success and rise in the rankings.
"The way they played in juniors it only made sense that they played together in college," Blais said. "And you just had to find the third partner for a good pair, and right now it is Justin and he fits it well."
Blais said that while he's had players come in together from the same junior team, he's never welcomed a tandem as special as Randolph and Vesel.
"We've had players that are familiar with each other but not that dynamic," Blais said. "It's one thing to play and to play well; it's another to get the scoring chances that they're getting, too."
Playmaker Randolph is third in the team with 18 points and first in assists with 14.
"Jake Randolph asked me if he should maybe play another year at the Lancers in leading the league and I said no, we need your scoring now," Blais said. "Jake Randolph is the playmaker. He's made plays his whole life."
Before winning forward of the year in the USHL last season, Randolph played high school hockey for Duluth East for his father. The freshman said discipline is one of the factors that makes the trifecta thrive.
"We just kind of stick to our roles," Randolph said. "It starts with Ves [Vesel]. He plays so well for 200 feet and so well in the D-zone, able to break pucks out just by himself. It starts with him and I think Parizek and I just have the slot and we've done a pretty good job of that. It's been fun."
Blais described Vesel as the grit, and it can be shown on the stat sheet. Vesel leads Omaha forwards with 31 blocked shots, 12 more than the next forward on the list, Dominic Zombo.
"He brings everything," Randolph said. "He's an all-around player. Great play maker, he can score, he can block shots, play defense he's a 200-foot player. That's huge on a line; you need a center like that. He wins draws and does pretty much everything."
"That just shows the heart he plays," Parizek said.
Vesel was drafted by the Edmonton Oilers in the sixth round of the 2014 NHL Entry Draft.
"They're responsible, and it starts with Tyler Vesel the center. He's the grit in the line," Blais said. "That's why he got drafted to the Oilers and he'll continue to get better and better to that next level."
It was no secret that Vesel and Randolph had chemistry together, but Parizek joined the duo after a freshman year where he helped anchor the Mavs on the fourth line. He has now superbly accompanied the two former Lancers.
"He's been a perfect piece," Randolph said. "Vesel and I are kind of the same player — we like to pass and make plays — but Parizek's … one of the strongest kids on our team and he works hard and wins pucks for us. He goes to areas he should be and finds those goal-scoring areas that we need, so he's been an awesome part to our line."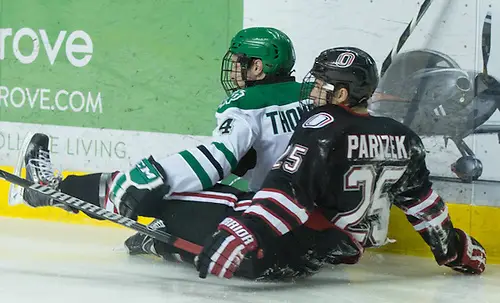 Parizek, the finisher, has the second-most goals on the team with eight — seven more than he had last season. Parizek said he worked on his speed and his shot in the offseason, but his teammates and Blais said he has that natural hockey sense to be in the right spot at the right time.
"At times he seems the odd man out," Blais said after UNO defeated St. Cloud State. "He's a scorer, obviously, and Jake and Tyler Vesel cycle the puck and everything but Parizek's getting open and getting shots on net."
"He's a horse. He can battle, he can hit, he can shoot," Vesel added. "He's a smart hockey player, too. He just fits well with us."
Parizek's goal-scoring success this season wouldn't be where it is without keen passing and vision of Randolph and Vesel, and the sophomore credited them.
"It's unbelievable. Sometimes I won't even see the pass coming and it'll be at my stick," Parizek said. "Randolph and Vesel are both playmakers and they can both score goals as well, but playing with them I definitely see myself getting more scoring chances this year than last year."
It goes back to the roles and chemistry that the young forwards have done so well to stay true to.
"We know where each other are on the ice," Randolph said. "On the bench we start out talking on what we need to do before every shift and just little things like that go a long way and have been the key to success."
The trio admits that, to Blais' occasion dismay, they don't even need to communicate verbally. It's become instinctive.
"Yeah, Coach doesn't get too happy when we're not talking but it's like that," Vesel said. "We just know where each other are."
"Sometimes when you play with each other long enough it seems like you aren't talking, but you just know where each other are going to be," Parizek added. "We've been playing the whole season so we have some chemistry going."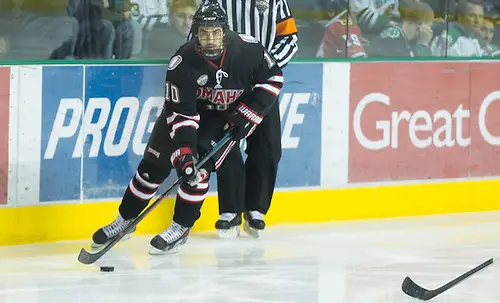 That chemistry has led to production on defense, too. The three have the highest plus/minus on the team with Randolph and Parizek at plus-10 and Vesel at plus-8.
"I am a defensive-first kind of guy [and] I think I've kind of brought that into them as well," Vesel said. "Just taking care of the D-zone first and that leads to the offense. And our plus/minus really shows."
After Omaha swept St. Cloud State on Dec. 12 and 13, junior Brian Cooper said that hopefully the Mavs are "too young" to remember how Omaha has had early flames smolder out down the road in recent seasons.
In a perfect world, this line could have two-and-half more years of grit, playmaking and finishing together and three more with Vesel and Randolph.
"It's kind of nuts," Randolph said. "That's the cool part about it: We're kind of young and Parizek's been good to us. He already has a year under our belt and he's kind of showed the way a little bit and showed us what every opponent is like. So we'll just keep building and keep getting better."
With the line scoring against top teams like North Dakota and Minnesota-Duluth, its impact is limitless.
"We've been really successful and hopefully can stay together as long as we can," Vesel said.
Blais admitted it didn't come naturally, and that all things take continued work. But it's undeniable that the Mavs have come upon a bright shining line in what's looking like a deep team.
"Well, it's not that automatic," Blais said. "If someone goes wrong we'll try something else. But right now they started the year and are still successful."
Despite their age, their play reflects that of veterans and it has garnered respect from the rest of the team.
"They hate to lose, and they'll do anything they can to win and that's unique. You don't have to motivate them; they're ready to go," Blais said. "They play, they prepare, they're good students, they want to go on and play at another level but the big thing is the attitude. [They're] one of the first ones out on the ice every day, working together as a line. [They] want to see the team win and [are] doing everything they can to see them win."
The attitude and work ethic has presented winning results for the Mavericks, who are off to one of their best starts in program history and are sixth in the PairWise Rankings.
"The whole team appreciates it," Blais said. "There's no one that's jealous. They're all humble."