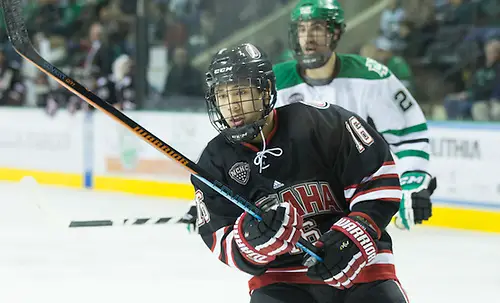 Nebraska-Omaha sophomore forward Austin Ortega has been selected as the Hockey Commissioners' Association National Division I Player of the Month for December 2014, while the HCA National Rookie of the Month is Mercyhurst forward Jack Riley.
Ortega scored an NCAA-best seven goals (four game-winners) and added nine points in eight games for the Mavericks. He tallied at least one point in seven of his eight games during the month, including two multi-goal games as UNO went 5-2-1 last month.
Riley produced at least one point in three of Mercyhurst's four games, helping the Lakers to a 3-1-0 record in December. Riley finished the month with three goals and tacked on three assists for six points in those four contests. He potted two goals and added two assists at Army (and against his father, Army coach Brian Riley) on Dec. 6. Riley has also recorded at least one point in his last five games.