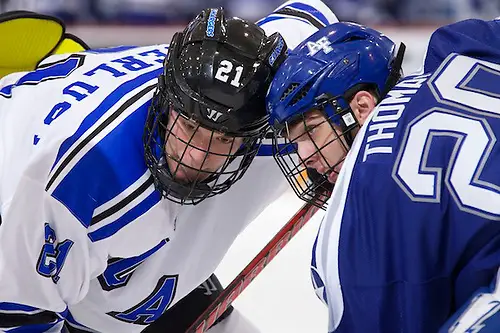 College hockey's most underrated rivalry is about to get relevant again.
This weekend, Alabama-Huntsville — riding a three-game unbeaten streak — travels to a similarly streaking Bemidji State for a WCHA series that, all of a sudden, means more than just North/South bragging rights.
The Chargers, who sit at 5-14-3 overall and have three conference victories, are just a point behind the Beavers in the standings.
It's an important series for end-of-season WCHA playoff positioning. That not something the Chargers are used to — they were essentially out of any playoff considerations by November last year.
UAH coach Mike Corbett is excited his Chargers have finally gotten to the point where they can talk — seriously — about climbing the always-tight WCHA standings.
"I wouldn't necessarily say we're there, but we're better," Corbett said. "We're continuing to get better. And that's what we wanted to do, week in and week out."
After last season, Corbett said the Chargers have finally learned how to have a winning attitude. They've also learned how to win without relying on getting lucky bounces to score goals.
"Last year we needed a puck to go out into the stands, hit a guy in the head, come back into play, go through a toque and go off a guy's shin pad and in the net," Corbett joked. The Chargers scored just 41 times in 38 games last year (1.08 goals for).
This year, the Chargers have already reached the 41-goal mark, through just 22 games.
"I'm not saying we're scoring 10 goals a game, but we're making some plays and we're putting ourselves in better positions where we don't have to hope for luck," Corbett said.
Part of that is due to the presence of Max McHugh. The freshman from Seattle leads all WCHA newcomers in scoring this season, netting seven goals and adding eight assists for 15 points.
"Max is making plays," Corbett said. "He's forcing people to come to him. He's got a little target on his back because of the success he's had."
It's not just McHugh. Senior Jeff Vanderlugt has 10 points in his final season at UAH, while other upperclassmen like Jack Prince (3-7–10) and Chad Brears (2-8–10) have double-digits. Freshman defenseman Brandon Parker has nine points — all assists.
Bemidji State coach Tom Serratore has noticed how much better the Chargers are this year.
"Those kids got a lot of ice the last couple years," Serratore said. "They're experienced. The goaltending is very good and their forwards play with a lot of pace. Hats off to Mike Corbett and his staff. They're playing so well, and they've won some big games. They've been in every game they've played, too."
The Chargers produced perhaps the biggest shock in college hockey over the Christmas holiday, when they took No. 13 Omaha to the brink on Dec. 21 before eventually tying 3-3. UAH led the entire way until the Mavs scored two third-period goals to force overtime.
UAH followed that up last weekend by winning two games against Alaska-Anchorage in Huntsville — their first-ever WCHA sweep.
Corbett said he hopes this weekend's series is another step to reigniting the old Beavers-Chargers rivalry — one that dates way back to the Division II era and carried over to College Hockey America. The teams haven't played a late-season series with this much significance since 2010 — the last season of the CHA.
However, the teams did play four times last year, including in late February. The Chargers beat the Beavers 2-1 at the Sanford Center — a game that ended up having big implications on the Beavers' final place in the WCHA standings.
"I know they're more our rival than we are their rival right now," Corbett said. "I get that. I know we're not North Dakota, but we're an old, familiar game for people in Bemidji.
"It's a fun place to play. I'm hoping it's jammed in there this weekend, and there's a little bit of a playoff atmosphere."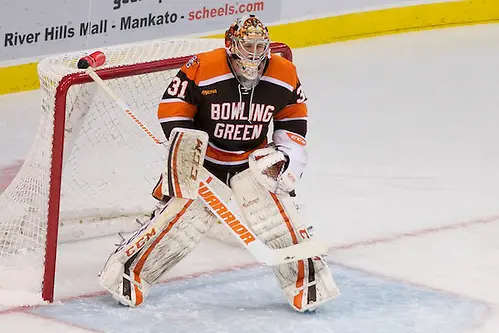 Tracking the race
For just the second time this season, all 10 WCHA teams will be in action against each other this weekend.
Five teams (Minnesota State, Alaska, Northern Michigan, Alabama-Huntsville and Lake Superior State) already have played half of their 28 league games. Michigan Tech, Ferris State, Bemidji State and Alaska-Anchorage will hit the halfway point this weekend. Bowling Green has played just 10 league games so far.
So who's in the best position in the MacNaughton Cup race?
The Mavericks are in first place with 23 points (11-2-1), three points ahead of the Huskies (10-2), who have two games in hand, and six in front of the Falcons (8-1-1), who have four games in hand.
"We have to keep getting better," Minnesota State coach Mike Hastings told the Mankato Free Press last week. "The challenge is: Tech has lost just two games [in league play], we've lost just two games [and tied one] and Bowling Green has lost one and tied one. … There are no easy outs."
Hobey nominees announced
Seven WCHA players are among the 59 candidates on the initial fan ballot for the 2015 Hobey Baker Award.
The WCHA nominees include:
• Minnesota State junior forward Bryce Gervais
• Michigan Tech senior forward Tanner Kero
• Minnesota State senior forward Jean-Paul Lafontaine
• Minnesota State senior forward Matt Leitner
• Alaska junior forward Tyler Morley
• Ferris State senior goaltender CJ Motte
• Michigan Tech sophomore goaltender Jamie Phillips
Of the seven, Motte was a Hobey finalist in 2014.
Fans can vote on the awards on the website up to March 8.
Ice chips
• Alaska has been one of the conference's hottest teams since losing five straight in late October/early November. The Nanooks are 7-3 since then and have won four straight and five of their last six, starting with the 5-4 overtime upset of Minnesota State on Dec. 5.
• Alaska-Anchorage is one of the coldest teams in the league, having won just one of its last 11 games and two of 14 since starting the season 3-0-1.
• Bemidji State comes into its weekend series with UAH on a five-game unbeaten streak. The Beavers have been idle for almost a month — their last action was Dec. 13 against Northern Michigan. The last time Bemidji State was unbeaten in five straight was Dec. 10-31, 2011.
• Bowling Green moved up to No. 11 in the USCHO.com Division I Men's Poll after its tie and win against Robert Morris last weekend. It's the Falcons' highest ranking ever in the poll. Unbeaten (5-0-2) since Nov. 15, the Falcons' 12-3-3 record is their best 18-game mark since the 1995-96 season.
• Ferris State is in the midst of a two-series road trip to Alaska. The Bulldogs, who will play Alaska-Anchorage on Thursday and Friday, were swept by Alaska last week, which put WCHA teams' records on similar trips to 5-8-1. During Thanksgiving week, Northern Michigan made the trip and went 2-2. Last season, Michigan Tech (2-1-1) and Minnesota State (1-3) did double-duty in Alaska.
• Lake Superior State won the Florida College Hockey Classic tournament over the break, in its first year in the tournament. The Lakers beat Cornell in a shootout after a 0-0 tie before beating Notre Dame 2-1 in the title game. Goaltender Gordon Defiel earned the Shawn Walsh Memorial Trophy as tournament MVP. The freshman logged all 125 minutes in net, stopping 67 of 68 shots faced.
• Michigan Tech plays archrival Northern Michigan this weekend in a home-and-home series. The Huskies and Wildcats meet in Marquette on Friday before the series shifts to Houghton on Saturday. Northern Michigan leads the all-time series 67-52-13, but Tech has won four of the past five meetings.
• Minnesota State's 4-1 victory at Northern Michigan last Friday was the 800th win in program history. The Mavericks program began in 1969-70 under Don Brose, who was the team's head coach until 2000, and has an all-time record of 800-605-139. Friday's win was also the 64th for current coach Mike Hastings.
• Northern Michigan is in the midst of a six-game winless streak but earned a point against Minnesota State last weekend. Despite the skid, the Wildcats are still eighth in the country in scoring defense, allowing only 35 goals in 18 games for a 1.94 goals per game average.
Players of the week
This week's WCHA players of the week are Alabama-Huntsville sophomore forward Cody Marooney (offensive), Alaska sophomore goaltender Davis Jones (defensive) and Alabama-Huntsville freshman forward Max McHugh (rookie).