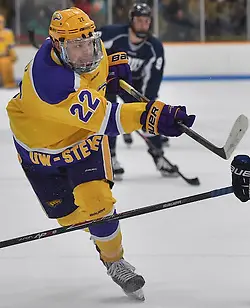 Joe Kalisz was able to savor the thrill of a big win this past week.
He and his Wisconsin-Stevens Point teammates stunned top-ranked and defending national champion St. Norbert, skating to a 6-5 victory on the road.
It was the sixth-ranked Pointers' first win over the Green Knights on the road since 2001. Kalisz scored two goals in the victory.
"It was definitely a huge win for us," Kalisz said. "We tied them last year and lost to them in the national championship game, but we came in and worked hard last week to get ready for the game. It gave us a lot of confidence and we know we might see them again down the road."
Kalisz has been instrumental to the success of the Pointers (10-2-0), who have won their last five games. The junior forward leads the team in goals (nine) and total points (14).
"I think this year has just been another step forward for me," Kalisz said. "I worked hard in the offseason and improved as a player."
Kalisz transferred from Division I Connecticut prior to last season and made an immediate impact for the Pointers, scoring 15 goals and dishing out 14 assists. He ranked second on the team and in the WIAC in goals scored and was third on the team and conference in points as he helped the Pointers make a run at the national title.
"It was a good season and I'm definitely even more comfortable this year," Kalisz said. "I talk with the coaches more and know what they expect from me. Things are going really well."
Kalisz, who played three seasons of junior hockey for the St. Louis Bandits of the NAHL, was the top scorer and MVP of the league during the 2011-12 campaign, scoring 40 goals and dishing out 51 assists.
His talents have translated well to the collegiate level and he has been aggressive, willing to take shots and battle for the 50-50 pucks.
But it's what doesn't show up on the stat sheet that has helped fuel the strides he has made this season.
"The mental game has been the biggest difference," Kalisz said. "I know I have to show up ready to go for practice and be ready to make plays in games."
The Pointers have their sights set on winning a WIAC title and taking another shot at a national title. A year ago, Stevens Point fell 3-1 to St. Norbert in the national final.
The Poiners are certainly good enough to be a champion, featuring a balanced attack that has produced 56 goals. Garrett Ladd has scored four goals and dished out eight assists, while Kevin Gibson has come through with three goals and nine assists. Kyle Sharkey has tallied six goals and five assists.
Twelve other players have tallied at least three points while goalie Brandon Jaeger is 10-2 as a starter.
"We've worked hard to get to where we are and we take pride in being a good hockey team," Kalisz said. "We trust each other on the ice and if we continue to play well, we'll have a chance to accomplish our goals."
On top in the MIAC
St. John's enters the second half of the season holding down first place in the MIAC. The 15th-ranked Johnnies are 4-1-1 in conference play and have a total of 13 points, one more than second-place St. Thomas.
St. John's is 6-3-3 overall and will play their first game of the new year on Thursday when they battle defending national champion St. Norbert.
The Johnnies struggled before the holiday break, dropping three of four, but they are ready to get back on track and contend for the league title.
Offensively, Neal Smith has led a fairly balanced attack, scoring six goals and dishing out three assists. Tyler Dunegan and Huba Sekesi have tallied five goals apiece. Dunegan also has four assists, while Sekesi has dished out three assists.
The Johnnies have scored 35 goals in all, with nine players scoring two or more goals. They have allowed 27 and that includes nine off the power play. St. John's has racked up five power-play goals and will look to improve on that number during the second half of the season.
Saxton Soley has been solid in goal. In 10 games this season, he has gone 5-2-3 and with him between the pipes, the Johnnies have a chance every night.
Panthers show promise
Marian has won four of its last seven games and returns to action this weekend when it plays at Wisconsin-Eau Claire and at St. Thomas.
The three losses the Panthers have suffered during the stretch are to nationally-ranked teams and those experiences should make Marian a better team in the long run.
The Panthers come out of the holiday break with a 6-7 record, including a 2-6 mark in the NCHA.
Derek Thorogood has had a successful season so far, scoring five goals to pace the offense. Brodie Jamieson, Blay Berra and Warren Carter have come through with four goals apiece. Jamieson leads the team in assists with five.
Making strides defensively will be one of the keys to improving in the second half. The Panthers have given up 39 goals. Mike Gudmandson and Mike Baldwin have split time in goal. Gudmandson has started seven games and is 3-4 on the year, while Baldwin has started six times and has gone 3-3.
Both goalies are young, though, with Gudmandson being only a freshman and Baldwin just a sophomore. The more experience they gain, the better off they will both be in the long run.
Still perfect
Wisconsin-River Falls is on quite a ride so far this season as the No. 3 Falcons are unbeaten through 13 games.
Christian George played a pivotal role in the Falcons' latest win, a 3-1 victory over Aurora on Saturday. He scored twice on the power play, and while he has only played in six games this year because of injuries, he has scored a team-best seven goals. If George can stay healthy and continue to play at a high level, the Falcons will be a tough team to beat.
George is part of an offense that has cranked out 52 goals, including 19 off the power play. Kyle Gattelaro has tallied six goals while Ryan Doner and Blake Hupper have come through with five goals apiece. Mike Fazio and Alex Murphy have also scored five goals apiece for a Falcons team that has struck for four or more goals nine times. River Falls has scored less than three goals in a game only once.
Tanner Milliron's play in goal has been impressive as well. He owns a 1.69 goals against average in the 13 games he has started this season.
In the poll
Six teams from the West region are in the national poll this week, led by St. Norbert, which sits at No.2 after suffering a loss to Stevens Point over the weekend. River Falls is third in the nation and Stevens Point is sitting in sixth. Adrian is also in the top 10 as it remains at No. 9. Eau Claire is 13th in the country and St. John's is 15th.