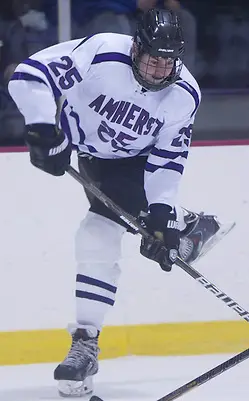 There's nothing quite so secret – at least in college hockey – than a secret shootout weapon.
And Dan Merenich could've been counted among the most secret of the secrets.
Yet Amherst coach Jack Arena knew enough to tap Merenich on the shoulder and send the burly senior winger out for a shootout attempt that could wrest the Cardinal Winter Classic championship from host Plattsburgh, ranked then as now No. 7, in a tilt that until then saw not one puck cross the goal line.
Never mind that Merenich had never taken a shootout attempt – not even a penalty shot – in three previous years at Amherst, nor in prep school at Milton Academy before that.
You'd have to go back to his Bantam days in the Philadelphia 'burbs to get the book on Merenich's shootout moves ("Even that was in a skills competition, I think," he said), and unfortunately for Plattsburgh 'tender Spencer Finney, who to that point had turned aside all 31 Amherst shots, there was no grainy YouTube primer on Merenich for him to bone up on.
"I had an idea," said Merenich, a left shot, recalling his journey into the unknown. "I told our assistant coach Eddie Effinger that I was going to go top left. I saw that he [Finney] was a little off center [in saving the previous attempt by Aaron Deutsch, Merenich's former Milton mate]. He was dipping his blocker hand down. As soon as I was going down, I was a little off to the right. I saw that he was centered to my body. Being a big guy (6-foot-4, 205 pounds), I had the luxury of a longer stick."
And when Finney stacked his pads, Merenich used that leverage to lift the puck right where he meant to.
Top left.
With that, Merenich, skated off to the bench to receive his due from his mates.
"They were pretty happy," Merenich, said. "One that I had scored. And two, that I had called my shot."
Following one last save by Amherst goalie Danny Vitale on Cardinals' sniper Kevin Emmerling, the Lord Jeffs had their tournament triumph (although it went into the books as a 0-0 tie).
That, plus Tuesday's 1-0 blanking of previously unbeaten No. 4 Babson gave the Lord Jeffs, ranked 14th, a terrific start to the last half of the season, as they look to make a run to the NESCAC title (it would be their third since 2009).
"Yes," said Merenich, "we're a pretty good team. One to be reckoned with. But we can't rely solely on skill. Most of our opportunities come from being relentless on the forecheck. We're not always going to get the prettiest goals. But we're going to work the hardest. Relentless. That's going to be our motto."
Merenich has been practicing what he preaches, and has finally been rewarded for it.
Having scored just two goals – one as a sophomore, one as a junior – in his first three seasons at Amherst, Merenich matched his career total in just three minutes (and 14 seconds) earlier this year against Wesleyan.
He potted goals in each of the next two games, too, giving him four for the season, plus of course, that memorable shootout marker.
Merenich, it turns out, has a physician's touch around the net, a nice fit for a biology major on a pre-med track.
"I was a little bit relieved," he said. "It was a huge weight off my shoulders, knowing I can do this."
Beaney out at Southern Maine
Should old acquaintances be forgotten?
Not that there could have been any better time, but New Year's Eve saw the parting of the ways of Southern Maine and Jeff Beaney, its head coach of 28 seasons.
Officially, Beaney "retired" from the post he had held since 1987, but the timing of the move, plus the Huskies' 1-9-0 mark, suggested something other than an impromptu sailing off into the sunset.
Beaney, 55, directed his clubs to a 260-380-50 mark, with no league championships. [The Huskies moved into the ECAC East in 1995]. He is the younger brother of Bill Beaney, the longtime head man at Middlebury. Beaney is being replaced in the interim by assistant coach Ed Harding, a former head coach at North Yarmouth Academy and with the now-defunct Lewiston Maineiacs of the QMJHL.
Naturally
With apologies to Roy Hobbs, you should be calling Nichols' forward Paul Prescott "the natural."
Prescott, a junior scored three consecutive goals – a "natural hat trick" – in a span of 3:43 during the second period of the Bison's 7-3 win over Skidmore. It was Prescott's first hattie of any description and earned him a share of the ECAC Northeast Player of the Week honors.
The other co-winner was Wentworth forward Jordan Bourgonje, whose goal and three assists helped lift the Leopards to the Salem State Holiday Invitational crown.