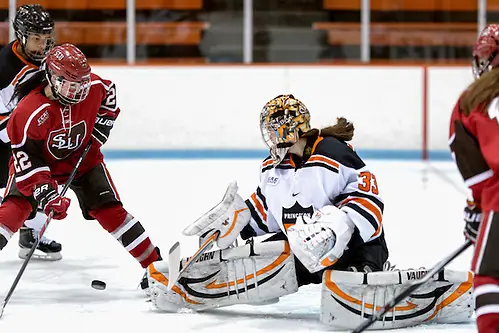 Do you have a second-favorite team?
Maybe you're unfamiliar with the concept, but I've lived my whole life in Minnesota, where the local professional teams' seasons often end when the regular season does, and in bad years, they are effectively over months earlier. That allows plenty of time to survey the landscape of the sport and pick a team that deserves to advance once the playoffs commence.
Usually, it is better to select a team from another conference, for it causes too many divided loyalties if the adopted team is constantly playing the one you've supported all your life. Beyond that, people opt for all manner of teams: favorites, underdogs, or a team with a superstar player, an entertaining style, or a cool jersey.
This week, I got to watch St. Lawrence in person for the first time since the 2006 Frozen Four, which was during the Paul Flanagan regime. Flanagan's Saints were always skilled teams. Under Chris Wells, who succeeded Flanagan starting with the 2008-09 season, St. Lawrence isn't necessarily a favorite nor an underdog, it doesn't have a superstar, the jerseys are okay, but the team is certainly entertaining.
Much of this begins with Wells, who has a unique approach to his job.
"I don't get completely caught up in wins and losses in terms of the nonconference stuff," Wells said. "We try to create an experience for our kids. If we win, great. If we don't, let's try to make it a good experience. I don't know if that's the right attitude for some of the postseason stuff that is available to everybody, but at the end of the day, we want to try to create the best experience for the kids."
On that front, he's succeeding.
"He's one of the most interesting and unique, but fun coaches that I've ever played for," said captain Amanda Boulier. "It's a different atmosphere every day with him. He comes to practice, and he's all about creativity and making up new drills and new things for us. Sometimes, it can be a grind to come to the rink every day, but he makes it such a fun environment for everyone. His energy is like no other coach in the NCAA."
He also creates a good experience for the fans.
"We do like to open it up and try to get up and down the ice the best we can," Wells said. "I think that's the way the game is meant to be played, especially for our game."
Wells even makes the game more fun for the opposition. A rival coach told a story of Wells becoming frustrated because the officials kept tossing his players out of the faceoff circle, so he sent his center out to take the draw while holding her stick upside down, placing the butt end on the ice to make a point. And she won it.
"That's kind of spontaneous stuff," Wells said. "Probably not one of my proudest moments, but those are the stories that kids come back to campus and talk about. We have a great alumnae base. A whole slew of girls came back for that Clarkson game to start the year, and it's great for the other kids to see the experiences that they have."
The Saints opened the season with a couple of rugged series, a home-and-home with defending NCAA Champion Clarkson and a pair with current No. 1 Boston College. SLU proved to be a dangerous foe, going 1-2-1 over those games, splitting with the Golden Knights and tying BC, the only blemish on the Eagles' record to date. Even the losses were competitive, by identical 2-1 scores.
"We're definitely the underdogs in a lot of games we enter, but I think we have in the back of our minds that we can play with pretty much any team in the country," Boulier said. "We've played against BC; we've played against Harvard. We don't necessarily have as much of the talent as these teams have, but we have a work ethic that I think really helps us to stay in these games that a lot of people don't think we can stay in."
St. Lawrence not only stayed in the game versus the No. 6 Crimson, it pulled out a 5-4 win in overtime, and the Saints tied No. 5 Quinnipiac.
The second half of the season also started with a challenging stretch. Wells brought his team west for several days of practice leading up to three games in four days versus Minnesota State and No. 2 Minnesota, made harder by not having senior and usual starting goaltender Carmen MacDonald available.
"These trips and these games really give us a good barometer as to the things that we need to work on, really gives us a great idea of where we're at," Wells said. "We had the close games with BC; mind you, a lot of things happened in our favor to get those results. I think [BC captain Alex] Carpenter threw it over the net about five times and had a couple of goal posts, but we had a couple of goal posts, too. When we made it 2-2, we had a couple of chances to get out of there with a win. But those are the games that you play to be in."
The Saints defeated the Mavericks, 3-1, on Saturday night in Mankato. Whether the 4 p.m. start in Minneapolis was too early with a bus trip in between, St. Lawrence never got its legs going in falling 10-0 to the Gophers on Sunday.
Wells certainly didn't use that as an excuse, saying simply, "I certainly didn't have them prepared like I should have for the game tonight."
According to Boulier, the team remained positive on the bench throughout the defeat and didn't resort to blaming each other.
"We really stuck together," she said. "Instead of going the other way, we kind of came together and just stuck together as a family, I guess you could say. I think we really have that aspect at SLU. It's such a small community. The coaching office is the first office we see when we come into the rink every day. You always say hi. It's such an open-door policy, you walk right in. That goes all the way down to the players. We're all a very open group that's a very close-knit group at the same time."
Like their coach, the team isn't focused solely on how the scoreboard reads at the end of the day.
"We played a game up in Rochester, and it was a nonleague game, and one of our backup goalies [Mikaela Thompson] was playing in her hometown," Boulier said. "[Wells] started her, and her name was called in front of tons of people. We had tons of fans, and we all rallied around her. We didn't end up winning the game, but it was such an awesome experience, something that she's going to look back on in 10 years. We all will for that matter. I think that's what it's all about when it all comes down to it."
Boulier is a bit out of the ordinary herself. She is a defensemen, where coaches generally favor size, because mass, strength, and reach are all assets. Boulier is listed at five feet, one inch, far below average, but a couple inches taller than the shortest member of her team's blue line.
"Obviously, I'm not as big as especially some of the Minnesota defensemen like Lee [Stecklein] or Milica [McMillen], but I just try to use my speed and get the body position that I can in the corners against some of these bigger, stronger girls, and just use my work ethic to compensate for my size," Boulier said.
She also has to play smart, especially on the defensive end.
"We talk to her about trying not to get too involved physically with people, because then you can end up on the wrong side," Wells said. "Maybe just getting in front of some bodies in front of the net and knocking down some pucks or trying to time it at the exact same time. What she can't do because of her size, is equally made up for with what she can do. She just has to pick her spots."
After a rest day on Monday, Boulier was much more dynamic in the second game in Minneapolis. She was everywhere on the ice, and helped rally the Saints, who stayed within a goal of the Gophers until the final minutes.
"Someone as dynamic as she is, her work ethic and her ability to create offense and control the puck, but at the end of the day, just having her on the bench in a player's uniform instead of being the manager like she was when she was redshirting has been a great addition," Wells said. "She's one of those kids that everybody likes to be around, coaches included. She just creates a lot of energy, good positive energy for the team. She is someone who can create a lot of chances. She's pretty dynamic, and she's fun to watch."
Boulier was relegated to a student-manager role last season as she sat out as a medical redshirt, and when she rejoined the squad in the fall, all but one of the defensemen she had played with had graduated.
"It was definitely a bit of a transition back, especially only having one returner back with me," Boulier said. "It was tough at first to find the chemistry. We've been a little fluid throughout the year; we haven't really solidified defense partners per se, but I think we've all worked pretty well together, considering. It's been a help just having five different very versatile defensemen to work with."
Of course, there's been a lot of turnover at the forward position in two years as well.
"At the start of this season, it was almost like joining a whole new team," she said. "You've got to figure out how people play. I was lucky enough last year to be able to watch all of our games and come to all of our games, so it was kind of unique in that sense that I was able to see everyone's style of play and how they play and work in how I would play with them. So there was a lot of visualizing last year, but I think in the end that's helped me transition back into the game this year."
The roster is coming together.
"Kids have developed," Wells said. "The one line, [Kailee] Heidersbach and [Jenna] Marks and [Kayla] Raniwsky, have done a real good job for us. They were put together last January, and they hit the ground running here this fall and have continued on. [Jacqueline] Wand has had a bit of a breakout year for us, a senior. She's extremely fast and keeps pucks alive, and she's playing with [Brooke] Webster and [Kennedy] Marchment, and that's another line that has created some offense for us. So we're trying to get to a point where we can continue to rely on some other kids for depth, and hopefully, the second half is going to bring that. Our defense, [Kirsten] Padalis, and Boulier, and [Megan] Armstrong, have been able to put some points on the board, and we've got some good young kids that have really enjoyed playing the way we play and should be able to start producing offensively."
It has all added up to a 9-8-2 start, with a 5-3-1 mark in the ECAC.
"Our attitude has been consistent all year," Wells said. "Some of the games that we've won, the puck has bounced our way, and some of the games that we've had crazy results, the puck just didn't bounce our way. But I've been very happy with our effort and consistency."
For inspiration going forward, Boulier can think back to her freshman season, when the Saints came seemingly out of nowhere and finished at a 17-3-1 pace that included winning the ECAC tournament.
"I remember looking back on that team, we just had so much fun together and so much pride for the person next to you that when it came down to it, that was really what it was all about," Boulier said. "Obviously, the winning was so much fun, but really just being a part of that kind of group of people was really special. When I look back to St. Lawrence, I think teams like this [year] and that [ECAC Championship team], I think that's what sets us apart from other programs, too."
So there it is, my recommendation for a good second-favorite team if you don't already have ties to St. Lawrence. I don't expect everyone to go along with it, especially the Clarkson supporters, but even they shouldn't get too accustomed to disliking SLU. Based on past history, the odds are good that some of the Saints will end up coaching the Golden Knights down the road.