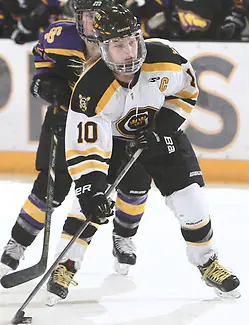 Talk about doing what's best for the good of the team.
A forward by trade, Courtney Boucher moved back to the blue line prior to her junior season of 2013-14 with Gustavus Adolphus, but that hasn't been the only change.
Then again, a lot can happen in four years.
"Over the past four years, my role on the team has changed considerably and through that process, not only have I developed into a defenseman, but also a leader on and off the ice," Boucher said. "I think I've improved in a lot aspects since coming to Gustavus. On the ice, I've focused on the things I typically struggle at, and they have gotten considerably better while I am continuing to develop the areas that I am strong in. I think, simply, my knowledge of the game has expanded through playing with and against some great players.
"The switch from being a forward to a defenseman had a bit of a learning curve in making that transition, but gaining more experience and being able to rely on my coaches and teammates have helped change an offensive mind into a defender."
Gustavus coach Mike Carroll heaped the praise on his two-year captain.
"Courtney is the total package," boasted Carroll. "Strong, good shot, excellent hockey sense, one or most competitive, very coachable, a leader, a very good student and involved with campus organizations outside of hockey. In her four years here, her skating skills have improved the most. She was actually a forward when she arrived and it is not easy to move positions and the only way it works is if the player embraces the change and knows that will help out the team best, which she has done."
Boucher gave the kind words right back to her bench boss.
"I without a doubt wouldn't be the player I am without coach Carroll and the rest of our staff," admitted Boucher. "They've always expected a lot from each player and continually push us to reach our potential. Not speaking for him, but I think that coach Carroll has always believed in the player that I could be, even if I wasn't quite there yet. I trust and respect him as a coach, and he does the same to me as a player. He's held high standards for me and I've tried in every way to meet those. I think working with our coaching staff at Gustavus has developed me into not only a better hockey player, but over the past four years, into a better person. I've learned a lot about the game of hockey and simply about life because of our coaches."
Boucher, a native of Hastings, Minn., said that her senior year has been "going well so far" and the chance to play nationally ranked teams (and also be a nationally ranked squad on a consistent basis) and taste success has been a great experience.
"We have quite a few team goals and so far, we have put ourselves in a great position to obtain them," said Boucher. "This year, I came in with more experience back on the blue line and I think that confidence has really allowed me to be a reliable defenseman for the team. I honestly just look forward to coming to the rink every day and continuing to work hard toward our team goals. We have a lot of important conference games coming up in the second half of the season, and I think I can speak for the team in saying that we have some unfinished business we would like to attend to this season.
"Being that it's the last hurrah, there is a bittersweet component to it already being the second half of the season, but there's no doubt this is the most exciting time of year. I want to end my career on a high note, and I'm looking forward to seeing what this team is capable of."
As a Minnesota-born talent, Boucher said she didn't necessarily need or want to stay local when it came to exploring NCAA options, but when she looked at GAC, everything made sense.
"I was considering schools both in the Midwest and out East, as well as schools I would play hockey at and others that I wouldn't," explained Boucher. "When it came down to it, I knew I wasn't ready to be done playing hockey and from the schools I was still considering, Gustavus was the best option for me to keep playing hockey and have the college atmosphere that best suited me. In retrospect, I don't think I realized all the benefits of staying in Minnesota, one of which is having my parents in the stands at every game. That is something that I really value, and if I went out of state that same support wouldn't be possible."
Boucher mentioned that this season is the final kick at the can and in looking back, she said she can remember move-in day like it was yesterday.
"There are a ton of memories that stand out, both on and off the ice," Boucher said. "We went to the Final Four both my freshman and sophomore year, which were incredible experiences. I remember scoring an overtime game-winning goal in playoffs as a freshman when I was on a line with two of my teammates who are now a couple of my best friends. There are plenty of memories that happen on the ice, whether it be the joy of scoring an OT winner or the heartbreak of losing in the Final Four. Being a senior, I think I've finally realized that although I'll probably remember a few specific games, in the end the best hockey memories I'll have are the ones that happen in the locker room or on team trips or on campus.
"Hockey players are all about camaraderie and I've been very lucky to create memories with the incredible teammates who graduated before me as well as the amazing ones who came after. I'm thankful I got the opportunity to play with them and for them, and I'm excited to make a few more memories in the next couple months."
Once the season concludes and Boucher graduates, as it was when she was a high school senior, she'll have options to consider.
Only now, those options are more gray than black and white.
"I'm a chemistry major with a political science minor and I'm still currently exploring my options as for what is after graduation," Boucher said. "In other words, I'm not exactly sure what lies next, but hopefully, it's something great."
NOTEWORTHY
Former Franklin Pierce forward and assistant captain Billy Sullivan has been named the new assistant coach at Chatham. … Plattsburgh was a unanimous No. 1 in this week's USCHO.com Division III Women's Poll and ranks 1-6 were the same as the final pre-break poll in December with Elmira, Norwich, Middlebury, Gustavus and Wisconsin-River Falls following Plattsburgh, respectively. Adrian jumped up two to No. 7, Wisconsin-Stevens Point fell one to No. 8, Amherst moved up one to No. 9 and previously unranked Bowdoin took the No. 10 spot. … Elmira senior forward Ashley Ryan continues to be an offensive juggernaut, averaging 2.55 points per game on four goals and 28 points in just 11 games. … The top 32 scorers among all D-III players are all forwards. Elmira senior defenseman Brooke Wilgosh checks in with 13 points, good for a 27th-place tie with 15 other skaters.