When Providence coach Nate Leaman recruited Trevor Mingoia out of Berkshire School, there was a point at which he never thought he would see the fruits of the talented forward who needed to gain a few pounds.
Leaman, of course, recruited Mingoia to play for Union but that same summer left Schenectady, N.Y., for Providence, leaving Mingoia to Leaman's former-assistant-turned-head-coach Rick Bennett.
But for reasons Leaman doesn't know, things didn't work out at Union and after one season in New York's Capital District, Mingoia was gone, headed for Tri-City in the USHL. With Mingoia back on the market, if you will, Leaman recruited him again, this time to head to Providence.
Now, a little more than a year after Mingoia first stepped into the Friars lineup, he is having the impact that Leaman was confident he could have when he recruited him before the 2011-12 season.
"He's matured as a player," Leaman said of Mingoia, who leads the Friars in goals (11) and points (19). "Coming into this year, he felt a lot more comfortable.
"He's got a good stick and he's a smart guy. He's really good at hunting down pucks.
"I wouldn't say that things have turned for him or this has been a magical year. I think it's always been what Trevor's potential is. He's feeling a lot more comfortable on the ice."
Leaman remembers back to when he recruited Mingoia out of prep school, saying that he had a "really good head for the game." But he also said that Mingoia was a skinny kid that needed to grow into his 5-foot-11 frame.
That maturity came in the year in the USHL, when Leaman and his staff regained contact. Mingoia arrived at Providence last season and stepped into the lineup right after Thanksgiving. In 26 games, he began to show his ability to impact the club but, according to Leaman, "It's never easy to step into a team like that."
This season, Mingoia's stick talents and his nose for the net are showing consistently. He has potted nine goals in his last 11 games and has been a big part of a Providence power play that began the year without a goal in its first 21 attempts and at one point was 3-for-49. At 12-for-99, the man-up unit still isn't clicking like gangbusters, but the knowledge that the puck actually can go in the net on the power play can be traced to Mingoia, who has five tallies with the man advantage, and Shane Luke, who has four.
"Both of our power-play units have really good chemistry right now," said Leaman. "They both go out and have a good feel of how to approach it and they are working hard."
All of that has led to an improved play that has the Friars 9-1 in their last 10 games after beginning the year 4-5-2 against a Murderer's Row type of schedule. Besides playing a tough schedule to begin the year that included five of the first six games on the road and four of those six games against teams that have now held the top spot in the USCHO.com Division I Men's Poll (Boston University and North Dakota), Leaman said he felt his team's confidence was getting dented by frustrating moments.
"I thought we were playing some good hockey earlier in the season, but for whatever reason the puck wasn't going in the net for us," said Leaman. "We were getting great chances. But [confidence] has turned our way a little bit.
"Now when we hit three or four posts, we know the next one is going in. We don't drop our shoulders and feel like we're never going to score."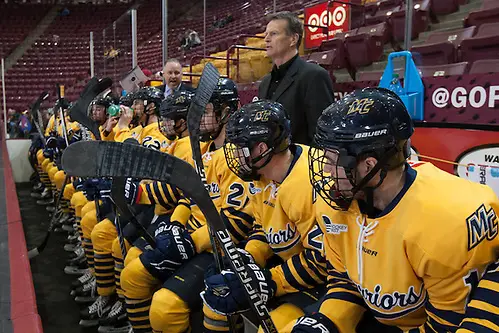 How legit is Merrimack?
The above headline is something I have subtly questioned in writing and significantly questioned in my head to this point in the season. Just how good is this Merrimack team that stands at 11-6-2 overall, but is .500 in Hockey East?
I've questioned how tough Merrimack's schedule has been to date, playing four games against Atlantic Hockey opponents (against which Hockey East collectively holds a 14-2 record) and two against Clarkson, which is below .500 but 4-1-2 in ECAC Hockey and at the break was 1-2-1 against nationally ranked opponents.
But I'll admit that last Friday night's victory over Minnesota and a tough loss to UMass-Lowell the following day at the Mariucci Classic has opened my eyes. I'm not yet a believer that this is an NCAA tournament team, but this Merrimack club's success hasn't been due to playing cupcake opponents.
First off, Rasmus Tirronen has emerged into one of Hockey East elite goaltenders. He looks confident in the net and his oversized frame frustrates shooters. When he gets out of position, he's quick to recover and can make tough saves, as Minnesota learned on Friday:
In addition to Tirronen, this team knows how to play situationally. When it has the lead, it knows how to protect it. When it trails, it knows how to be more aggressive. There are many of the characteristics of this Merrimack team that remind me of last year's Notre Dame club that finished tied for seventh in Hockey East but still reached the NCAA tournament.
If there is one struggle that Merrimack will need to address in order to reach the NCAA tournament, it's offensive production. The Warriors have eclipsed three goals just four times this season and scored just 10 goals in the six games played against nationally ranked opponents.
Still, this team is scary. On home ice, Merrimack is 7-1-1. And although eight of Merrimack's final 13 league games are on the road, good luck to any team that has to go to Lawler Arena in the playoffs.
I'm not punching Merrimack's NCAA ticket or handing the Warriors any postseason hardware just yet. But if you need a dark horse to follow in the second half, consider the Warriors.
Big weekend for Hockey East vs. the ECAC
The last two weekends have certainly turned things around for Hockey East out of conference. If you remove the nonleague games that Hockey East teams played among themselves in holiday tournaments, Hockey East posted a 16-4-2 mark in nonleague play over the last two weeks.
The league needed it. That .772 winning percentage improved the league's overall inter-conference mark from .519 to .575, placing it second behind the NCHC, which has a significant lead at .649.
The good news for Hockey East is that its members are 7-5-1 against NCHC teams, something that will strengthen the league's overall Ratings Percentage Index, or RPI as it is better known.
The not-so-good news, however, is that Hockey East's record against the ECAC, the league with the third-best intra-conference winning percentage (.505), is 18-18-4. Because Hockey East has played more than three times as many games against ECAC teams as it has against the NCHC, a below-.500 record against the league brings down the conference's RPI.
For those not overly familiar with how teams for the NCAA tournament are selected, a low conference RPI has a negative impact. Without getting too deep into the math, conferences with the highest RPI tend to place more teams into the field (yes, there are some variables, but this statement holds true almost all of the time).
Thus, it behooves Hockey East teams with games remaining against ECAC foes to have success. And there's no time like the present for that to happen.
There are eight games remaining between ECAC and Hockey East teams. Four of them come this weekend. Dartmouth will travel to New Hampshire before hosting Vermont, while Providence and Brown play a home-and-home series beginning Friday at Brown.
Win all four of those games and you can expect the RPI of every Hockey East team to take a slight uptick. That uptick could move teams in the top 16 of the PairWise a little higher and possibly move bubble teams into the top 16.
Lose them and, well, things could get a little more difficult.
Yes, every out-of-conference game is important for Hockey East clubs at this point. But beating the ECAC could go a long way toward conference success come March.