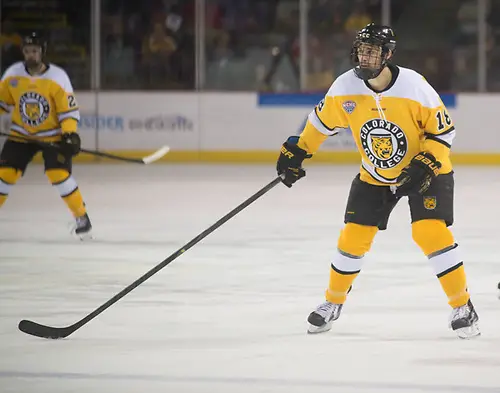 It seems like, as a society, we can't make up our collective mind on New Year's resolutions.
They're always meant with good intentions, and we can certainly all at least agree on that. Nobody's going to suggest that making a list of goals aimed toward self-betterment is a bad thing.
That isn't to say, however, that everyone is on board with turning the idea into practice. Many people somehow view New Year's resolutions as a waste of time. If they weren't doing something last year, the rationale goes, why would they start just because they've had to put up a new calendar?
We all have our goals in mind, however, and college hockey teams are no different. As we're halfway through the season, the winter break just gone was the perfect time for teams to reflect on what's gone right, what hasn't and what they can do to fix problems.
The coaching staffs of the eight NCHC teams will have all been thinking about this recently. What follows are what may be at the top of each group's list of resolutions for the 2015 half of this season.
Colorado College (4-13-1, 0-8-1-1 NCHC)
Colorado College, which picked up only one point in NCHC play over the first half of the season, should relish the chance of playing the spoiler's role in the second half.
That isn't to say that Mike Haviland's Tigers should forget about the goals they set for themselves before this season started. The wins haven't been coming in droves, but in two close calls against Providence and a win at Connecticut in the last week, CC proved that it's already much better than it was in October.
What needs to happen now is for CC to keep building up steam and knock rivals off their perches. Home ice in the first round of the playoffs is just about mathematically out of the question — 18 points separate fourth-place North Dakota from the Tigers — but momentum can work wonders.
Denver (11-5-1, 4-3-0-0)
Over the first half of the season, Denver was arguably the most peculiar team in the NCHC. The Pioneers own a strong 7-2-1 nonconference record and they're scoring an average of 3.57 goals per game in league play, but they've lost three of their seven games against NCHC opposition.
Where Denver has gone wrong has been on the defensive side. Only Colorado College has given up more goals per game in league play (4.44) than the Pioneers (3.14), and that has them in danger of hitting the road for the first round of the playoffs again under second-year coach Jim Montgomery.
That could change, however, if the Pioneers shore up their defense and start taking greater advantage of the talents of goaltender Evan Cowley (.934 save percentage in 12 starts this season). Being seven points adrift from fourth place at the halfway point isn't ideal for Denver, but nor is it unmanageable if more complete performances are turned in.
Miami (14-6-0, 7-3-0-0)
Let's be honest: Not that much needs changing here. The RedHawks are 9-3 in their last 12 games, they're averaging well over three goals per game this season and Jay Williams was one of the nation's best goaltenders in the first half.
The trick is going to be keeping all this up. Thankfully for Miami, it has arguably the most favorable remaining schedule of all eight NCHC teams, with 10th-ranked Denver, No. 7 Minnesota-Duluth and top-ranked North Dakota all at home and Denver twice away.
Miami's mantra should be to finish the fight, however, as the hunt for the regular season title may well come down to the final night of play. Where will the RedHawks be then? At home against UND.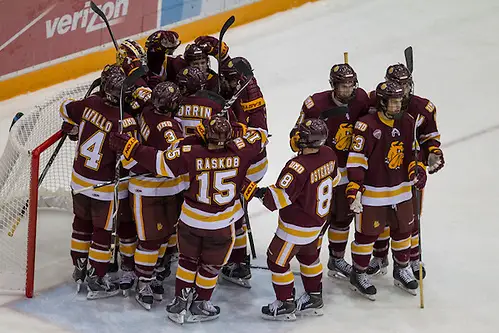 Minnesota-Duluth (12-6-0, 7-3-0-0)
You really do have to tip your cap to Minnesota-Duluth. The Bulldogs passed a strong test of their depth over the first half of the season, and they've proved a lot of prognosticators wrong thus far.
Various kinds of personnel issues are starting to hit Duluth, however, and Scott Sandelin's group is going to have to make the best of what it has the rest of the way.
With sophomore forward Sammy Spurrell out for the rest of the season after undergoing back surgery and freshman Brett Boehm rejoining his junior team, UMD is down to 13 available forwards. That will give Sandelin's team a different kind of challenge as it plays 18 games over the next nine weekends.
North Dakota (13-4-2, 6-3-1-0)
For as good as North Dakota was in the first half of the season, one wonders how much better it might be if not for the numerous injuries UND has had to deal with.
The No. 1 team in the nation has been good thus far this season, but it too seldom has had the apparent luxury of being at full strength health-wise. Currently troubling UND in that department is a long-term injury to defenseman Troy Stecher, who went down with an injury on Dec. 6 that has shelved him for six to eight weeks.
But this is a loaded UND team, and it's been able to absorb injury woes in a way that most teams around the country wouldn't be able to. With a little luck and less to worry about on the injury front, this is a team that may yet win its first national championship since 2000.
Omaha (12-5-3, 6-3-1-1)
Life is pretty good for Omaha fans right now. UNO has unquestionably been the NCHC's biggest surprise so far this season, and despite the Mavericks carrying 11 freshmen, they already look like a virtual lock to finish in the NCHC's top four.
What Dean Blais's group needs to do going forward, however, is keep history from repeating itself.
Since Blais took over as UNO's coach in 2009, not once have the Mavericks qualified for their conference's playoff finals. Omaha has had a history of imploding down the stretch in recent seasons, and something needs to give there eventually.
St. Cloud State (7-10-1, 2-5-1-0)
There may not be a more maddeningly inconsistent team in the NCHC this season than St. Cloud State. Less than a year removed from winning the Penrose Cup as the league's regular season champion, the Huskies haven't been quite so at the races this time around.
In St. Cloud's defense, part of that is down to the Huskies' brutal schedule. Aside from a trip to Western Michigan on Nov. 14-15, every opponent St. Cloud State has faced this season was ranked at the time.
Unfortunately for the Huskies, however, the second-half slate is just as difficult. If St. Cloud is going to pick up the pace, an offense that has averaged only 2.25 goals per game (sixth in the league) is going to need to finally find its scoring touch.
Western Michigan (7-9-2, 2-6-2-2)
In many ways, Western Michigan is in the same boat as St. Cloud State. The Broncos' team offense (2.20 goals per game) and defense (an even three goals conceded per outing) haven't been getting the job done anywhere near often enough to make the Broncos a tougher out.
What Andy Murray's club has had lately, however, is momentum. Dating to when Western Michigan won Notre Dame's Shillelagh Tournament just after Thanksgiving, the Broncos have won five of their last six games.
Can Western keep it up? Climbing into the NCHC's top four and hosting a first-round playoff series doesn't seem highly likely at this point, but it does appear that something's stirring in Kalamazoo, Mich.
Players of the week
Offensive player of the week — Austin Ortega, Omaha: The sophomore forward helped lead UNO to a 2-1-1 record over the festive period, and his seventh game-winning goal of the season on Dec. 30 against New Hampshire broke the school record for that category.
Defensive player of the week — Taylor Fleming, Western Michigan: The sophomore Broncos defenseman helped Western to a third-place finish at the Three Rivers Classic in Pittsburgh over the break. Against Colgate and Penn State, Fleming posted three assists and was a key cog in the WMU penalty-killing unit that went 6-for-6 in the tournament.
Goaltender of the week — Jay Williams, Miami: The RedHawks' junior netminder was outstanding in his two starts over the winter break, pitching shutouts in both outings. He stopped 15 shots in a 3-0 win over Cornell on Dec. 29 before again blanking Rensselaer by the same score on Jan. 3.
Newcomer of the week — Danton Heinen, Denver: The freshman forward strengthened his NCHC rookie of the year case at last weekend's Ledyard Classic at Dartmouth. He posted a plus-3 rating in Denver's two games there to help the Pioneers finish in second place.