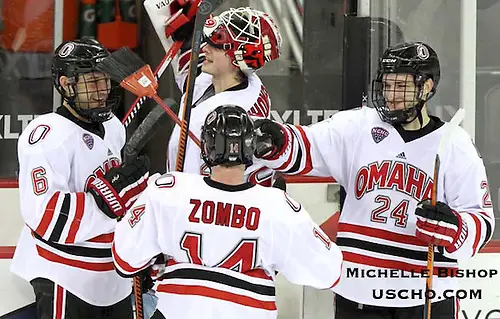 Each week during the season we look at the big events and big games around Division I men's college hockey in Tuesday Morning Quarterback.
Matthew: Well, Jim, we're coming out of a weekend in which many top-10 teams stumbled. We also have a new No. 1 in the USCHO.com Division I Men's Poll with Minnesota State, but is there any particular upset from last weekend that really left you floored?
Jim: I guess at this point I have to say no. It is clear in many ways that there is no clear No. 1. This week we had five teams receive first-place votes and only one of them, Minnesota State, won two games last weekend. Many of the losses among the top 10, notably North Dakota's to Minnesota-Duluth and Harvard's to Yale, came against excellent opponents.
If there was a pleasant surprise in games involving the top 10, it was Michigan sweeping then-No. 9 Minnesota. Not only did the Wolverines prove they are back on a good path for the second half but the two wins were the 799th and 800th for coach Red Berenson, placing him into some good company with Jerry York, Ron Mason and Jack Parker as the only coaches to eclipse 800 wins. A pretty impressive feat, wouldn't you say?
Matthew: It absolutely is, although I think it's fair to say we had considered Berenson for years to be on par with the likes of Mason, Parker and York. It has to feel good for him to reach that 800-win plateau, though, and I'm glad for him.
Michigan has had a few particularly difficult seasons in recent years, and the Wolverines certainly aren't one of the absolute top teams in the country this season, either. But it must have been a thrill to not only reach 800 but do it at home against a fellow storied program in the form of Minnesota.
Minnesota hasn't really set the world alight this year, either, and I don't think the Golden Gophers can complain about dropping to No. 16 in the new edition of our poll. I know I had them 15th when I sent in my ballot on Sunday night, and I have to wonder now if they might dip even further.
Jim: I think Minnesota isn't living up to its potential at this point. The Gophers sputtered into the break and have just an overtime win against Rochester Institute of Technology since returning. Friday night, two third-period, power-play goals during a five-minute major should have been enough but a defensive breakdown as that major expired led to Michigan tying the game and winning in OT. The following night, Minnesota scored five goals, which should be plenty to win yet lost 7-5.
Am I overstepping in saying the Gophers seem to lack the confidence it takes to be dominant right now?
Matthew: No, I don't think so, and it's puzzling to me, too. The Big Ten in general is down this year, and Minnesota has more than enough weapons in its arsenal that you would think the Gophers would be able to take full advantage, but they haven't.
When I think about teams that are going in the opposite direction from Minnesota — and the list is worryingly many — Omaha really sticks out to me. Despite senior goaltender Ryan Massa being out last weekend with a concussion, the Mavericks picked up a sweep of then-No. 10 Denver and now find themselves at No. 8 in our poll.
Expectations were low in Omaha at the beginning of this season, and with 11 freshmen on the roster, you could understand why. I'm still waiting to see if UNO loses steam down the home stretch like it has every season so far under Dean Blais, but I think the question has to be brought up: Has there been a bigger out-of-the-blue success so far than UNO?
Jim: I understand what you are saying but personally when Dean Blais is behind a team's bench you should expect a better-than-average result.
The team that stands out to me is Bowling Green. Although the club has continually improved in recent years, this year's team and its 14-3-4 record takes the cake for me as the pleasant surprise of the season.
And lest we forget Harvard. Yes, the Crimson lost to Yale on Saturday but no one saw this season coming.
Matthew: Good point on Bowling Green. Our Jayson Moy started up his Bracketology blog again last Wednesday, and he had Bowling Green as a No. 2 seed in the NCAA tournament if it were to have started last week.
Is there anything in particular that stuck out to you from Jayson's first findings of the season? It appears right now as though we'd have quite a lot of teams in the tournament this year that weren't there nine months ago.
Jim: I think you nailed it. The not-so-familiar faces of late — namely Harvard, Michigan Tech and Penn State — certainly could make for a new-feel tournament come March. But that is also what the NCAA tournament has been about of late.
We went 18 years without a first-time champion between Maine in 1993 and Minnesota-Duluth in 2011 and we have now had three of our last four winners as first-time champs (UMD, Yale and Union). We have also had Quinnipiac, Ferris State, Miami and Notre Dame all post runner-up finishes since 2008. All of that points to how the faces of top teams continue to change in this great game.
Thumbs up
To Blais, who when asked on Saturday night by reporters if he had thought UNO would have swept Denver and finished last weekend in first place in the NCHC without Massa's help in net, dropped one heck of a one-liner: "I would say you brought some medicinal marijuana from Denver."
And to Berenson. His win total of 800 is more than the number of college games coached by 50 of the 59 Division I men's coaches.
Thumbs down
To Boston University goaltender Matt O'Connor and defenseman Brien Diffley. Guh.
[youtube_sc url=https://www.youtube.com/watch?v=BLOAF8ss_3Q]
Coming up
No. 2 Boston University has a big weekend ahead, hosting No. 17 Boston College on Friday and No. 6 Massachusetts-Lowell on Sunday.
New No. 1 Minnesota State travels to Ferris State, but the bigger WCHA series might be in Houghton, Mich., where No. 11 Michigan Tech tries to shake a three-game winless streak when it hosts No. 7 Bowling Green.
And in nonconference play. No. 12 Quinnipiac and No. 20 Merrimack play a home-and-home series Friday and Saturday.