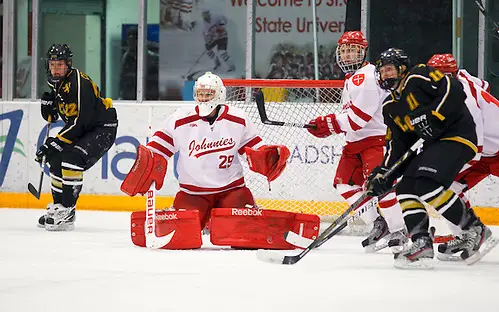 Our venerable columnist team of Dan Hickling and Brian Lester is back at it with their weekend picks for the top games across men's Division III.
DAN HICKLING – EAST
Friday
NESCAC
Tufts (5-6-1, 2-3-1) @ Hamilton (3-5-4, 2-3-2) – Hamilton 5, Tufts 3
With both teams scuffling in the middle of the NESCAC pack, this clash could come down to who is better able to avoid giving up scoring chances. This is where Hamilton could have the edge.
ECAC East
New England College (5-7-3, 3-5-1) @ No. 6 Babson (12-2-1, 7-1-0) – Babson 2, NEC 0
The Beavers (1-2-1 since the break) are looking to pull out of their mini-skid. NEC has played its best hockey of the season of late, but will be hard pressed to get anything past Babson goalie Jamie Murray.
Saturday
MASCAC
Salem St. (6-7-1, 3-5-0) @ Framingham St. (2-9-2, 1-6-1) – Framingham 4, Salem 2
Until the preseason fave Vikings figure themselves out, teams will sneak up on them. Conditions could be right for a Ram upset.
ECAC West
Manhattanville (6-5-3, 1-3-1) @ Utica (7-5-3, 0-4-1) – Utica 5, Manhattanville 3
The lone conference tilt of the weekend. Both teams have feasted on non-league foes but have been woeful within the league. It seems early, but with a stretch run ready to roll out, this could actually be called a "must-win" game.
Nonconference
Nichols (10-2-2) @ Morrisville (4-6-5) – Nichols 6, Morrisville 5
On paper this appears to be a mismatch, but you ever try skating on a notebook? Morrisville has enough firepower to give anybody fits, but perhaps not enough to outgun the Bison, the 10th-ranked offense (4.07 gpg) in the land.
BRIAN LESTER – WEST
Conference play heats up this week in the West Region and there is no bigger game than the WIAC battle between Wisconsin-River Falls and Wisconsin-Stevens Point.
The two nationally-ranked opponents square off tonight in Stevens Point. The seventh-ranked Pointers (11-3) have won six of seven and have racked up 62 goals while allowing only 34. Joe Kalisz leads the way on offense with 11 goals.
In the net, Brandon Jaeger has gone 11-2 and will need to be at his best against a River Falls team that is explosive on offense. Jaeger owns a goals against average of 2.16.
The fourth-ranked Falcons (13-1-1) have racked up 53 goals and have given up 26. Christian George leads the attack with seven goals. Tanner Milliron has been solid in goal, fashioning a 12-1-1 record. His GAA is 1.73.
This is a game that could easily be decided by defense. The team that takes care of business on that end of the ice will prevail. I'm going with the Pointers this time around. Stevens Point, 5-4.
Below are a few other predictions for the weekend ahead.
No. 14 St. John's (7-3-4, 4-1-1 MIAC) at Concordia (Minn.) (7-5-3, 2-2-2): The Johnnies own first place at the moment in the MIAC and they want to make sure they don't lose their grip on it. St. John's has tremendous balance as eight players have scored at least three goals. Combine that with the talented Saxton Soley in goal, and you have a team that has the ability to go on the road and win a big series.
Concordia has proven it can win big games as well and this series is a chance for the Cobbers to make a statement in league play. The Cobbers have a high-scoring team as well, tallying 46 goals on the year, including 12 by Jordie Bancroft. This should be a great weekend series and I'm guessing the two teams split. St. John's, 4-3; Concordia, 3-2.
St. Olaf (3-9-2, 2-3-1) vs. Hamline (5-4-4, 1-0-3): This series features two teams in the middle of the standings, but both are certainly poised to make a move in the right direction.
The Oles are looking for their first win in 2015. If they are going to find it this weekend in a home-and-home series with the Pipers, they need to get the job done on defense. St. Olaf has allowed 44 goals on the year. Goalie Steve Papciak is 3-8-2 with a 2.75 GAA.
The Pipers are a different team than they were a year ago and are riding the high of an impressive 5-4 win over nationally ranked Stevens Point. If they bring that same type of effort to the rink this weekend, they could come away with two big wins. The Pipers have scored 37 goals in all and John Sellie-Hanson is 4-2-2 as a goalie this season. But with the MIAC being so competitive, I'm guessing this one ends in a split. Hamline, 4-2; St. Olaf, 4-3.
No. 12 Wisconsin-Eau Claire (9-3-2) at St. Thomas (7-3-3): The Tommies received votes in last week's national poll. A win over the Blugolds might just propel them into the poll.
The Tommies have won three in a row, including a big win over River Falls, and feature one of the top goalies in the game in Drew Fielding. Fielding is 6-3-3 and owns a goals against average of 1.31. If he plays well again, the Tommies will be tough to beat.
Eau Claire is on a roll as well. The Blugolds have won five in a row, stepping up on defense as well during the win streak. Tyler Green and Jay Deo have seen the majority of time in goal while the offense has cranked out 53 goals. This one should be a classic between two of the nation's best teams. St. Thomas, 3-2.
No. 8 Adrian (11-2-2, 8-0 NCHA) at St. Scholastica (8-6-1, 5-3): The Bulldogs head out on the road and are looking to get back on track. They have just one win in their last four games. The good news is they are tough to beat on the road, fashioning a 5-0-1 record away from home. Matthew Thompson (nine goals) and Josh Ranalli (nine goals) lead an offense that has scored 72 goals, including 21 off the power play.
The Saints have struggled as of late as well, winning only two of their last six. Having this series at home could be huge as St. Scholastica is 5-0 at home this season. Derek Sutliffe anchors the offense with eight goals. The Saints have scored 50 goals this season. Adrian, 4-2, 5-3.
Milwaukee School of Engineering (9-6, 4-4) vs. Lawrence (5-9-1, 4-4): The Raiders have won their last three and have a chance to move into the top four in the standings with a couple of wins in this home-and-home series.
Omar Mullan has been sensational for the Raiders, scoring 10 goals and dishing out 14 assists. His ability to make plays will give the Raiders a great shot to come away with a sweep in the series.
The Vikings have struggled, dropping their last five, finding it difficult to score goals during the slide. Players like Brendan Vetter (five goals) and Ryan Rumble (five goals) have to be able to make plays to give Lawrence a shot at victory. I think the Raiders keep rolling. MSOE, 5-2, 4-2.