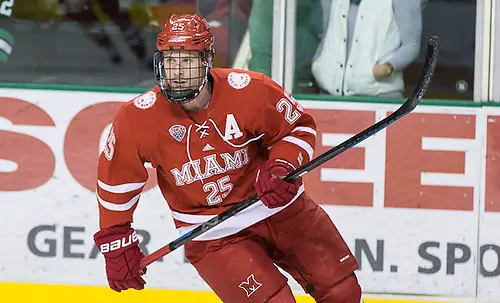 Each week during the season we look at the big events and big games around Division I men's college hockey in Tuesday Morning Quarterback.
Jim: It seems like it has been a while since the No. 1 team in the USCHO.com Division I Men's Poll put together a good weekend, but that's exactly what Minnesota State did, earning a two-game road sweep over a Ferris State team that continues to struggle since the break.
The victories further solidified the Mavericks' top ranking, earning 42 of the 50 first-place votes. Given that this was Minnesota State's first weekend as the nation's top team in the program's history, does that make the sweep even more impressive to you?
Matthew: It does, but it's not just that they were able to pick up a sweep and keep that No. 1 ranking. Like you said, Ferris has struggled a bit here at the start of the second half of the season, but Ewigleben Ice Arena in Big Rapids, Mich., has never been an easy place for opponents to have to come and get something. With that low roof and the loud crowds the Bulldogs get, their home ice is a tough place to play and Minnesota State was able to navigate that atmosphere.
Ferris State may not be what it was this time last year and I have my doubts as to whether it'll make the kind of waves nationally that it did last spring, but it's still a tough out. This sweep looks very good on the Mavericks.
Jim: Because there wasn't a ton of dominance by any other of the highly ranked teams this week, it caused me to take a look more at the PairWise Rankings than at the poll. And while it may seem a little early to worry about the PWR, one thing stands out: The WCHA and NCHC are dominating the top.
All of the six top teams come from one of those two conferences, making me want to believe that, at the moment, those might be the two best conferences in college hockey. Do you put any credence into that statement, or am I reading far too much into the PairWise at this point in the season?
Matthew: I'm not sure I've seen quite enough from Hockey East and ECAC Hockey so far this season to make as much of a well-educated statement on that as I'd like to, but I don't think there's any denying that the top teams in the NCHC and WCHA have done very well so far this season.
Minnesota State's a little bit of a surprise No. 1 — and for multiple weeks now — but Michigan Tech was there not too long ago, too, and Bowling Green and Ferris State are both formidable teams to have to play against.
You look at the NCHC, too, and right now five of the eight teams in that league would be in the NCAA tournament. I still wonder if maybe the NCHC will cannibalize itself a little bit in the home stretch in that regard, but it's unreal to think that that many teams in that small of a conference are doing so well when one of them won't have home ice in the first round of the league playoffs.
To that end, I think you're right that the eastern powers have some ground to make up. What do you think it'll take to redress the balance?
Jim: I think the thing that both Hockey East and the ECAC are missing right now is the dominance of the top teams. Part of that might just be the fact that those two leagues are deeper, top to bottom, than any other conference.
In the ECAC: Quinnipiac was swept last weekend; Harvard lost to St. Lawrence, which is making noise in league but not so much nationally; and Yale may be the team that sits in best position, having swept Brown and earning wins in six of its last seven.
Hockey East's top teams are playing one another multiple times this past weekend and in weeks ahead. UMass-Lowell and Boston University played a thriller on Sunday, with the Terriers coming out on top, but each team walked away from the weekend with two points. Vermont got just a tie in a two-game set against Northeastern. Boston College, after winning at BU, lost at Maine. And Providence has lost its last two games.
It never is fun to be the team with a target on your back, but when you look at many of the top teams in Hockey East and the ECAC, it has been really difficult for the past few weeks.
Matthew: That it has. Let's look ahead this next weekend now. When I think of the juiciest series going out west, Denver at Miami in the NCHC, Alaska's trip to Michigan Tech in WCHA play and Minnesota squaring off with Minnesota State on Friday in St. Paul are the most enticing matchups to me, but I'm curious which games out east you'll have a particularly close eye on.
Jim: When I talk about the consistency of the east, one team in particularly stands out. Vermont is just 2-3-1 since returning from break and will possibly face its best litmus test to date when Boston University comes to Burlington for two games. I have said it a number of times this season: I believe the Catamounts have all the pieces necessary to be a championship contender, so being able to face one of hockey's best teams at home should tell us more about this team.
I also think this weekend will tell us a lot about Harvard. The Crimson travel to Cornell and Colgate with the need to prove it can be as tough of a team inside the league as it was outside before the break.
There is one more team I want to look at before we close this week, and it's Robert Morris. The Colonials missed the USCHO.com top 20 for the second straight week but this club, with a 15-5-4 record, I think has done enough to keep a very close eye on as we head down the stretch. Robert Morris could win the Atlantic Hockey tournament and earn its NCAA berth, but if the Colonials lose in the playoffs, we could again be in a position where two Atlantic Hockey teams reach the NCAA tournament.
I'm a big proponent that if you've done enough to qualify, you deserve to be there regardless of the league in which you play. There are many, however, that dislike seeing two AHC teams in the tournament. I'm curious to get your take.
Matthew: I completely agree with you. I had Robert Morris 20th on my ballot this week so maybe I'm in a minority of voters who had the Colonials in the top 20, but I don't put a ton of stock in the complaints that they're playing in a weaker conference.
Obviously, we've seen recently in college sports that schools aren't forever married to one conference, and I'm not sure we're done with realignment in college hockey, but for now every team in every league deserves to be recognized on the national stage if it consistently beats what's put in front of it.
Thumbs up
To Jack Eichel's goal in OT on Sunday, which was pretty impressive and further expanded his lead in the nation's scoring race.
[youtube_sc url=http://youtu.be/oEk1fcu9Ibo?t=1m42s]
And to Ferris State, which put together this poster for Alaska's Justin Woods, who's missing this season while battling Ewing's Sarcoma:
Hey @JustinWoods24! This is headed your way. The Dawg Pound is pulling for you. #TeamJustin pic.twitter.com/N0ZKcWKQdl

— Ferris State Hockey (@FerrisHockey) January 19, 2015
Thumbs down
To the Minnesota-Wisconsin fight on Saturday. Both teams have been a mess at times this season — and Minnesota seemed to perhaps hit a low point on Friday — but the all the extracurriculars were unnecessary.
[youtube_sc url=https://www.youtube.com/watch?v=qZE2J4EuLKc]
Coming up
There's a big weekend of games between ranked teams ahead.
No. 1 Minnesota State plays No. 17 Minnesota in the North Star College Cup in St. Paul, Minn., where they're joined by No. 7 Minnesota-Duluth and Bemidji State.
Hockey East has five games between ranked teams: No. 19 Boston College hosts No. 14 Merrimack on Wednesday; No. 5 UMass-Lowell and No. 18 Providence play a home-and-home series on Friday and Saturday; and No. 3 Boston University plays at No. 12 Vermont over the weekend.
No. 9 Miami hosts No. 11 Denver on Friday and Saturday, and No. 4 Harvard is at No. 15 Colgate on Saturday.