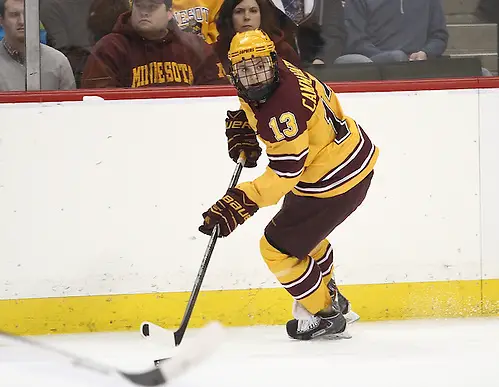 This year's North Star College Cup will feature three ranked teams, which wouldn't have been hard to believe had it been a preseason prediction.
That Minnesota is the third-highest ranked team in the field is a little more surprising, especially considering the start that the Gophers got off to this season.
Minnesota (11-7-2, 2-2-2 B1G) has cooled down since its 7-1 start and is trying to work itself out of a sticky stretch of hockey that has sent it plummeting down the polls and has its fan base grumbling.
The Gophers finally took a step forward last Saturday with a convincing 5-2 win over Wisconsin a day after a disappointing shootout loss to the Badgers.
"We generated a lot of offense, we had 99 shots on goal and we only gave up a little over 40 on the weekend," Minnesota coach Don Lucia said. "Those are good, positive trends that you'd like to see. I thought our puck movement was good. We were winning some races to loose pucks."
Lucia added that he liked the amount of time that Minnesota spent in its offensive zone last weekend, which was something that had been lacking during the last few games.
As for the fan base thinking the sky was falling during the Gophers' stretch of less than desirable results? Lucia said it's all part of the journey that is a college hockey season.
"Every year is a journey. You try to put the puzzle back together and even though you've got some pieces back, you're missing some," he said. "We have to try and find the best combinations, and we thought we had some good combinations last weekend that were different, and now we don't have Vinni [Lettieri] on Friday night. It forces us to kind of shuffle the deck, and it's been a little of that all year long with different guys being out for different reasons."
Lucia added that even last season, which ended with the Gophers in the NCAA championship game, Minnesota had stretches where it struggled to score goals.
Along with consistency in the lineup, a turnaround can simply be the result of a team's goal scorers actually scoring goals.
"We have to get some guys that have scored in the past to start scoring on a regular basis," Lucia said. "That will help us. Defensively, we've been pretty good."
"Guys like [Taylor] Cammarata who's sitting with one and [Seth] Ambroz who's sitting with two," Lucia said, referring to players who could light the lamp more often. "It was good to see [Sam] Warning and [Hudson] Fasching score last weekend; they hadn't had a goal in a while. We need to get our guys that we do expect to score, to score and I think that'll happen and that'll help us a lot."
Minnesota State (18-4-1, 15-2-1 WCHA) is the guaranteed opponent for Minnesota this weekend. The Mavericks, who are typically the underdog to the Gophers, will roll into the Xcel Energy Center as the nation's No. 1 team.
"They've got a good team; they're an older, veteran team. I was looking at their roster and I think they've got two guys under 21," Lucia said of Mankato. "They're obviously well-coached. They had a great year last year winning the WCHA Final Five and being an NCAA tournament team, and obviously they're going to be another NCAA tournament team this year and a real threat to win it all this year with their veteran lineup."
Minnesota State is averaging 3.74 goals per game this season, which is third in the nation. The Mavericks also put a lot of pucks on net, averaging 34.04 shots on goal per game this season, and that could present a problem for Minnesota on Friday.
Keeping Minnesota State under the 30-shot mark may be the key to success for the Gophers on Friday, even though the Mavericks have been held under that mark only six times this season.
Although Lucia has been quick to defend junior goaltender Adam Wilcox this season, the netminder's numbers drop off when he's forced to make a lot of saves. Wilcox is 11-6-2 with a .910 save percentage and 2.45 GAA.
Minnesota is averaging 23.36 shots against per game in its 11 wins and Wilcox has averaged 23.36 saves in those games. In Wilcox's six losses, the Gophers are averaging 32.66 shots against and he has averaged 29.5 saves.
Wilcox was pulled after giving up five goals in Minnesota's 7-5 loss to Michigan earlier this month. He has yet to win a game where he has to make 30 or more saves.
If the Gophers are able to get past the Mavericks, Minnesota will potentially play another key game against Minnesota-Duluth. That's a scenario that fans and media alike may be thinking about, but not Lucia.
"Our focus is on Mankato," he said. "It's our last two nonconference games and then we're back in Big Ten play for the rest of the year. So, obviously, where we're sitting wins are important to us right now."
Second annual North Star College Cup brings changes
The North Star College Cup, which will feature Minnesota, Minnesota State, Minnesota-Duluth and Bemidji State, will take place at the Xcel Energy Center in St. Paul, Minn., this weekend.
The Gophers beat the Bulldogs in a shootout to win the championship last year. That won't happen again this year, thanks to some rule changes. The five-minute overtime and shootout format will still be utilized for the semifinal games, but the championship game will feature 20-minute overtime periods until there is a winner.
"Hopefully it'll continue to grow," Lucia said of the tournament, which features Minnesota and three of the other four state Division I teams on a rotating basis. The Gophers play a series against the team that isn't part of the tournament that season.
"I don't know what the ticket sales are like — I haven't even checked because you're so absorbed in your own season," Lucia said. "Any time you can play at the Xcel Energy Center it's a great weekend and it's such a phenomenal facility. We're playing the in-state teams and the games last year were really good."
Two players suspended
Two players will miss time due to a scuffle that broke out during the final minute of play in last Saturday's game between Minnesota and Wisconsin.
Wisconsin's Eddie Wittchow was subject to a one-game suspension because of his disqualification from the contest and the Big Ten suspended him another game. Minnesota's Lettieri was suspended one game by the Big Ten for leaving the bench to participate in the altercation.
Lettieri will miss the Gophers' game against Minnesota State at the North Star College Cup and Wittchow will miss both of the Badgers' home games against Michigan this weekend.
Wittchow's hit on Minnesota' Leon Bristedt, in which he made contact to the head, caused the altercation between the two teams. The game had gotten chippy in the final five minutes, with players from both sides getting 10-minute misconducts after post-whistle skirmishes.
"The explanation was it was a serious hit to the head and the time of the game that the hit took place," Wisconsin coach Mike Eaves said at his news conference on Monday. "So we are in further discussion with [Big Ten Coordinator of men's ice hockey officials] Steve Piotrowski about this, but I think that's going to be the bottom line."
Eaves said that freshman Cullen Hurley more than likely will replace Wittchow this weekend.
The Badgers and Gophers will meet again Jan. 30-31 at Wisconsin's Kohl Center.
Three stars of the week
First star — Michigan forward Dylan Larkin: Larkin recorded five points last Friday against Ohio State. The freshman recorded two goals and three assists and was a factor in the Wolverines' first three goals in their 10-6 victory over the Buckeyes. This is Larkin's third Big Ten weekly award of the season.
Second star — Penn State forward David Goodwin: Goodwin had a four-point weekend against Michigan State. He scored the game-tying goal on Friday evening and had the game-winning goal and two assists in the Nittany Lions' 5-2 victory on Saturday. Goodwin is riding a four-game goal scoring streak. This is his second Big Ten weekly award of the season.
Third star — Minnesota forward Travis Boyd: Boyd had four points last weekend as the Gophers took four of six conference points from their series with Wisconsin. Boyd had an assist in Friday's shootout loss and had two goals and another assist in Minnesota's 5-2 victory on Saturday. This is Boyd's fourth career Big Ten weekly award.
B1G in the poll
No. 16 Michigan and No. 17 Minnesota are the two representatives from the Big Ten in this week's USCHO.com Division I Men's Poll. Penn State also received votes.
My ballot
1. Minnesota State
2. North Dakota
3. Boston University
4. Denver
5. Massachusetts-Lowell
6. Bowling Green
7. Harvard
8. Minnesota-Duluth
9. Miami
10. Omaha
11. Michigan Tech
12. Michigan
13. Merrimack
14. Vermont
15. Quinnipiac
16. Yale
17. Minnesota
18. Boston College
19. Robert Morris
20. Colgate
This week's games
Minnesota vs. Minnesota State (Friday, North Star College Cup at the Xcel Energy Center)
Minnesota vs. Minnesota-Duluth or Bemidji State (Saturday, North Star College Cup at the Xcel Energy Center)
Ohio State at Michigan State (Friday and Saturday, Munn Ice Arena)
Michigan at Wisconsin (Friday and Saturday, Kohl Center)
Northern Michigan at Penn State (Friday and Saturday, Pegula Ice Arena)