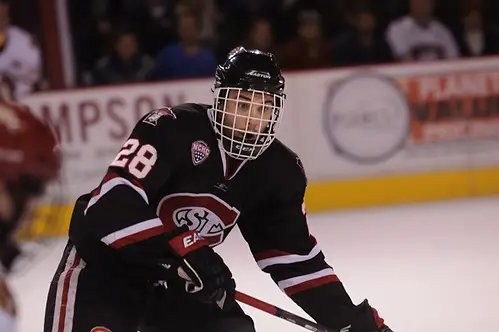 Twenty men's Division I players who excel both on and off the ice were selected as candidates Wednesday for the 2014-15 Senior CLASS Award.
To be eligible for the award, a nominee must be classified as an NCAA Division I senior and have notable achievements in four areas of excellence – community, classroom, character and competition.
An acronym for Celebrating Loyalty and Achievement for Staying in School, the Senior CLASS Award focuses on the total student-athlete and encourages students to use their platform in athletics to make a positive impact as leaders in their communities.
The 20 candidates (below) will be narrowed to 10 finalists later in the season and those 10 names will be placed on the official ballot.
The winner will be announced during the Frozen Four in April. The 2014 winner was Rensselaer forward Brock Higgs.
| Player's Name | Position | School |
| --- | --- | --- |
| Daniel Ciampini | F | Union |
| Austin Czarnik | F | Miami |
| Chad Demers | F | Air Force |
| Tanner Fritz | F | Ohio State |
| Spiro Goulakos | D | Colgate |
| Zach Hyman | F | Michigan |
| Tanner Kero | F | Michigan Tech |
| Adam Krause | F | Minnesota-Duluth |
| Matt Lorito | F | Brown |
| Mark MacMillan | F | North Dakota |
| Nick Mattson | D | North Dakota |
| Ross Mauermann | F | Providence |
| C.J. Motte | G | Ferris State |
| Mike Paliotta | D | Vermont |
| Andrew Prochno | D | St. Cloud State |
| Kyle Rau | F | Minnesota |
| Peter Schneider | F | Notre Dame |
| Clay Witt | G | Northeastern |
| Cody Wydo | F | Robert Morris |
| Oleg Yevenko | D | Massachusetts |