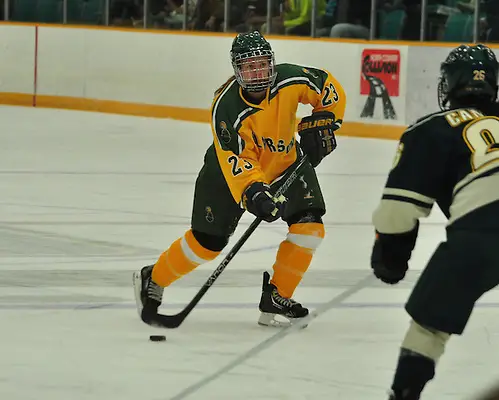 Every year in college athletics, a team starts climbing from the bottom of the hill. All the while, the clock is ticking, both on that season for the team to improve, and for the individuals whose eligibility lasts only so long. Eventually, the time runs, some athletes move on to the next stage of their lives, the team welcomes new members, and the climb starts anew from the bottom of the hill.
For one lucky team each year, the climb ends at the very top of the hill. In 2014, Clarkson was that team, as it won its first NCAA Championship.
Even for that squad, the next climb still starts at the very bottom. The defending champ just includes players who know what is required to scale to the summit.
Unfortunately, because seniors are often the backbone of a successful ascent, defending champs are usually trying to reinvent themselves while they make a title defense.
"We have some really quality players here that got a lot of experience last year, but we also have a young team as well," Clarkson coach Matt Desrosiers said. "We have a lot of freshmen in the lineup that have to play some valuable minutes for us. They've done a great job for us this year, but it's a little different dynamic obviously than what we had last year. We had an older squad last year. It's obviously a little different losing six seniors and the accolades that they had. They had about 570 points and a starting goaltender, and we end up losing two coaches late in the process, too. I'm actually really happy with where we're at right now this year."
The Golden Knights' record stands at 15-7-3, two more losses than they suffered along the way last year. They were also the champions of the ECAC regular season, and have posted a 9-2-2 mark in defense of that crown.
That would have been impossible had the new Knights not come up to speed quickly.
"We've had to have them play some valuable minutes right off the bat," Desrosiers said. "The first semester, it was good experience for them to have. Obviously, Shea [Tiley] getting in the nets and just feeling comfortable and knowing that she can play at this level and succeed at this level."
Goaltender Erica Howe was one of the graduates; she posted 90 wins in her career for Clarkson. Tiley came on in relief opening night and has started every game since then, posting an excellent .932 save percentage with a goals-against average of 1.50.
"She's been doing a great job," said junior defenseman Erin Ambrose, a first-team All-American as a sophomore. "She's stood on her head when we've needed her to. She's held us in games when we've needed her to. She's won us games. You really couldn't ask anything more out of Shea. She gives us a chance to win every single night, that's for sure."
The blue line has also been reinforced by a freshman. Savannah Harmon has matched the offensive production of Ambrose with five goals and 11 assists for 16 points.
"She was a kid that we knew was going to be that kind of puck-handling defenseman that we wanted," Desrosiers said. "It was just us making sure that she understood that she could play that style."
It's up front where Clarkson looks far different than it did a year ago. It's inevitable that there would be a period of adjustment after losing the Patty Kazmaier Award winner and a couple other forwards who'd topped 100 points in their careers.
Junior Shannon MacAulay is one who has taken advantage of increased opportunity.
"Learning off of great players — we had people like Jamie Lee Rattray, Carly Mercer, all the seniors last year were great role models for me," MacAulay said. "I came in as a freshman, and I was in a good spot with them as my leaders, and I think that they helped me get better every day."
MacAulay is skating on the top line with a pair of sophomores, center Geneviève Bannon and Cayley Mercer, with whom she shares the team lead with 29 points.
"I think toward the end of last year [MacAulay] really started to figure out what style of game she should be playing," Desrosiers said. "Obviously, she's a big kid out there. She has really good hands. She's able to protect the puck really well. She started using that a little bit more toward the end of the year. That's something we talked to her about and tried to focus on with her in practices and in games. It started coming along toward the end of the year. Obviously, come playoff time, she was a key factor in us winning the national championship."
MacAulay even scored the winning goal in the NCAA final on an unassisted breakaway.
"It definitely helped my confidence out," she said. "It's not every day you get that opportunity that you get a breakaway, let alone in a national championship game."
It may not be typical of how she normally gets the puck in the net.
"We play a gritty game," MacAulay said. "We crash nets hard and we battle down low. That's a strength of ours. If we can get our feet moving, we can buzz pretty good when we catch teams off guard with our size and our strength."
No. 8 Clarkson visited No. 3 Wisconsin for the first time over the weekend, and Badgers coach Mark Johnson was impressed, particularly by the top line.
"When they got the puck below our goal line, we had trouble containing them," Johnson said. "Big, strong, they protect the puck well."
MacAulay scored the first goal of the weekend against Wisconsin. Clarkson was unable to find the net again, and it had to settle for a 1-1 tie and a 4-0 loss on its trip west. The offensive punch will increase as four freshmen forwards gain experience.
"The young forwards are coming along great," MacAulay said. "We couldn't have asked for better freshmen. They're all living together and learning. It's just little details that when you come in as a freshman that I'm sure every freshman goes through. It's just a completely different step coming from midget hockey to college, and there's just lots of things to be developed."
The Wisconsin series was part of that seasoning.
"I think coming out and playing a team like Wisconsin really gives them a little bit of an eye-opener of exactly what it takes to get to that level," Desrosiers said. "Wisconsin is a perennial team that's in the NCAA tournament. It's good experience for them to come out on these types of trips and play these types of teams."
Admittedly, it would be nice to pick a couple of wins as well and strengthen one's case in the PairWise Rankings, where Clarkson is also in eighth place.
"We're all starting to fill our roles and really starting to get comfortable," Ambrose said. "I really thought we were starting to find our groove. Unfortunately, didn't get a win this weekend, but definitely think there's a lot of things we can take from this weekend."
The Golden Knights don't look to be that far away.
"They're disciplined, especially in their own end," Johnson said. "When they had some breakdowns, their goalie has good size and covers a lot of the net. Some young players, but similar to what they had last year. When those players progress and they get into year two and three and four, they'll be a team that we'll be talking about."
The power play is one area that is actually better than last year. Clarkson is clicking 20.2 percent of the time compared to 18.8 percent last season.
Throughout her career, Ambrose has quarterbacked the power play from the point.
"Obviously, special teams are a really important part of any successful team," she said. "Sometimes it's going, and sometimes it's not. We're all working as a five-man unit, and hopefully, going to just keep working to make that stronger as the year goes on."
Ambrose, MacAulay, and their classmates, defenseman Renata Fast and forward Olivia Howe, form much of the veteran core of this year's team.
"Our junior class has done a great job throughout their career," Desrosiers said. "They bring a lot both on and off the ice. They've had a lot of experiences with their national programs, and I think that's helped give them a lot of confidence in the last three years. They're definitely a group that we look to to kind of carry us on throughout the entire year."
Clarkson holds third place in the ECAC, four points down from Quinnipiac, but with a game in hand and a head-to-head meeting remaining, the Golden Knights still control their destiny. They can't afford to worry about the Bobcats just yet.
"I think it speaks to the quality of teams that we have within our league," Desrosiers said. "It's not just a one-or-two-team league. It's anywhere from one to six, we definitely give each other a good battle, but even some of the teams that are maybe a little bit lower in the standings, they're coming along. They put up a pretty good fight. I think that was the key to us winning the national championship last year, is that we had pretty good battles within our league. It kind of prepared us for that playoff run."
As defending ECAC and NCAA champions, Clarkson can be assured that they'll get the best effort from every opponent. According to Ambrose, that's not really new.
"You always have the bullseye on your back," she said. "Ever since my freshman year, we've always been a ranked team. That's not going to change any time soon."
The season will likely come down to the final couple of weekends. Clarkson hosts Quinnipiac on Valentine's Day, and the travels to Harvard a week later.
"You got the Harvards and Cornells and Quinnipiacs that are all doing well, but then you've got a lot of tough teams," Ambrose said. "Princeton always plays us tough. Yale, Brown, it goes all the way down, all 12 teams. We've got a big weekend next weekend with Yale and Brown coming to Cheel [Arena], and I think we're ready to get that going next weekend."
Just as important as picking up league points is honing the team in preparation for the postseason, and hopefully, another title run.
"I just think we need to keep working hard day in and day out," MacAulay said. "It's going to be a battle for us. Moving forward this part of the season, it gets tougher and tougher every day, and I think we just need to stick to our game and our systems. Play simple Clarkson hockey, and that's just hard work."