It's a problem coaches face at every level. Their teams get on a roll where they're doing all the big and little things to be successful.
Then as the wins pile up, the attention gets clouded just a little toward one detail or another. Perhaps the wins continue, and the focus on another detail wavers and soon enough the juggernaut team has gotten sloppy enough to lose a game or two it would have won weeks earlier.
A couple of Hockey East's top teams, Boston University and Providence, have emerged from just those doldrums and are back to winning again. Massachusetts-Lowell may have also fallen victim to that same plight, but the River Hawks — undefeated in Hockey East play until Jan. 10, but now losers of four of their last five games — have yet to right the ship.
It's instructive (and interesting) to look closer at this phenomenon to understand the ebbs and flows of the season.
The Friars had enjoyed a stretch of prolonged success dating to late November, winning six straight and 10 of 11, but then lost their last two contests going into last weekend, and to teams with a collective 12-27-2 record.
"We had a long winning streak there, and we got a little complacent at the end of it," Providence coach Nate Leaman said on Friday night. "I thought we were playing pretty sloppy.
"We had a better week of practice. Losses get you focused pretty quick."
The refocused Friars swept Lowell in impressive fashion, 7-3 and 4-1, and are now among the top four teams in Hockey East, positioned with a game in hand to potentially move higher.
For BU, the stinker of a loss came against a surprising foe, archrival Boston College. Usually, there's no lack of focus in a matchup like that one. But the seeds had been planted for a while, resulting in ties with Union and a horrendous Wisconsin team (now 2-15-3).
After the loss to BC, BU coach David Quinn said: "This has been coming on for a while. We haven't played great, but we've been avoiding losing."
The Terriers have rebounded nicely, however, skating to an overtime win over Lowell and then traveling to 15th-ranked Vermont and sweeping the Catamounts in their own building.
"It's human nature more than anything," Quinn said. "Early on in the season, maybe you're a little more attentive to the process. All of a sudden you start getting results.
"Once you keep getting results, you become consumed with the results, as opposed to being consumed with the process and what has allowed you to have success. That was starting to happen to us [before the BC game].
"We'd gone a while without a loss, [from Nov. 30 to Jan. 16]. All of a sudden you can start fooling yourself into thinking you're pretty good. I kind of sensed that was starting to happen leading into the BC game. We were dodging some bullets and weren't playing as well. We were a lot more sporadic throughout games, and we would not be fully engaged mentally or physically.
"But we weren't losing. We'd come back and tie somebody, or squeak out a win. Sometimes you have to get jolted with a loss to bring you back to reality and to remind you of why you've had the success you'd had leading up to that point in the season."
Similar to Providence's response to its "wake-up" losses, BU also has responded since its wake-up call.
"Since that game, we've played hard," Quinn said. "We've been consumed with the process, we've been more consistent with our effort and have done the things that have allowed us to have quote-unquote success. I say quote-unquote because I don't really judge success until you get into March and April, but success up to this point and winning hockey games."
And for those who think this is a Gen X phenomenon, forget it. Quinn recalls the same thing happening during his playing days.
"I remember vividly having it happen to us when I was here at BU as a sophomore," he said. "We lost to Vermont and ended up waking up and going on a run and having a heck of a year. Those things happen."
And to add an example from outside of Hockey East, look at former No. 1 Minnesota State. The Mavericks hadn't lost since Dec. 5, and had gone 14-1-1 since Nov. 1. But they lost last weekend to a 9-12-3 Bemidji State team. While giving credit to Bemidji, Minnesota State coach Mike Hastings pointed to uncharacteristic, fundamental mistakes.
While fans love to look at positions in the standings (and admittedly this writer does, too), for teams it can be the kiss of death. It can be the catalyst for problems with success.
"There's a little too much watching [of the standings]," Lowell coach Norm Bazin said on Friday. "We need to get back to our original goal, which is to be one of the best teams, if not the best team, at the end of the season. Standings never played a part in our goals at the start of the year."
It's a sentiment that Quinn echoed even though last weekend gave the Terriers a four-point lead atop Hockey East.
"I rarely look at the standings," he said. "They don't have any relevance in my mind to what we're trying to accomplish here.
"We want to win hockey games, we want to play the right way, we want to be consistent with our mental and physical effort. If we do that, then winning and losing takes care of itself."
Looking closer at the Terriers
If you look at the Hockey East scoring leaders, BU's stellar line of Jack Eichel, Danny O'Regan and Evan Rodrigues rank one-two-three.
Everyone has heard about Eichel. But O'Regan and Rodrigues have taken major steps forward in their production from last year, both already totaling 28 points after 22 and 14, respectively, all of last season.
Cynics might point out that the two are simply beneficiaries from playing with college hockey's newest superstar, but Quinn contends there's a more broad-based reason than that.
"When people ask about the success we've had or about the turnaround this year, I say that we've added 10 really good hockey players to a bunch of guys that were here that were really good," Quinn says. "We surrounded a good core with a good incoming freshman class.
"Now Danny O'Regan and Evan Rodrigues don't have to play 25 minutes a night and do everything from power play, penalty kill, part-time goalie, sharpener of the skates and drive the Zamboni. These guys are able to just do the things that they're asked to do and not do too much.
"For example, in the game up in Vermont on Saturday night, after two periods we were down 1-0, but we were playing very well. We had out-chanced them either 18-7 or 18-9. Going into the third period, O'Regan, Rodrigues and Eichel had only played about 13 and a half minutes. So they were in a position where I could play them a lot more in the third because we have depth."
And as it turned out, Rodrigues scored the tying goal to force overtime, where Eichel got the game-winner.
"I can play four lines," Quinn says. "I trust all of our lines.
"We've got a good D corps. You add four freshmen defensemen who can play and have made the adjustment to college hockey the way our guys have, everybody's better for it.
"When forwards have success, they often look to their linemates. I look at the D corps. You ask a forward, they want good defensemen out there who can get the puck out of the zone. That's what our D corps have done for the most part all year long."
The blueliners came in for considerable criticism from Quinn after the BC game. He noted that it was the first time in a long time BU had looked like a team with four freshmen defenseman. Their lack of gap control allowed BC to wheel and deal.
The group heard Quinn loud and clear, and has responded.
"Unbelievable," Quinn says of the progress. "In the Lowell game, we were much better, but still weren't managing the puck the way we were earlier in the year.
"Early on against Vermont Friday night, I thought we were really panicky. It was a tough environment; Vermont was clicking on all cylinders. But we settled down and did a better job.
"Then on Saturday, we really did a good job with our puck movement, breaking out of the zone and doing the things we need to do to have success. They've really responded well since the BC game."
Based on where the Terriers stand and how well they're playing, it's difficult not to think about what this team can accomplish. Quinn, however, isn't about to start talking about team goals.
"It's 100 percent about the day-to-day process of just being the best team that we can be," he says. "Where that takes us, who knows?
"I have an idea in my head of what we're capable of, but our job is to just be the best team that we can be every day. If we do that, the winning and the losing and everything else will take care of itself.
"So far, we've done a pretty good job of that, but they haven't handed out a trophy yet. It's nice to have the record we have, but it doesn't mean a thing. We've put ourselves into position to be in position. There's a lot of hockey to be played."
And as for that idea in Quinn's head of what BU is capable of? That's for him and the Terriers to know, and the rest of us to find out.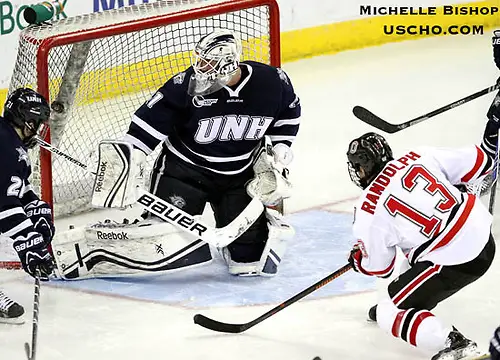 Tough times at UNH
After getting swept by the rival Maine Black Bears last weekend, New Hampshire fell into a tie for last place. The Wildcats hold three games in hand on Massachusetts, so that really amounts to 11th place, but this is UNH we're talking about.
Perennially a home-ice team and a frequent invitee to the NCAA tournament. Tied for last place?
The tailspin started when starting goaltender Casey DeSmith was arrested in August on a domestic dispute charge and was suspended indefinitely. He eventually was dismissed from the team.
DeSmith and since-graduated Jeff Wyer played all but six and a half minutes of the time between the pipes last year. The plan had been for incoming freshman Adam Clark to learn for a year and then either seize the position or compete with a new recruit next year.
Instead, Clark got thrown into the fire, and he has some burn marks to prove it. Where DeSmith recorded a save percentage of .920 last year, Clark's number comes in at .894.
That's not at all to say that UNH's problems this year exclusively lie with Clark. However, what is the last team that was successful with a goaltending save percentage under .900?
"I don't want to be negative on Adam; he's done a lot for us," UNH coach Dick Umile says. "I wouldn't put it all on him. It's a culmination of some of the play in front of him. Maybe there are nights he could have made some big saves and it didn't happen, but overall he's competed for us and done a pretty good job, but not [outstanding].
"This is a tough league. I think he's developing into a top-notch Division I goaltender. He's very capable of playing at this level, [but] it hasn't worked exactly the way he's wanted or we've wanted as far as back-to-back wins and winning games for us."
The team added Daniel Tirone to the equation at the start of the semester and put him in a rotation with Clark with initially positive results. Tirone won his first three starts, allowing a total of five goals against Omaha, Providence and UMass. But he did allow five at Maine last Friday, so that situation is still evolving.
As noted before, however, this season's 8-14-2 mark (3-8-1 in Hockey East) isn't just on the goaltenders. The Wildcats haven't defended or scored to the level we've come to expect from UNH teams.
"It hasn't been from lack of competing," Umile says. "Whether it's been an inability to score when we have opportunities or giving up bad goals at the wrong time, it's just happened. Especially during the first half of the season. But the work ethic and leadership that we've had on the team has been solid. We've just had a difficult time putting wins together."
Injuries to expected defensive leader Brett Pesce also have hurt. Of late, UNH has been playing four freshman defensemen. Combining four freshman defensemen with a freshman goaltender is rarely a winning equation.
"We haven't given up and moved on to next season yet, but they're learning what it's like to play at this level and getting great experience," Umile says. "Hopefully, we [put things together] next game. You get a couple wins and you hope to build on that. There's still a lot of games left."
A great Beanpot on the horizon
This year's Beanpot promises some outstanding contests. The early game Monday pits second-ranked BU against fourth-ranked Harvard. And the late game features 14th-ranked BC against a Northeastern team that has lost only once in its last 10 games.
Some quick notes
• Providence is 7-4-1 on the road. Leaman explains it: "I think we're a better team. That's the key word. We play as a team. We do a good job of being focused and knowing how hard it is on the road, which is really tough in this league."
• The Lowell penalty kill has fallen apart of late. On Friday, it gave up goals on all three Providence chances. That gave the PK an unenviable mark of seven power-play goals allowed in the last 12 opportunities. It then gave up another two on Saturday in nine Friars chances.