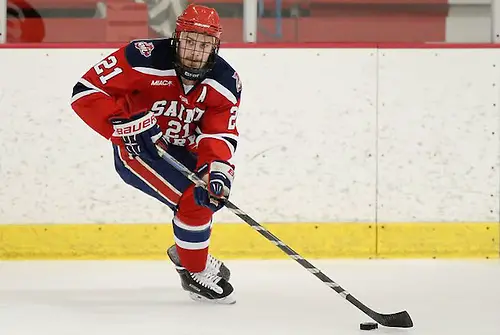 Jed McGlasson has spent a lot of time making himself a better hockey player over the course of a career where injuries have gotten the best of him at times.
The work has paid off.
McGlasson is having the best season of his collegiate career and playing a pivotal role in St. Mary's second-half surge.
"I've spent a lot of time shooting the puck and have worked on getting a lot stronger," McGlasson said. "I've dealt with some injuries in the past, but I've done a better job of taking care of my body. I feel good and it's made a big difference."
Until this season, McGlasson had never scored more than four goals in a season. In 19 games, he has struck for 10 goals and eight assists. It's his best season since the 2012-13 campaign when he scored four goals and dished out nine assists.
"Things are going good," McGlasson said. "I'm finding the net a lot more and competing hard. I don't know if anything has really changed. I'm just at the right places on the ice to make plays."
McGlasson's effort has helped the Cardinals get on a roll in the second half of the season. St. Mary's has won seven of its last eight, including two in a row, and has put itself within striking distance of first place in the MIAC. The Cardinals, 10-7-2 overall and 5-3-2 in the league, are in second with 19 points, two points behind conference co-leaders Concordia (Minn.) and St. Thomas.
It's a stark contrast to where St. Mary's was heading into the holiday break. The Cardinals were 3-6-2 in their first 11 games.
"I think we've been able to stay on track," McGlasson said. "The last couple of years we've started off well but then got off track and didn't play that well. Everyone has stayed focused."
Martin Gruse leads the Cardinals with 15 goals and 14 assists. Bob Marx has tallied four goals and 12 assists, while Chad Cesarz has come through with 11 goals and five assists. Taylor Portner (5-7) and Kelvin Walz (4-8) have played key roles as well. Seven other players have tallied at least five points.
"It's not just one or two lines doing all the scoring; all four lines are stepping up," McGlasson said. "You have success when you can spread the scoring out. Our goalie (Phil Heinle) is playing great, too. The whole team is playing with confidence and playing well together."
Leadership has also been instrumental to the success. McGlasson is one of one of four seniors on the roster.
"The younger guys look to us for guidance," McGlasson said. "We try to provide the best leadership that we can because we had good leadership when we were younger players."
The Cardinals are gearing up for the final stretch of the regular season and have high hopes.
"Every game is big," McGlasson said. "If we continue to play well as a team and play for each other, we are going to be fine."
Tommies tied at the top
St. Thomas will head into the weekend still tied for first place in the MIAC. The Tommies have 21 points, tying them with Concordia atop the standings.
The Tommies have won nine of their last 10 games, scoring three or more goals in eight of those wins. Their lone blemish during the stretch was a 4-3 loss to Augsburg on Jan. 31.
St. Thomas, 12-4-3 overall and 6-2-2 in the league, has thrived in part off the play of Alex Altenbernd, who has scored 10 goals and dished out 10 assists. Five other players have tallied four or more goals.
As balanced as the Tommies have been offensively, their defense has been solid as well behind the play of senior goalie Drew Fielding. Fielding has played in 16 games and owns a 9-4-3 record. His goals against average is 1.47. His play has been crucial to the success of the Tommies.
St. Thomas has also done what any team needs to do to succeed, and that is take care of business at home. The Tommies are unbeaten on their home ice, fashioning a 9-0-2 record, and they will play three of their final six games of the regular season at home.
Big loss
If St. Norbert is going to repeat as national champions, it will have to do it without goalie David Jacobson.
Jacobson was lost for the season this past weekend after suffering a broken bone in a two-game NCHA series with Adrian. The Bulldogs swept both games to take over first place against the Green Knights.
Jacobson was the Division III player of the year last season as he helped St. Norbert win the national title. The senior was having another stellar season this year. In 16 games, Jacobson allowed only 25 goals and made 305 saves. He was 12-2-1 with a 1.59 goals-against average.
Tony Kujava is the only other goalie who has seen time for the Green Knights. He has played in five games and is 2-2-1. He has allowed just nine goals and has a goals-against average of 2.05.
St. Norbert, 14-4-2 overall and 10-3-1 in the conference, will look to get back on track this week after dropping three consecutive games. The Green Knights play their final home games of the regular season this weekend as they play host to the College of St. Scholastica in a two-game series.
The Green Knights are 8-2-1 at home and are hosting a Saints team that is tied for fourth in the league.
Bouncing back
Wisconsin-River Falls got itself back on track this past weekend, winning twice against Wisconsin-Superior. The Falcons enter the final month of the regular season at 16-4-1 overall and 5-3 in the WIAC. They are in second place in the league standings.
Four games remain on the schedule for the Falcons, who won the regular season championship last year. Three of those games are on the road where River Falls is 6-2. The lone home game is against Wisconsin-Stevens Point on Feb. 20. That game will be crucial in terms of determining the regular season champion in the WIAC.
Kyle Gattelaro leads the Falcons with 10 goals and seven assists. Ryan Doner is second on the team in scoring, racking up six goals and 10 assists.
The Falcons have been solid offensively, scoring 69 goals, and Tanner Milliron continues to thrive. He has played in every game for River Falls and owns a goals-against average of 1.87.
In the poll
Stevans Point headlines the list of the west region teams in the national poll this week The Pointers are ranked third in the nation. River Falls is fifth in the country and Adrian is sixth. St. Norbert dropped to seventh, while Lake Forest is up to 12th. Wisconsin-Eau Claire and St. Thomas are 14th and 15th, respectively.