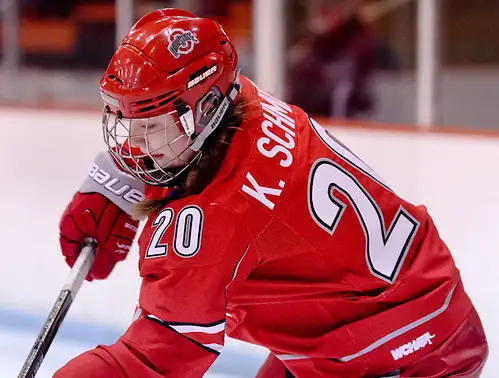 It's easy for a team like Ohio State to get lost in the shuffle in the WCHA. Although the Buckeyes aren't invisible — they were nationally ranked for a couple of weeks after completing a season sweep of Bemidji State and got votes in this week's poll following a tie at No. 2 Minnesota — neither are they at the level of perennially ranked teams like No. 2 Wisconsin, No. 7 Minnesota-Duluth, or the Gophers.
While Ohio State was clearly the league's fourth-best team in its early years and was a fixture in conference semifinals the first six seasons, it has only advanced that far three times in the last nine years. In particular, the rise of North Dakota has made that task harder in recent years.
Coach Nate Handrahan says the differences between the teams battling for home ice in the quarterfinals and to advance in the playoffs are fractional.
"All good coaches, all good players, so you've got to be able to figure it out," he said. [In mid January], we played North Dakota, [losing 1-0 twice]. We didn't get some scoring production, but we come to Minnesota against a team that gives up traditionally less than two a game, closer to one, and put three on them. Sometimes you wonder. Every game is a new adventure."
There are signs of an Ohio State resurgence.
"I think we have a nice blend of speed and size, playmakers and kids that can be able to put pucks home or kids who've done a nice job of being able to do the things that we've asked them to do system-wise," Handrahan said.
The current group of Buckeyes is led by twin sisters Kari and Sara Schmitt from Canton, Mich. As seniors, the blue-line duo are tied for third on the team in scoring. Even their points are identical, with four goals and 13 assists for 17 points.
"They do a lot of things for us," Handrahan said. "They certainly have figured out how to defend well. They certainly love to play on the offensive side of the puck. It's funny, sometimes I'll kid with them that D-to-D plays are usually reserved for behind the play, not necessarily up ice going to the net, but there's times that they make plays happen. I've told them different times, too, that I can't really get on you if you make a play and you make something happen. It goes against some conventional wisdom, but they're athletes, they make plays, they're smart players. They're good kids."
Their graduation after this season will open up a couple of big holes in the Ohio State defensive corps, but one of those spots is sure to be secure with the arrival of Jincy Dunne, who captained the United States Under-18 Team to a world championship, including scoring the winning goal in overtime to secure the gold medal.
"She's a terrific player," Handrahan said. "I think Jincy is the kind of player that you want to bring into your program, obviously. We worked really hard to try and make that a reality. She's got all the tangible qualities you need as a hockey player, but more importantly, she's just an unbelievable human. She is a top-shelf person as far as who she is. It's no mystery as to why she's had success in her career prior to Ohio State, and we're excited to have her."
At the same time, Handrahan will be welcoming one exemplary human into his program, he'll be saying goodbye to another. We often neglect what these student athletes accomplish away from the rink, but senior Kayla Sullivan was recently recognized for her contributions.
Her journey to Columbus started from the hockey hotbed of Flower Mound, Tex.
"There's one girls' team in North Texas, and I was always at the rink because my brother played, and so they kind of recruited me," Sullivan said. "'Can you even skate? Get out there and try.' I fell in love with it from my first practice. I was playing with hand-me-down equipment, just getting out there, and stuck with it ever since."
As a Buckeye, Sullivan hasn't filled the most glamorous roles. When the team came back to tie Minnesota, her name doesn't show up in the scoring column, but her hard work screening the goaltender made the rally possible.
One place her name has appeared recently was among the 15 nominees for the 2015 BNY Mellon Wealth Management Hockey Humanitarian Award.
"'Sully,' to be in the list of Humanitarian nominees, is wonderful," Handrahan said. "She's very deserving to be in that list. They're great citizens — college hockey's greatest citizen, right? She's just continued to do more things as she has tried to reach out in our community, trying to do things that actually have an impact beyond the ice surface. It's one thing to have a skate after the game where kids can come out and you can interact. It's another thing to impact lives. Kayla has been able to do that, and we're really, really proud of her, and really excited that she's a Buckeye, for sure."
She is one of only six women's hockey players on the list.
"Honestly, it's an honor just to be nominated alongside other great student athletes that have done such great work in their community as well," Sullivan said. "For me, it really is a tribute to what my team has done to help me with that. We do it just for the smile on the kids' faces. That's what it all comes down to and to make an impact, and they've really supported me in that."
Sullivan has likely made her largest impact, fittingly enough, with an organization called Team IMPACT. It benefits children dealing with chronic or life-threatening illnesses by matching them with teams from local colleges, and she has served as an ambassador on the OSU campus for the organization.
"We've basically drafted a chronically ill child onto our team, Erin Selfe," Sullivan said. "We just sort of created a relationship between our team and her family that's really grown. It's a huge motivator in our game and who we play for and why we play the game."
Selfe, who attends fifth grade at Liking Valley Intermediate School, was diagnosed in 2013 with Ehlers Danlos Syndrome. Sullivan hopes to raise awareness and funds to combat this disorder affecting connective tissues.
"We've never had anyone on our team [via Team IMPACT]; it's the first time," Sara Schmitt said. "[Sullivan has] worked so hard to do it. We finally have the girl, and she's great, and it's so much fun. We all love it."
The relationship is something that makes a positive difference.
"Just having our support, and she helps us a lot, too," Schmitt said. "I think it goes both ways. She doesn't even know how much she helps us. It's good that she has 25 of us that she can go to if she needs. It's definitely opened our eyes about everything outside of hockey, about life in general."
Strong bonds last.
"With me being a senior this year, and I'll be leaving pretty soon, I've gotten so much support, whether it's the freshmen or the sophomores that want to help carry this legacy on," Sullivan said. "The relationship with Erin and her family is not just a one-year thing. It's going to go two, three years, and even when I'm gone and graduated, I'm still going to come back and keep that relationship going with that family."
Sullivan can also make a difference with younger teammates.
"She's set the bar high for future Buckeyes to go out and do those kinds of things," Handrahan said. "We'd like nothing more than to have a Humanitarian nominee every single year, and hopefully, win the award. It's kind of a contagious thing. When you have that attitude of paying it forward and trying to make an impact, I think that certainly can filter through the room."
One of the unknowns facing Ohio State coming into the season was its goaltending after graduating two seniors at that position.
"I think in every year, it ebbs and flows," Handrahan said. "Having two young goaltenders come in with a veteran as well in junior Stacy Danczak. Freshman Kassidy Sauve played well early on and had some injury issues. Stacy got an opportunity and really did a great job with it and has done tremendous things in the net and earned herself an opportunity to get starts. She's done a great job. Kassidy is healthy, and we've had some rotation with her. It's a good problem to have."
The seniors advanced beyond the first round as sophomores two years ago, and would like to end their final season on a high note. There are some steps to achieving that. According to Schmitt, one of those is finishing on scoring chances.
"We've had ups and downs with that this year, so that's a big part," Schmitt said. "Just playing our game and doing our systems, and not letting anyone else dictate what we do. We'll be successful if we do that."
Moving back up the standings, finishing in the top half of the league, and gaining home ice would help, although it's certainly not a necessity.
"As long as we're confident in our game, and I think we are at this point in the season," Sullivan said. "It doesn't matter where we play, and to be quite honest, we play really well on the road. I think there's something about being on the road and just camaraderie, no distractions, that our team just comes together. You can put us in any rink and we'll do our best if we're playing our game at that point."
Ohio State proved as much two years ago when it traveled to Duluth, Minn., for a first-round series and swept the Bulldogs. Of course, that's something the seniors remember.
"I think for them, they've had an opportunity to be at the WCHA Final Face-Off as young players," Handrahan said. "I think they're eager to get back there, really trying to get home ice, as we all are. But they're trying to check things off the list that we haven't done here in our program in their time here. You can tell there's a sense of urgency with them that's just different than it has been in the past."