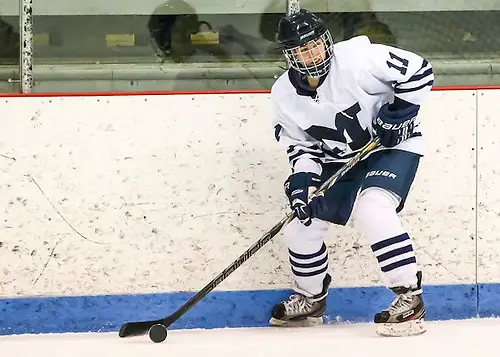 She has a name that's perfect for headlines.
"Middlebury's success no Fluke."
"National ranking no Fluke for Middlebury."
And so on and so on. You get the point.
Panthers senior forward Emily Fluke has been a key component of the team's offense for all four of her years on campus, and there's nothing fluky about that.
"I am getting very excited for the homestretch of our regular season and looking forward to the playoffs," Fluke said. "However, as Coach [Bill] Mandigo always stresses to our team, it is about staying even-keel. This means that you don't get too excited or disappointed at any given time. Right now, I am just trying to focus on taking it one game at a time."
This season, the Bourne, Mass., native sits eighth in Division III scoring with 31 points on 14 goals and 17 assists, also good for tops in Middlebury team scoring.
Personal stats aside, Fluke is instead putting all her efforts to seeing Middlebury try and win the NESCAC regular-season title.
"So far, I think the season has been very successful," said Fluke. "I think that we have both a talented and incredibly hard-working team. I think that every game we have played we came out and competed, making it very difficult to play against. Our hard work has translated into our success this season and put us into a great spot heading into the last few games of our regular season. We now have the opportunity to win our conference and, hopefully, have a successful playoff run."
As a freshman back in 2011-12, Fluke recorded just three goals and 15 points, not bad numbers for a freshman jumping right into a powerhouse program.
In the two seasons after that, she went for 29 points as s sophomore and 27 her junior year before her career-best season in 2014-15.
"Freshman year was definitely a transition period to a faster pace," explained Fluke. "After getting rid of the nerves and adjusting to the pace, I think I was able to see the ice better and open up scoring chances. Additionally, my dedication to lifting and participation as a shooter for goalie clinics were key factors in helping generate a bigger offensive presence. The lifting throughout the year and during the summer really helped build some strength necessary to be a presence in front of the net. Most of my points come from rebounds and tips, so being able to win the battles in front of the net are key. Also, working the goalie clinics over the summer really contributed to learning how goalies think and gave me ample time to really improve the strength and accuracy of my shot."
On the ice this season, Fluke has been on a forward line with Janka Hlinka and Jessica Young.
"In the past, I have changed linemates very frequently to find the right match, so I would say that the three of us staying together all year is a testament to our evident chemistry," Fluke said. "I think our line's work ethic translates into our success on the ice."
That success has also meant a national ranking all season; the Panthers currently sit fourth in the most recent USCHO.com Division III Women's Poll.
While some might say that being a ranked team comes with its share of distractions, Fluke says it's quite the opposite.
"I think the fact that we know every team would benefit from beating a ranked team is one of the reasons we are able to stay so focused," said Fluke. "We never want to give our opponents the opportunity to gain ground on us. Additionally, this year we stay focused by knowing that we need the points to stay ranked and compete in our league. This year, the NESCAC is such a competitive league and in order to stay near the top, we know we need to take each game seriously and get four points each weekend."
During her freshman and sophomore years at Middlebury, Fluke played both hockey and lacrosse, but chose to focus on hockey the past two seasons.
Getting the opportunity to be a two-sport athlete was just one reason Fluke committed to be a Panther.
"Four years ago, I knew that I wanted to play college hockey and I was very excited about Middlebury's long history of success," Fluke said. "The thing that appealed to me the most about Middlebury was the chance to further my athletic career while still acquiring an excellent education. I was excited to attend a liberal arts school so that I could have the chance to pursue a wide range of disciplines."
An economics major, Fluke is readying herself for her post-hockey playing career, but she still intends to maintain a relationship with the sport she loves.
"I am looking to break into the financial services industry and ideally, I would love to move to Boston after graduation," Fluke said. "I am also weighing the idea of potentially coaching ice hockey a little further down the road."
Entering the work force or being a mentor to young, prospective players — yeah, nothing fluky about that.
NOTEWORTHY
After getting swept last weekend by then-No. 2 Elmira, Plattsburgh dropped out of the top spot of the USCHO.com Division III Women's Poll for the first time all year and is now second. Elmira took over the top spot with 14 first-place votes. No. 5 Adrian had the other first-place nod. … With five points in her last two games, Wisconsin-River Falls' Chloe Kinsel is now second in the nation in scoring with 37 points on 17 goals and 20 assists, sandwiched by the Elmira duo of Ashley Ryan (first, 44 points) and Ashton Hogan (third, 35 points). … Expect Adrian's Jade Walsh to get serious consideration for the Laura Hurd Award — she's unbeaten in regulation this season with a 17-0-3 mark for the Bulldogs and just a sophomore.