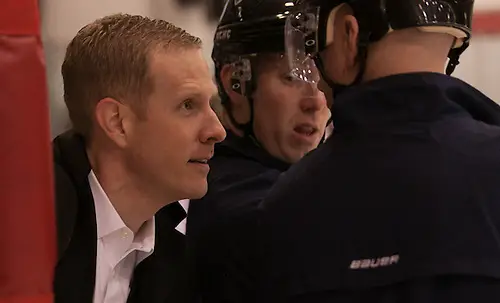 It's safe to say Josh Fenton's work life is going swimmingly these days.
A little over halfway through the NCHC's second season of existence, the league's commissioner has reasons aplenty to be cheerful.
Five of the NCHC's eight teams would be in the NCAA tournament if it started this weekend, and the NCHC has the best combined nonconference record of Division I's six leagues.
What's more, half of the top 10 teams in the PairWise Rankings — which dictates who gets into the tournament in the first place — are NCHC clubs.
When the league opened play in October 2013, the NCHC's teams, fans and prognosticators all knew the league wasn't top-heavy and that it would be highly competitive. Many of them, however, wouldn't have expected the league to enjoy quite such high national prominence just 15 months later.
Fenton takes no credit for it. Making the league so powerful so quickly, he said, is entirely down to the member schools and how they operate their men's hockey programs.
"From a competitive standpoint, when the conference was put together, one of the things people talked about was the overall history and tradition of the hockey programs, and the eight member schools have that," Fenton said. "I think there was a sense that it was going to be a highly competitive league within the conference and hopefully we would be fortunate enough to win the majority of games out of conference, and that's taken place this year.
"In terms of how the league has gone from the first drop of the puck two Octobers ago to where we stand today, administratively we focus a whole lot on our branding and telling our story and telling people who we are. And the exposure the conference has gotten, with full credit there to the members, has helped make this obviously a successful and very competitive conference."
With success on the ice comes more and more ways to market the league. With North Dakota (No. 2 in the PairWise), Omaha (3), Minnesota-Duluth (5), Miami (8) and Denver (9) all comfortably in NCAA tournament position at present, Fenton said that's something upon which the NCHC can capitalize.
"There's a lot of hockey left to be played, but with a month to go here in the regular season, I think we can enjoy the success that has come thus far and hope the competitiveness remains at a high level for the rest of the year," he said.
"One of the things our board emphasized when we first started out with the league was maximizing the number of teams in the national tournament, and certainly the way in which we do that is setting up a scheduling format that gives our teams the nonconference games they need to win, so our ability to win games out of conference this past year has helped prop our teams up that much further in the rankings."
For as good as the present is, however, there's also the NCHC's future to think about. Part of that future could involve expansion beyond the current eight teams.
Arizona State announced on Nov. 18 that it will elevate its men's club hockey program to varsity status. The school has been rumored as an NCHC and WCHA expansion target ever since.
When asked if any talks between the league and Arizona State had progressed, however, Fenton suggested that the Sun Devils are still looking inward before they're ready to look outward.
Retaining current club head coach Greg Powers, Fenton said, was a good move on ASU's part. Powers led the Sun Devils to their first ACHA Division I national championship last year and was named the 2013-14 national club coach of the season.
Fenton also said that ASU is in the process of figuring out where its varsity hockey team will play. The Sun Devils' two club teams — ACHA Division I and Division II — play in Tempe's Oceanside Ice Arena, which has an approximate seating capacity of just 675.
Renovations and seating expansions are expected for next season, and the Sun Devils may play some games at Gila River Arena, the home of the Arizona Coyotes.
"From my understanding and the conversations I've had with people around the country and to some extent Arizona State, they're still trying to put together the pieces needed to make sure that their program is going to be successful and sustainable long into the future," Fenton said.
"Hiring Greg Powers early on was a great move, and I know he's building his staff down there, and I know one of their key things right now is their facility setup in the short-term and long-term standpoint. They've been focusing on themselves and, if I were in their shoes, I'd be doing the same thing. And when it's time to have conversations if conversations are to be had about conference affiliation, they will engage in those at the appropriate time."
Fenton said the NCHC isn't actively considering any other schools looking to launch NCAA Division I hockey programs.
He did suggest, however, that the NCHC will look to help roll out the welcome mat for any colleges thinking about joining the Division I hockey party.
"If there's an encouraging factor from our conference or any other conference in college hockey in general that would encourage [colleges' athletic] departments to add a hockey program," Fenton said, "that would be great, and we want to be encouraging on that front."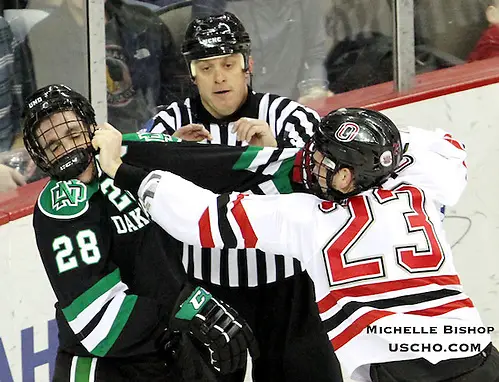 UND experiences another eventful Omaha trip
Trouble seems to follow North Dakota every time it makes the trip down Interstate 29 to take on Omaha.
Two years ago, on the way back from a series against the Mavericks, UND was left stranded on its way back to Grand Forks and spent three days in Sisseton, S.D., thanks to a blizzard.
Last season, several UND players fell ill with the flu on the bus back to Grand Forks. Last weekend, UND hired charter flights but ended up bussing back out of another snowstorm in Omaha late Saturday night after a de-icing truck wasn't able to complete work on the team's plane.
The question begs to be asked: For UND, is there such a thing as a normal trip to Omaha anymore?
"It doesn't seem that way, but at least our travel there has always been good, so that's been good, and you can deal with things as they come after the series," UND coach Dave Hakstol said when asked that question on Wednesday. "Fortunately for us, I think both of the last two years we've had weeks where we didn't play the following weekend, and this year it was not a big deal as we were home by noon the next day."
No. 2 UND — which was No. 1 in the USCHO.com Division I Men's Poll last weekend — and No. 4 Omaha played overtime in a pair of games last weekend at Omaha's CenturyLink Center. An Austin Ortega power-play goal gave the Mavericks a 3-2 win on Friday before UND's Brendan O'Donnell gave the visitors a 4-3 overtime victory the following night.
As Hakstol alluded to, his UND team doesn't play this week. It's his team's final off weekend before UND plays eight more games to round out the regular season.
Ahead of a visit next weekend from No. 10 Denver, however, Hakstol said his team is as hard at work this week as it ever is.
"We don't need rest, I've got to be honest," he said. "The fact is we don't play games this Friday and Saturday, but beyond that, it's a work week for us.
"We're practicing hard and practicing at a high level, and we're using this week like we would any other week to improve some of the things that we're doing. Other than that we don't play, it's really not an off week but a regular work week where we try to find ways to improve how we play."
Players of the week
Offensive player of the week — Jonny Brodzinski, St. Cloud State: The junior forward recorded six points last weekend in a road sweep of Colorado College. Brodzinski picked up two goals and an assist in each game against the Tigers, and five of his six points were earned while the Huskies were on power plays.
Defensive player of the week — Ethan Prow, St. Cloud State: The junior blueliner showed his prowess as a solid two-way player last weekend in Colorado Springs. Prow collected six assists in the two wins over CC and helped the Huskies concede only two goals all weekend to their hosts.
Rookie of the week — Patrick Russell, St. Cloud State: Russell finished the Huskies' sweep of CC with two goals and an assist in the series. He had a hand in both of SCSU's final two goals on Saturday night en route to the Huskies' 6-1 victory.
Goaltender of the week — Charlie Lindgren, St. Cloud State: The sophomore netminder backstopped his team to both wins over CC and conceded just one goal in each game of the teams' series. Lindgren stopped 44 of CC's 46 shots on goal last weekend.