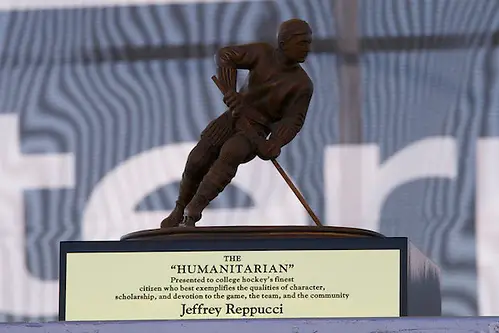 Four seniors and a junior have been named finalists for the 2015 BNY Mellon Wealth Management Hockey Humanitarian Award.
They are: Wisconsin senior forward Brittany Ammerman, Minnesota-Duluth senior forward Zoe Hickel, North Dakota senior forward Mark MacMillan, Babson junior goaltender Jamie Murray and Robert Morris senior forward Katelyn Scott.
The award, celebrating its 20th anniversary, is given annually to college hockey's finest citizen.
The recipient will be announced Friday, April 10 as part of the Frozen Four in Boston.
Here are bios on the finalists, courtesy of the Hockey Humanitarian Award Foundation:
Brittany Ammerman — Wisconsin senior forward, River Vale, N.J.

Ammerman, a 2014 Patty Kazmaier Top-10 Finalist, started the Nikumbuke Women's Soccer League in Kenya. A women's studies and biology major, she was inspired to help seven remote villages in Kenya start a league after visiting the country with Health by Motorbike, a University of Wisconsin group that provides health services and education to women in Kenya. With the help of U.S. soccer legend Julie Foudy, Ammerman and the league raised more than $21,000 to provide uniforms and shoes to seven villages that plan on playing a tournament this summer.

Zoe Hickel — Minnesota-Duluth senior forward, Anchorage

A senior two-time co-captain, Hickel helped create, organize and direct the "Great Alaska Girls Hockey Showcase,"beginning in 2012, for Alaskan girls who are unable or can't afford to do the showcase circuit. She continues to volunteer with SPYDER non-profit (Sports Programs for Youth Development, Education and Recreation) with running fundraisers, coaching soccer and downhill ski racing and initiating and directing the Fall Festival youth hockey camps. An assistant volunteer coach for Alaska's All-Star Girls Hockey program, Hickel is also the creator, organizer and administrator of the SHARK Kids healthy lifestyle program, which will reach up to 20,000 Duluth elementary school students and has a focus on eating healthy and being active every day.

Mark MacMillan — North Dakota senior forward, Penticton, British Columbia

Heavily involved in community service throughout his career, assistant captain MacMillan led the University of North Dakota's "North Dakota Strong" campaign that became the largest charitable fundraiser in UND Athletics history by raising more than $33,000 for cancer research. MacMillan, who lost his grandmother to breast cancer before he was born and had two of his aunts diagnosed with the same disease, served as official spokesman and as a lead organizer for the 2013-14 fundraiser with a five-week media blitz to promote the campaign and solicit donations. He also conceived the idea for the men's hockey team to wear custom-made pink jerseys for a game and later auction them off as part of the fundraiser. All proceeds were donated to the Mayo Clinic.

Jamie Murray — Babson junior goaltender, Scituate, Mass.

In 2010, Murray founded the "Cure For Cole Wiffle Ball Tournament" to benefit his neighbor who was diagnosed with Focal Segmental Glomerulosclerosis as a child. The tournament attracts more than 40 teams and 200 people each summer, and has raised more than $25,000 in support of Cole Pasqualucci and his family. In 2013, Murray organized Roller Hockey to Remember following the Boston Marathon tragedy to contribute to a significant cause. The event has raised more than $6,000 in two years, and the 2014 tournament supported the Derek Hines Soldier Assistance Fund. Derek is the late brother of former Babson player Trevor Hines. Additionally, Jamie has been active working with the Special Olympics alongside Rob Reilly, who founded "Need To Lead."

Katelyn Scott — Robert Morris senior Forward, Brighton, Mich.

Scott serves as a leader in the community, classroom, and on the ice as an assistant captain for Robert Morris. She has volunteered her time for numerous organizations and causes in her home state, including Forgotten Harvest Farms, Gleaners Food Bank, and the restoration of Brennan Pools in Detroit. Scott recently co-founded a community service project named Toys for Joy, which collected toys, games, and books to donate to the Pittsburgh Children's Hospital during a home series in late January. She has also regularly visited local nursing homes in Pittsburgh with her teammates and participated in the JDRF Walk to Cure Diabetes. In the classroom, Scott carries a 4.0 GPA as an engineering major and is a three-time recipient of the College Hockey America Student-Athlete of the Year award.
U.S. College Hockey Online has been a Hockey Humanitarian Award media and marketing partner since 2007.