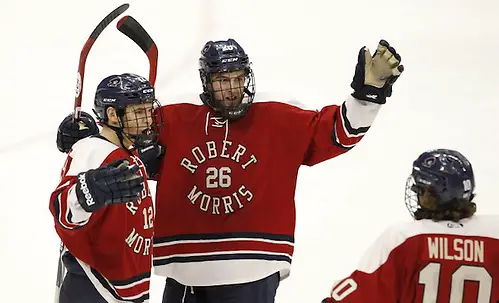 Each week during the season we look at the big events and big games around Division I men's college hockey in Tuesday Morning Quarterback.
Jim: Once again we reach a week with a new No. 1 in the USCHO.com Division I Men's Poll, as North Dakota has jumped back into the hot seat. While it would be typical to dissect how this occurred, at this point I feel it is almost apropos to point out just what a lack of a definitive No. 1 might translate to as this season, and more importantly, the postseason, develops.
My thought is that even the best teams in college hockey right now aren't much better than a team that might qualify for the NCAA tournament as a 15 or 16 overall seed. We saw it two years ago as Yale ran the table when there wasn't that much of a clear-cut favorite all season.
Might this be a year where a team that squeaks into the tournament — or even more so, a team from Atlantic Hockey like Robert Morris (the Colonials already have 20 wins) — pull off a first-round upset and begin to roll toward a Frozen Four or, more impressively, a bid at a national title?
Matthew: It wouldn't surprise me if that happens, and I think Robert Morris is likely going to be a lot of people's champion underdog. I think back to the Colonials' first-round game last season in St. Paul against Minnesota, and they lost 7-3 but worked to get out of an early 3-0 hole and gave the Gophers real problems the rest of the way.
Robert Morris (or whoever wins the Atlantic Hockey tournament) will surely be the No. 16 seed, but I think it might be better equipped to pull off a first-round upset this year than it was 12 months ago. Is that fair to say?
Jim: I think it is definitely fair to say. But I also think it is fair to say any team that qualifies for this year's NCAA tournament will have a good chance at winning. When we look at it, the teams that have been most consistent this season are Minnesota State, Michigan Tech and Robert Morris. All three come from conferences that, at the beginning of the season, were thought of as weaker than the average conference.
You can add North Dakota into that consistency category as that team and Quinnipiac join the aforementioned trio with 20-plus wins. Based on my previous statement about perceived conference superiority, North Dakota would seem to be a favorite playing in the NCHC. But what ECAC Hockey has proved to us the past two seasons is that (and pardon the cliche) you can't judge a conference by its cover.
Matthew: I think you're right about North Dakota, and, just like Robert Morris, UND will go into this year's tournament with business left to finish after what happened in last year's national semifinal with Minnesota. Dave Hakstol and his UND team might play down that element in the postseason, but watching your season end in a one-goal game with the winner coming inside the final second of the third period must linger in the memory.
Going back to underdogs, however, can you see any other teams giving themselves the so-called Cinderella tag once tournament time starts? I don't think we'll see any surprise teams from the NCHC get into the national tournament, and I can see three WCHA teams (Minnesota State, Bowling Green and Michigan Tech) winning a game or two there, but what about teams out East? Is it Robert Morris and just the Colonials at this point that you can see in that position?
Jim: There are plenty of dark horses out East in all three conferences. We'll start with the team you mentioned and that we've been talking about: Robert Morris. Yes, the Colonials have been dominant, but that doesn't mean that Mercyhurst or Bentley, teams that have already beat Robert Morris, can't pull off an upset in a single-game semifinal or final.
With the PairWise Rankings as it stands today, either team could kill Robert Morris's NCAA hopes. Outside of Atlantic Hockey, there are some quality teams on the wrong side of the PairWise bubble right now that, if they win their conference and get a ticket to the dance, will be dangerous.
I would hate to be a No. 1 seed and look down the barrel at St. Lawrence or Colgate from the ECAC. Who knows what Merrimack or Notre Dame is capable of in their own tournament, let alone the NCAA field. And with quality teams like Providence, Harvard, Yale and UMass-Lowell all right on the bubble, the thoughts of one or more No. 4 seeds in the NCAA tournament reaching the Frozen Four isn't too crazy.
On a totally different topic, we have seen a bit of a shift in the national scoring race. A little more than a week ago, Union's Daniel Ciampini was neck-to-neck with Boston University's Jack Eichel for the nation's scoring lead. Now Eichel has opened up a five-point gap. I think there is a lot to like about both these players and personally think this might be a two-horse race for the Hobey Baker Award. Do you see this differently?
Matthew: Not especially, no, although it beats the one-horse race that it felt like we had near the end of last season when everyone knew Johnny Gaudreau was going to take the award. I think this year's Hobey might be Eichel's to lose, although I'm almost more curious to see what happens after the award's been handed out.
Gaudreau left BC afterwards for Calgary. Do you think Eichel will feel he has a much longer shelf life in the college game?
Jim: It's hard to know what Eichel's future holds until we know which team holds his NHL rights. Everything every scout has told me is that he is ready to make the jump to the NHL. But not every NHL club likes managing young players.
Eichel will still be 18 when next season begins, so if a team doesn't want to have him on the active roster, signing him will translate to sending him to major junior at some point in the season. If you know as an NHL club that this is a possibility, maybe you leave him at Boston University. Truth be told, I still think that is a long shot but the possibility isn't outlandish.
If any college player might be a high draft choice and still return to school, it could be BC's Noah Hanifin. Though not expected to produce big numbers as a solid defensive defenseman, Hanifin has been a bit overshadowed by Eichel in the publicity market. I still believe NHL teams that draft players in the early stages of the first round have a plan in place. But maybe Hanifin can sneak back to college next season because of the lack of hype surrounding him. Think that is possible?
Matthew: It's all speculation for now until the offseason and Hanifin decides what he's going to do, but it wouldn't surprise me if he stays. Watch out if he stays and Eichel bolts, as I have to think Hanifin would be an early-season Hobey favorite going into next winter.
Thumbs up
To the chase for an NCAA record for game-winning goals in a season. Omaha's Austin Ortega tied the record with his 10th last Saturday against Western Michigan, and Miami's Sean Kuraly is one behind. Seven other players besides Ortega have scored 10 game-winners in a season: Colin Hemingway (New Hampshire, 2002), Chuck Kobasew (Boston College, 2001), Doug Weight (Lake Superior State, 1991), Tim Barakett (Harvard, 1986), John Newberry (Wisconsin, 1982), Aaron Broten (Minnesota, 1981) and Tom Earl (Colgate, 1970).
Thumbs down
To the North Dakota fan that ruined a moment of silence for the late Jim Montgomery Sr., father of the Denver coach, before last Friday's game in Grand Forks. It's hard to put it any better than UND forward Drake Caggiula did:
And to the idiot that yelled during the moment of silence. Give your head a shake. And never enter the Ralph again.

— Drake Caggiula (@drakecaggiula) February 14, 2015
Coming up
Robert Morris, Quinnipiac and Boston University can wrap up regular season titles in Atlantic Hockey, ECAC Hockey and Hockey East, respectively, in the penultimate weekend of play in those conferences.
In games between ranked ECAC teams on Friday, No. 11 Quinnipiac hosts No. 13 Yale and No. 20 St. Lawrence hosts No. 14 Harvard.
No. 10 Boston College gets in a pre-Beanpot game Friday against No. 16 Massachusetts-Lowell, while No. 6 Miami hosts No. 7 Minnesota-Duluth in a two-game NCHC series.
And — we probably should include a "weather permitting" tag here — the Beanpot finally concludes on Monday with Harvard and BC playing for third and Northeastern meeting BU for the title.