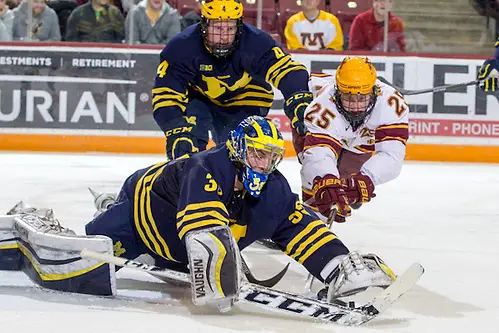 With eight games remaining, four teams can look in the mirror and tell themselves that they have a legitimate chance of winning the Big Ten regular season title.
Michigan and Minnesota are tied at the top of the standings with 24 points each, and Penn State and Michigan State are lurking two points behind the Wolverines and Gophers.
There's a logjam atop the standings because of the events that transpired last weekend. Minnesota swept Michigan and Michigan State swept Penn State.
Although the conference has produced many surprises this year — like Penn State's success in the program's third season at the Division I level and Wisconsin's epic season-long struggle — having four teams bunched up at the top of the standings this late in the game doesn't surprise the league's most experienced bench boss.
"I thought Minnesota would be there. I was expecting that we would be there and then I thought Michigan State would be better than they were last year, which they're showing," Michigan coach Red Berenson said. "Penn State finished really strong last year, but you never knew with the makeup of their team where they would be. Obviously, they're a contender. Wisconsin was an unknown with all the players they lost. So I'm not surprised."
Berenson said that the close race is evidence of the Big Ten's growth in its season and added that, while it's stressful for coaches, it is entertaining.
"From year to year there's going to be a hot team," Berenson said. "There might be a hot team and there might not but it's a lot more interesting when it shapes up like it is now. We have some really good teams in the conference so nobody's been able to put it together on a consistent basis."
The difference between finishing first or second in the conference and finishing third or fourth is that the lower two teams have to play the No. 5 and No. 6 seeds on the opening day of the Big Ten tournament. Michigan found out how problematic that can be last year in St. Paul, Minn., when the Wolverines lost to No. 6 Penn State in the tournament's first game.
Berenson said the goal from the beginning of the season has been to capture the regular season crown and gain the first-round bye, saying it was "huge."
Up until recently, the Wolverines looked to be in position to potentially cruise to a first-place finish, but a split with Michigan State and dropping two to the Gophers invited the three other teams to the top of the table.
Up next is Ohio State, a team that Michigan has recently dominated to the tune of a 5-0-1 record in the last six contests between the two. The Wolverines have outscored the Buckeyes 18-9 in the two games they've played this year.
Berenson, however, was hesitant to say that playing Ohio State this weekend could instill some confidence in his team.
"The last game we played against Ohio State they were seven men short; they couldn't even dress a full roster," he said. "So they had a combination of injuries throughout the team. That was not a good indication of their team; I think their team is just coming together now. We might have some confidence, but Ohio State's going to be a lot better than they were when we last saw them."
The fact that Michigan has scored 18 goals in two games against any opponent is proof that the Wolverines have a juggernaut offense this year. The fact that they gave up so many goals to a reeling Ohio State squad is evidence that their defense has been, for lack of a better word, abysmal at times this season.
Even with some improved performances in the season's second half, Michigan is averaging 2.96 goals against per game, 40th of the 59 Division I men's teams.
"This is the time of year when the games tighten up and we definitely have to be more stingy," Berenson said. "Whether our penalty killing, our defensive-zone coverage, our turnovers, our goalkeeping or even our offensive-zone play — if that's better then we're not playing in our own zone as much. We've got to play with a better defensive mentality in the last stretch here than we did in the first part."
Whether it's because of the defensive inconsistency or a reason for it, the Wolverines have had problems in net, too, with senior Steve Racine and sophomore Zach Nagelvoort playing musical chairs in the starting role.
"We've got two goalies where they've both been pulled during games and they've both shown that they can win in big games," Berenson said. "We're just not sure from week to week which one is going to be the hot hand. Racine has shown that he can carry our team, but so has Nagelvoort, but I can't tell you that there's been any consistency for either one of them.
"We've been looking for a dominant goalie," he added. "I don't think we've got one, but we've got two that can play."
Berenson said that he couldn't point to anything in particular that has prevented one goaltender from seizing the opportunity and keeping the starting role, but said that sometimes inconsistency comes with playing that position.
"It's a little bit of everything," he said. "Playing goal is probably 90 percent mental, and the other 10 percent's in their head. So it's just a matter of being prepared, being focused and playing with confidence, and a player has to earn that.
"A week ago, I would have told you Nagelvoort was our starter and right now Racine's closer to being our starter," Berenson added.
All six Big Ten teams have eight games remaining. When asked what record he thought would be good enough to beat out the other three teams that have a shot of winning the regular season title, Berenson took the safe road.
"I think somebody's got to run the table to guarantee anything," he said.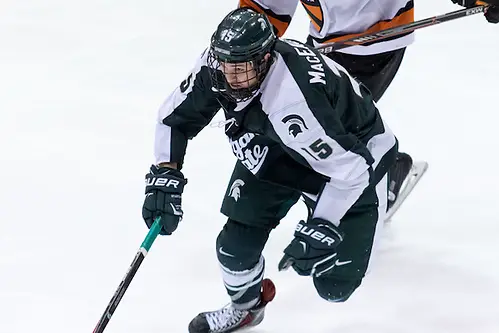 Three stars of the week
First star — Michigan State sophomore forward Mackenzie MacEachern: MacEachern recorded five points in the Spartans' sweep of Penn State last weekend. He scored a goal and added an assist in Michigan State's 3-0 victory on Friday and recorded his first collegiate hat trick on Saturday night. The hat trick was the first by a Michigan State player since November 2012. This is his first career weekly award.
Second star — Minnesota senior forward Kyle Rau: Rau recorded a hat trick during Friday's 6-2 victory over Michigan, scoring on his only three shots of the game. He added a late insurance goal during the Gophers' 2-0 victory on Saturday night. The four goals helped the senior reach 150 collegiate points. This a Rau's fourth career Big Ten weekly award.
Third star — Minnesota junior goaltender Adam Wilcox: Wilcox had 47 saves in the Gophers' two victories over Michigan last weekend, including a 26-save shutout on Saturday. The shutout was his fourth of the season and the 11th of his career. This is Wilcox's seventh career Big Ten weekly award.
B1G in the poll
No. 15 Michigan and No. 17 Minnesota represented the Big Ten in this week's USCHO.com Division I Men's Poll. Penn State received votes in the poll.
My ballot
1. North Dakota
2. Minnesota State
3. Boston University
4. Michigan Tech
5. Omaha
6. Miami
7. Minnesota-Duluth
8. Bowling Green
9. Boston College
10. Providence
11. Quinnipiac
12. Denver
13. Harvard
14. Yale
15. Michigan
16. Massachusetts-Lowell
17. Minnesota
18. Robert Morris
19. Colgate
20. Penn State
This week's matchups
Michigan at/vs. Ohio State (Friday at Value City Arena, Sunday at Yost Ice Arena)
Minnesota at Penn State (Friday and Saturday, Pegula Ice Arena)
Michigan State at Wisconsin (Friday and Saturday, Kohl Center)